Changes (%) in emissions of acidifying pollutants by source category, 1990-2006, EU-27 (weighted by acid equivalency factors)
Figure
Created 24 Mar 2009
Published 24 Mar 2009
Last modified 29 Nov 2012, 11:38 AM
Note: new version is available!
The figure shows the emissions of acidifying pollutants (sulphur dioxide SO2, nitrogen oxides NOx and ammonia NH3) each weighted by an acid equivalency factor prior to aggregation to represent their respective acidification potentials
/data-and-maps/figures/ga-downloads/176D1C0D-2378-4B5D-BB9F-AE42D2D02BFC/changes-in-emissions-of-acidifying-pollutants-by-source-category-1990-2006-eu-27-weighted-by-acid-equivalency-factors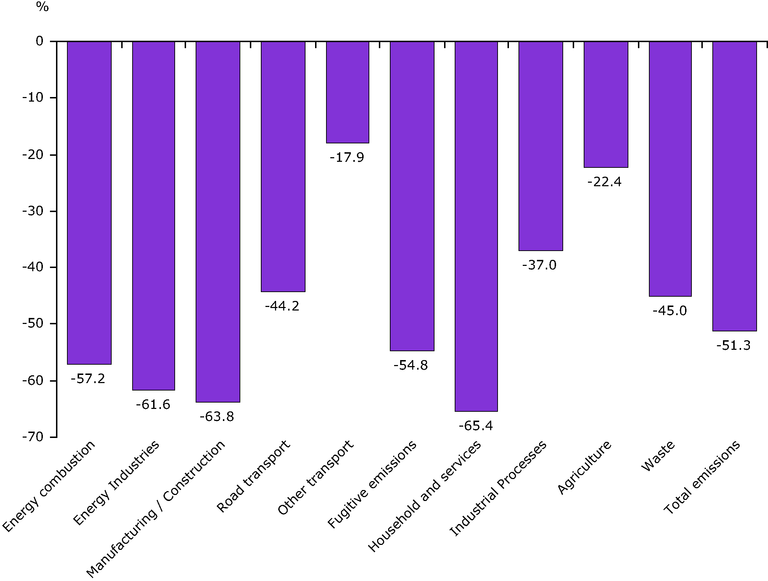 Download
European data
Metadata
Additional information
The acid equivalency factors are given by: w(SO2) = 2/64 acid eq/g = 31.25 acid eq/kg, w(NOx) = 1/46 acid eq/g = 21.74 acid eq/kg and w(NH3) = 1/17 acid eq/g = 58.82 acid eq/kg.
For references, please go to www.eea.europa.eu/soer or scan the QR code.
This briefing is part of the EEA's report The European Environment - State and Outlook 2015. The EEA is an official agency of the EU, tasked with providing information on Europe's environment.
PDF generated on 26 Oct 2016, 01:30 AM