Biodiesel and bioethanol production data (1992-2004)
Figure
Created 12 Nov 2009
Published 12 Nov 2009
Last modified 29 Nov 2012, 11:39 AM
For the years before 2004, data apply to the EU-15 for 2004, production of the EU-25 is taken into account
/data-and-maps/figures/ga-downloads/C964945E-9D23-4E60-ACC7-F73A8823F8B0/biodiesel-and-bioethanol-production-data-1992-2004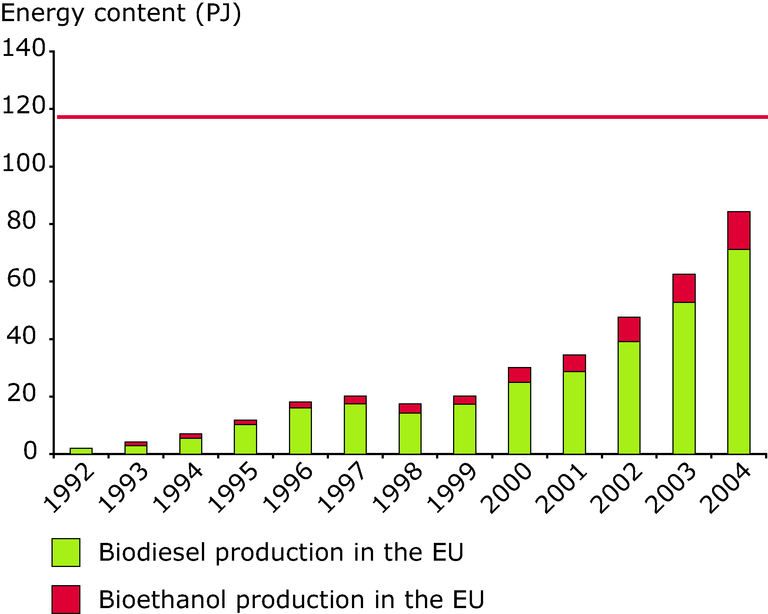 Download
European data
Metadata
Additional information
However, biofuel production in the 10 new EU countries was limited. The thick line (at 119 PJ) represents 1 % of road transport energy in the EU-25 Member States (EEA, 2006, Fact sheet 31). The horizontal line in the graph represents 1 % of road transport fuel consumption, equivalent to half of the 2005 target for biofuels consumption.
For references, please go to www.eea.europa.eu/soer or scan the QR code.
This briefing is part of the EEA's report The European Environment - State and Outlook 2015. The EEA is an official agency of the EU, tasked with providing information on Europe's environment.
PDF generated on 26 Oct 2016, 12:07 AM