Europe's seas and coasts
Page
Last modified 18 Feb 2008
The seas around Europe have been a vital resource for over millennia.They are extensively used and provide may environmental services like fish, shipping and port development, tourism, oil and gas production, wind, and wave and tidal energy. In many coastal regions fish and marine mammals have been the dominant source of food and their capture the main employment activity.


Both the marine and the coastal environments contain diverse habitats that support a rich biodiversity of animal and plant species. The European marine ecosystems are as diverse in their structure and functioning as their terrestrial counterparts. Stretching from the sub-tropical Atlantic to the high, ice-covered Arctic, Europe's marine environment includes open oceans and seas. Our seas can be semi-enclosed, fully enclosed, or brackish. Such physical diversity is also well  reflected in their chemistry and biology. Differences in their resilience mean that some are more vulnerable to particular drivers and pressures than others ( EEA SOER 2005).

The state of the marine and coastal environment is the combined effect of human pressures interacting with each other and with  natural variability. The drivers and pressures occur on different scales. Those arising from global processes, such as elevated temperature, sea level rise and altered weather conditions clearly affect the whole of Europe. Land-based socio economic pressures are more regional and local, whereas pressures from marine based activities, such as shipping and fisheries, are often transboundary.

The marine environment has been exploited mainly by fisheries, the oil industry and aquaculture. In recent years, aquaculture has increased in the EU and EFTA countries. Over fishing is a serious problem throughout Europe, but especially in the North sea and Atlantic (EEA 2005). Coastal areas have always been attractive for settlement, agriculture and trade, and have subsequently become important for industry, transport and tourism. Figure 4 shows that the length of artificial coastline has increased in many member states.
Length of artificial coastline in Member States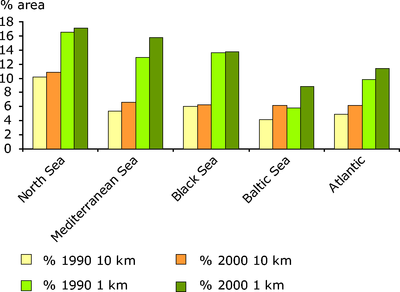 Source EEA 2005

 Pan-European marine Ecosystems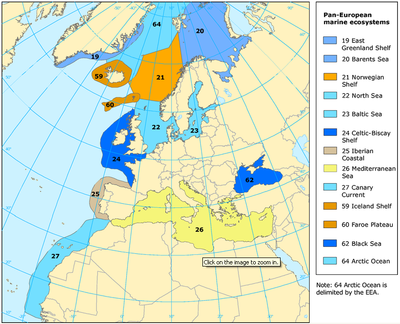 Source: United Nations Atlas of the Oceans and EEA data service
Permalinks
Permalink to this version

Permalink to latest version