Freshwater - Drivers and pressures (United Kingdom)
SOER 2010 Common environmental theme (Deprecated)
expired
This content has been archived on
21 Mar 2015
, reason:
A new version has been published
SOER Common environmental theme from United Kingdom
Topic

Freshwater
Published: 26 Nov 2010 Modified: 21 Mar 2015
Water quality
The drivers and pressures experienced by different geographical areas within the United Kingdom vary, for example due to population densities and land use.
High population densities and transport networks put pressure on the water environment. Discharges from sewage works can impact on the quality of water or the enjoyment of it.
Governments across the UK have identified a need for new homes as the result of a changing population. Managed well, this growth and regeneration will be an opportunity to make improvements to the water environment in a way that enhances people's quality of life.
Diffuse pollution is a major pressure on the water environment, and can come from urban areas as well as rural areas. Further improvements are needed to farm practices to protect water quality and allow wildlife to thrive.
Rivers and estuaries have been highly modified physically, to facilitate development, flood and coastal risk management or navigation. Physical modification needs to be addressed in order to achieve more natural functioning of wetland ecosystems, and protect fish and their habitats into the future.
The aquifers that supply drinking water also have to provide flow for rivers and wetlands. It is therefore essential to safeguard supplies and the environment by protecting groundwater from pollution.
The water environment is constantly under threat from new invasive non-native species. These have an often rapid and adverse affect on the natural fauna and flora. Monitoring and prevention is important as some species can be extremely difficult to eradicate once they have taken hold.
Water abstraction and use
Demand for water is extremely high leading to concerns over maintaining the water resources available for people and the environment. In the South East of England for example, the Thames River Basin District is one of the driest in the country receiving a quarter less rainfall than the national average, and less per person than many Mediterranean countries.
Figure 6a below shows the distribution of water abstraction by source in England and Wales. Out of 21 billion cubic metres extracted in 2007, freshwater abstraction (defined as all non-tidal surface water plus groundwater) totalled 57 per cent.
Figure 6b shows that groundwater abstraction occurs predominately in the relatively dryer central and southern areas of England, whilst in Wales abstraction is almost entirely from surface freshwater. Tidal water is abstracted largely for the electricity supply sector, and is generally returned to the environment.
Figure 6 a) Water abstraction in England and Wales by source (billion m3) and b) by Environment Agency region and source, 2006/07

Approximately 6.1 billion cubic metres of water are abstracted annually by water companies in England and Wales. The household sector accounts for approximately two-thirds of all water use from the public water supply, about 3.5 billion cubic metres per year. Daily water consumption is around 150 litres per person.
The remaining public supply is used by a variety of industries (Figure 7)
Figure 7: Public Water Supply use by industrial sector, England & Wales, 2006/07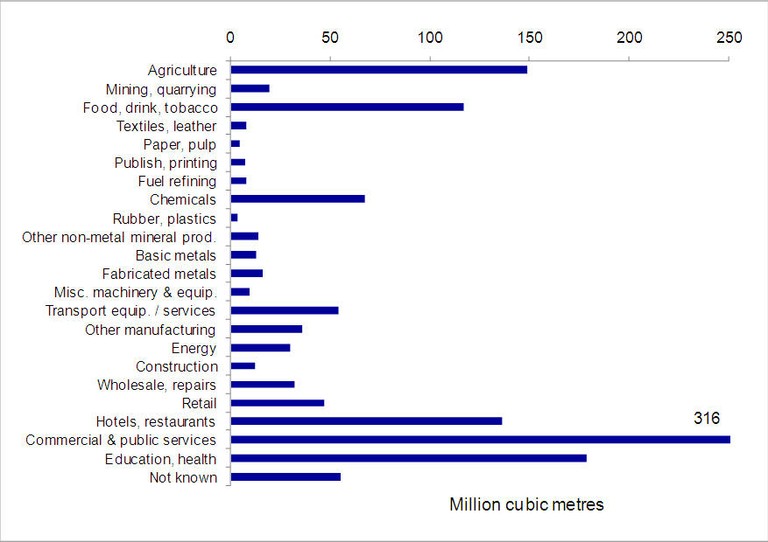 Approximately 6.3 billion cubic metres of freshwater are abstracted directly each year by industry in England and Wales. In 2006/7 electricity supply accounted for 60 per cent, fish farming a further 20 per cent and the manufacturing sector 15 per cent. Within the manufacturing sector basic metals accounted for 27 per cent and chemicals 25 per cent (Figure 8).
Figure 8: Self-abstraction of non-tidal surface water and groundwater, England & Wales, 2006/07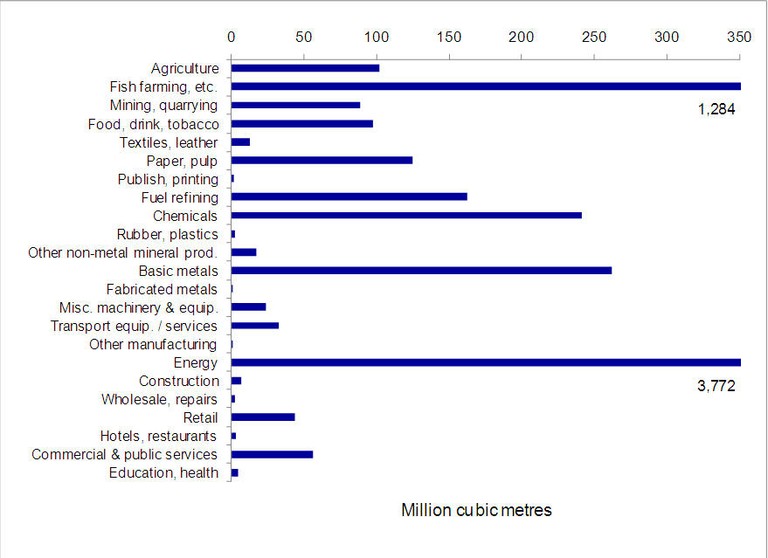 Flooding
The two main drivers and pressures are climate change and the pressures that expanding urban areas will have on flood plains by decreasing permeability.
Climate change predictions indicate that in the future there will be more frequent and intense rain events. The effect of these will be enhanced by hotter, drier summers which will increase surface water run-off as the dried-out soil will have decreased permeability. This will greatly increase the level of damage caused by flooding.
Population increases in the future will also lead to increased pressure on flood plains as urban areas expand. If development takes place on flood plains this will cause higher overall flood risk. Expanding urban areas will also decrease overall permeability and therefore increase surface water run-off and thus flood risk.
Permalinks
Permalink to this version

Permalink to latest version