Freshwater - Outlook 2020 (Turkey)
SOER 2010 Common environmental theme (Deprecated)
expired
This content has been archived on
21 Mar 2015
, reason:
A new version has been published
Freshwater - Outlook 2020 (Turkey)
Topic

Freshwater
Published: 26 Nov 2010 Modified: 21 Mar 2015
Last year for identifying the hot points and defining the pressures by the catchment protection action plans, priorities were established including the 25 river catchments of Turkey. In this study the measurement results for 2006, provided by General Directorate of State Hydraulic Works, were used and the water quality map of Turkey was arranged with the assistance of those data. Under the present circumstances, Akarcay Catchment, Van Lake Catchment, Meric-Ergene Catchment and Gediz Catchment Protection Action Plans have been prepared while Sakarya Catchment and the other 11 Catchment Protection Action Plans are prepared. Moreover, protection action plan studies for the rest 9 catchments will start. In the future, 1.418 more hydroelectric power plants will be constructed in order to make use of additional 22.700 MW installed capacity. As a result of these works, a total of 1.738 hydroelectric power plants with 45.000 MW will tame rivers to harness the economically viable hydropower of Turkey.
There has been a 3,5 year-term EU aided project about implementation of 3 EU water directives which are WFD, Urban Waste Water Treatment Directive and Dangerous Substances Directive in Turkey. The main results of the project are that analysing the laws, directives, foundations and preparing application plans in the light of those EU directives. There have been a lot of training courses and study visits during the project. In addition, 14 directives related to water quality have been harmonized and there is a harmonisation study for the others. The draft of strategy document and the negotiation position paper on water quality have been prepared. A capacity improvement project on water quality monitoring system will be performed.
Taking into consideration the population of 2007 which is 70,6 million, the quantity of water per capita per year is 1,586 m3. Countries regarded as being rich in water resources have 8-10 thousand m3 water per capita per year. The available water per capita per year in Turkey is about 1/5 of the water-rich countries. It is estimated by the experts that, in 2023, the amount of available water will likely to be less than 1000 m3/capita/year.
As shown in Figure 7, only 41% of total exploitable water potential of the country has been consumed until now. It is planned that remaining part would be developed by 2023 which is the 100th Anniversary of Turkish Republic.
Figure 7: Rates of Wastewater Treated by Treatment Plants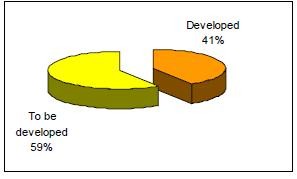 Source: Turkey Water Report 2009, SHW
Permalinks
Permalink to this version

Permalink to latest version