Air pollution - Drivers and pressures (Portugal)
SOER 2010 Common environmental theme (Deprecated)
expired
This content has been archived on
21 Mar 2015
, reason:
A new version has been published
SOER Common environmental theme from Portugal
Topic

Air pollution
Published: 26 Nov 2010 Modified: 21 Mar 2015
The year-on-year increase in wealth production slowed down in 2000, although this was not accompanied by a proportional reduction in primary energy consumption. GDP then picked up once again in 2003. By 2007, GDP was 43 % higher than in 1990. Primary energy consumption fell from 2005 onwards, along with tropospheric ozone precursors. Despite everything, energy consumption in 2007 was 44 % higher than in 1990 (Figure 7).
The increase in GDP and primary energy consumption was greater than the increase in the tropospheric ozone precursor emissions indicator, showing a relative dissociation between wealth creation and the negative environmental impacts caused by such emissions (Figure 7).
Figure 7 Relative development of the tropospheric ozone precursor emissions with GDP and primary energy consumption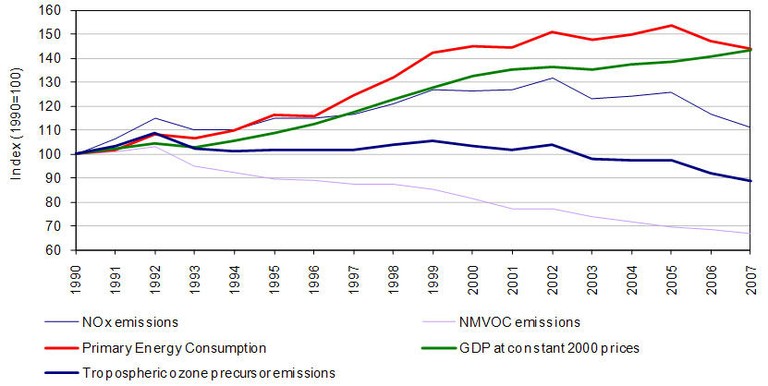 Source: APA, 2009; INE, 2009; DGEG, 2009
This dissociation reflects the effort made to reduce these emissions. Nonetheless, it is vital to ensure implementation of the sectoral measures required to meet atmospheric emission reduction targets and to evaluate the impacts of the reduction measures on air quality as regards tropospheric ozone.
Tropospheric ozone is one of the pollutants that have contributed most to worsening air quality. One indicator often used to evaluate the development and trends in emissions of this pollutant is called the Tropospheric Ozone Forming Potential (TOFP). This indicator makes it possible to aggregate different emissions of these gases by attaching a specific weighting factor to them and measuring them in equivalent Non-Methane Volatile Organic Compounds (NMVOC) by mass (Figures 8 and 9).
Figure 8 Aggregate tropospheric ozone precursor emissions by sector of activity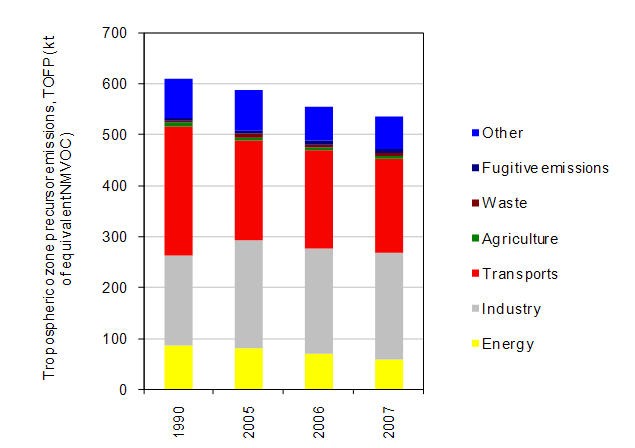 Source: APA, 2009
TOFP indicator levels in Portugal have fallen in recent years, essentially due to declining NMVOC emissions. The sectors of activity that contributed most to tropospheric ozone precursor emissions in 2007 were industry (40 %) and transport (29 %). In the same year the contribution of industry and the waste sector to the TOFP indicator increased nearly 50 % in relation to 1990 with emissions from the energy and transport sectors falling most against the base year (Figure 9).
Figure 9 Aggregate emissions of tropospheric ozone precursors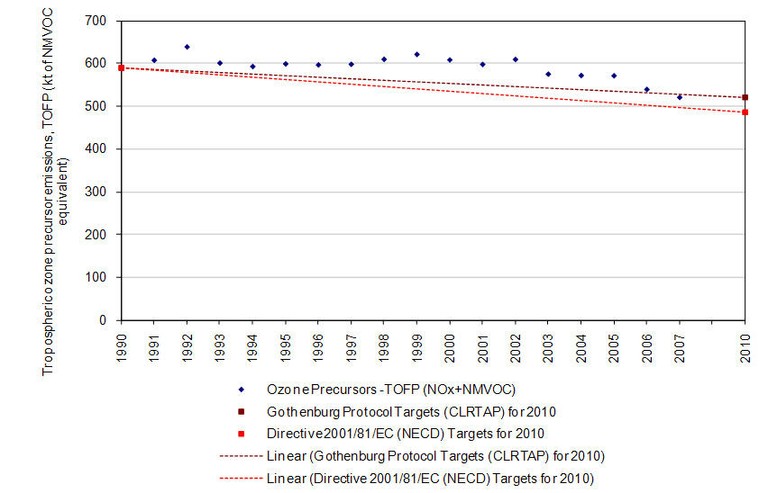 Source: APA, 2009
Permalinks
Permalink to this version

Permalink to latest version