Air pollution - Outlook 2020 (Netherlands)
SOER 2010 Common environmental theme (Deprecated)
expired
This content has been archived on
21 Mar 2015
, reason:
A new version has been published
SOER Common environmental theme from Netherlands
Topic

Air pollution
Published: 26 Nov 2010 Modified: 21 Mar 2015
National emission ceilings for 2010 within reach
Emissions of air pollutants will decline towards 2010 with current policies (Figure 7). After 2010, emissions of NOx will continue to decline, but emissions of other air pollutants will stabilise or will increase again with current policies. NEC ceilings are projected to be met for SO2 and NMVOC in 2010. For NH3 and NOx, the 2010 emissions will be close to the national ceiling, so it is as likely as not that the NEC ceiling will be met.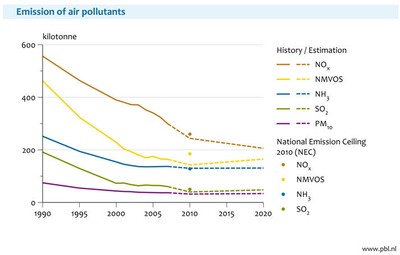 Figure 7: Emissions of air pollutants within the Netherlands have declined since 1990. Source: http://www.pbl.nl/nl/publicaties/2009/realisatie-milieudoelen/index.html
Number of streets where limit values are exceeded will strongly decline
With current and proposed national and EU legislation, the length of roads where exceedances of limit values for PM10 and NO2 are likely (shown in red) or as likely as not (shown in yellow) will continue to decline (Figure 8). In the Netherlands, also local measures are being developed whose effects are not accounted for in Figure 8. Exceedances will be more persistent along roads in the inner cities than along motorways, because of the higher urban background concentrations in urban cities and worse dispersion characteristics.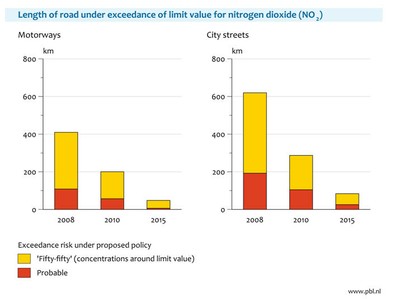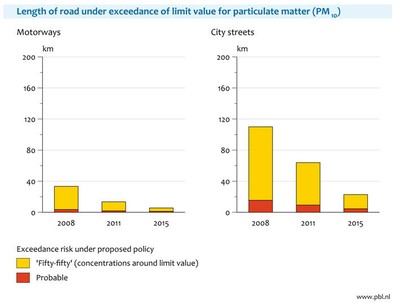 Figure 8: Exceedances of air quality limit values along motorways and city streets for NO2 (top) and PM10 (bottom). These exceedances are to be resolved through measures by local authorities. Source: http://www.pbl.nl/nl/publicaties/2009/Concentratiekaarten-voor-grootschalige-luchtverontreiniging-in-Nederland.-Rapportage-2009.html
Premature mortality by particulate matter is projected to decline further
If proposed national and EU policies are put in place, so that the objectives of the thematic strategy on air pollution are met, the number of life-years lost will continue to decline up to 2020 (Figure 9). In Figure 9, it is assumed that health effects are caused by total PM2.5, irrespective of chemical composition.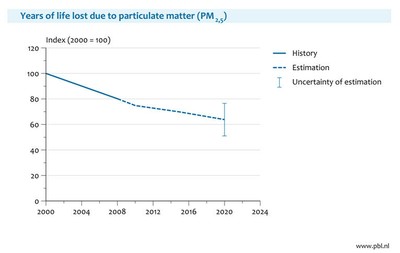 Figure 9: Years of life lost, assuming that all PM2.5 is equally health relevant, irrespective of chemical composition. Source: http://www.pbl.nl/nl/publicaties/2009/milieubalans/index.html
Critical loads continue to be exceeded by 2020
About 60 % of the Dutch nature is exposed to nitrogen deposition above critical loads, leading to loss of biodiversity. Although emissions will decline, excess nitrogen deposition will remain to pose a major pressure to many natural habitats in the next decade(s). More information is available at: http://www.pbl.nl/nl/publicaties/2009/natuurbalans/index.html
Permalinks
Permalink to this version

Permalink to latest version