Air pollution - Drivers and pressures (Malta)
SOER 2010 Common environmental theme (Deprecated)
expired
This page was
archived
on
21 Mar 2015
with reason:
A new version has been published
SOER Common environmental theme from Malta
Topic

Air pollution
Published: 30 Nov 2010 Modified: 21 Mar 2015
The protection of air quality is one of the policy areas where EU legislation and standards have brought about a revolution. Air quality is one of Malta's most important environmental concerns due to its direct link with human health and ecosystem. While Malta's air pollution arises from natural sources as well as human activity, key sources of pollution include traffic, industry and energy generation.
Importantly, there have been improved results for certain pollutants since the introduction of EU-driven measures in the energy-sector. Monitoring results indicate that levels of sulphur dioxide and benzene have fallen due to the use of low-sulphur fuel and unleaded petrol respectively. Ambient lead levels have also gone below EU thresholds with the introduction of unleaded petrol.
Although national monitoring results show that air quality in Malta meets European standards for the most part, they also indicate that air quality is of concern in certain areas.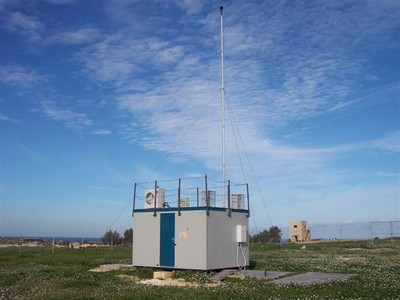 Prompted by the monitoring requirements of EU air quality legislation, the Malta Environment & Planning Authority (MEPA) has installed an air quality monitoring network in line with EU regulations. Indeed the Islands' small size and high population density has meant that it has actually installed more stations that strictly required for its population size. By 2004, a diffusion tube network covering 44 localities, and monitoring nitrogen dioxide, sulphur dioxide, ozone, benzene, toluene, mp-xylene, ethyl benzene, and o-xylene was in place. In addition, in the year 2006 three real-time fixed stations were operational at Kordin, Żejtun and Msida. Another real‑time station was commissioned in a rural background location in Gozo in 2007. Real-time measurements for major pollutants monitored at fixed stations are viewable online (http://www.mepa.org.mt/airquality). .
Due in part to regular publication of air quality monitoring results, but also to growing traffic problems, awareness of the issue of air pollution is on the rise. Indeed, the latest Public Attitude Survey shows that 70 % of respondents mentioned air pollution as one of the environmental problems of greatest concern in 2008, up from 52 % in 1999.
Malta's monitoring results indicate that like most of the EU, particulates and ozone are the principal causes of concern. Particulate matter (PM), consisting of very small suspended solid or liquid particles, are of concern since they are associated with general ill-health, decrease in lung function, asthma and even mortality (http://www.mepa.org.mt/ter08-air). Malta's four real-time monitoring stations indicate relatively high levels of PM10 (Charts 1 and 2). At the air quality station at Msida, which represents traffic-prone sites, the EU daily limit value of 50μg/m³, which should not be exceeded more than 35 times a year (10 % of days measured), was exceeded on 56 out of 237 days measured at Msida (24 % of days measured). However at the other three stations, thresholds were exceeded on less than 10 % days measured. The highest concentration, of 294.5μg/m³ was recorded in Żejtun followed by 237.0μg/m³ in Kordin.
However Malta's particulates have strong natural contributors such as sea salt and Sahara dust. The two concentration peaks depicted in Charts 1 and 2 (28 March and 26 October) correspond with typical events when Sahara dust was being transported to Malta. The 2007 figures quoted above represent the total number of exceedances, without deducting the natural contributions.
Until 2008, Malta had not yet studied the extent of the effect which natural contributions actually have on PM concentrations. In February 2010, MEPA published a report (http://www.mepa.org.mt/file.aspx?f=4372) which shows that following the subtraction of exceedances due to natural sources (namely Sahara dust events and sea salt), the total number of exceedances of the PM10 daily limit value in the agglomeration amounts to 31, thus below the allowed number of exceedances, which is 35. However, this does not mean that Malta does not need to implement policy measures to address this problem, and has in fact adopted a policy document (http://www.mepa.org.mt/file.aspx?f=4367) which outlines the air quality measures desired to achieve even lower levels of particulate matter and other traffic‑related pollutants.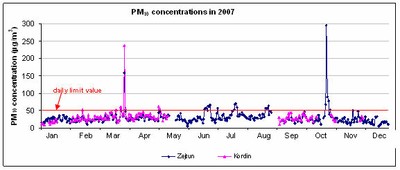 Source: MEPA
Chart 1: PM10 concentrations at Żejtun and Kordin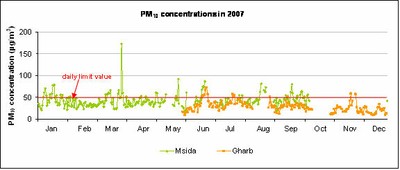 Source: MEPA
Chart 2: PM10 concentrations at Msida and Għarb
Ozone (O3), which is formed through chemical reactions of primary traffic and power generation emissions, is also of concern in Malta (http://www.mepa.org.mt/ter08-air). Annual O3 levels were highest in rural localities less affected by traffic, with Għarb registering the highest levels (125.4µg/m3). The reason for this is that the nitrogen monoxide present in high concentration levels in traffic-prone areas reacts with O3 to form NO2, thus reducing O3 concentrations. With respect to real-time measurements in 2007, while in Għarb the 120μg/m³ eight-hour average limit value, not to be exceeded more than 25 times per year (or 6.8 % of days measured), was exceeded in 17.5 % of days measured, limit values recorded at other stations did not breach EU standards. However the majority of O3 affecting Malta is of transboundary origin, and in this respect, EU-wide and international measures are the key hopes for Malta's air quality to improve with respect to O3.
These results show that at national level, Malta's air quality is average in comparison to other EU Member States. However there is concern about local‑level urban air quality in certain areas, and NO2 concentrations are a good indicator for this issue. Although the annual average national NO2 concentration remained well below the 40µg/m3 EU and WHO limit value, it continued to increase between 2006 and 2007, from 25.4µg/m3 to 28.9µg/m3 respectively. In 2007, values exceeded annual EU standards in six localities. Furthermore, 27 individual sites registered annual average NO2 concentrations higher than the EU and WHO limit, with St. Anne's Street, Floriana, rising six percent to 98.4μg/m³ in 2007. This suggests that nitrogen oxides are on the rise due to increasing traffic, and that this pollutant may be a problem in localities where heavy traffic and poor ventilation prevail. Real-time measurements for 2007 indicate one exceedance for the EU hourly limit value, in Msida.
Transport is clearly the cause of these emissions, and here work at a local level is required with local authorities. Two key measures are of note here. The first concerns Malta's Air Quality Plan, which as mentioned above aims to reduce the ambient levels of traffic generated pollutants such as PM10, benzene, and NO2. The plan outlines initiatives to reduce vehicle emissions; to encourage a change in travel patterns and habits; to reduce the traffic impact of new developments; and to better manage the road network and to promote cleaner vehicle technologies. New measures will also include educational campaigns to encourage better travel planning and car pooling, increased incentives to invest in vehicles with cleaner technology and the planting of vegetation to absorb emissions.
The second key measure relates to the public transport reform. Proposals were issued by Government in 2008, and implementation should begin in 2010. Public transport reform is expected to assist with air quality both at national and local levels. A better quality service is expected to attract more users to consider it as a viable alternative to using their private motor vehicles.
While EU policy has already ensured significant success in reducing the national concentrations of certain pollutants, international cooperation is needed for national concentrations to further reduce concentrations of other pollutants. On the flip side of this, work at a local level in the transport sector is required to ensure compliance with ambient air quality standards.
Permalinks
Permalink to this version

Permalink to latest version