Freshwater - State and impacts ()
SOER 2010 Common environmental theme (Deprecated)
expired
This content has been archived on
21 Mar 2015
, reason:
A new version has been published
SOER Common environmental theme from Montenegro
Topic

Freshwater
Published: 26 Nov 2010 Modified: 21 Mar 2015
The following graphs present the pollution trends in two selected rivers, the Morača and the Ćehotina, in two selected measurement profiles as well as the pollution trends for Skadar Lake, presented on the basis of BOD5 indicators (mg/l). Morača is 99.5 km and the Ćehotina River 124.5 km long. In Montenegro, the basin of Lake Skadar has an area of 4 460 km2 and at its maximum depth the lake is 44 m.
Figure 1: Pollution trends in the Rivers Morača and Ćehotina and in Lake Skadar
River: Ćehotina River: Morača
Skadar Lake
Source: Hydrological and Meteorological Service of Montenegro
Processing: Environmental Protection Agency
The status of water in Montenegro is determined by the Regulation on the Classification and Categorisation of Surface and Groundwater, in which Category I corresponds to Classes A1, S, and K1; Category II to Classes A2, C, and K2; and Category III to Class A3. Water to be used for drinking and the food industry is classified into four classes — A, A1, A2 and A3. Water to be used for fishing and shellfish farming is classified into Classes S, Š and C. Bathing water is classified into Classes K1 and K2.
Figure 2: Water class classifications for 2008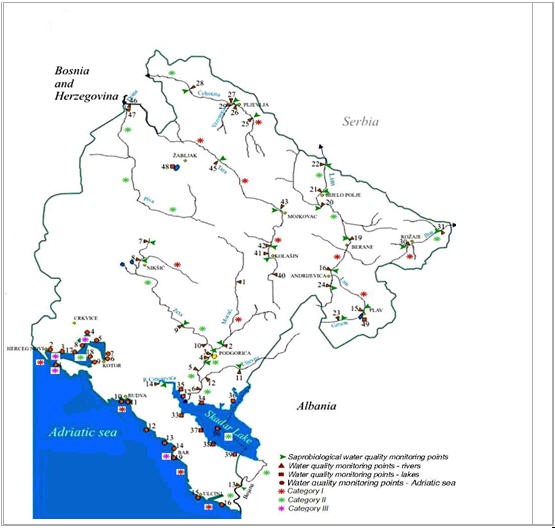 It is vital to identify any contaminated water sources, given the risk that technological development may exacerbate the situation, and to implement legislative solutions to ensure that the required amount of water is available for all purposes in order to contribute to a healthy environment.
In terms of water resources, around 65–70 % of the population is provided with water through a water supply system in city centres and larger towns, while around 30 % in villages use alternative sources. The population of Montenegro is supplied with water from groundwater sources. The measures implemented for the sanitary protection of water sources used to supply the population comply with and exceed existing legal obligations. To date, legal investigations have not been carried out and the protection zones have not been determined for most water sources. At present, the precise identification and mapping of all water sources and their zones of protection is not possible. Water consumption is twice the western Europe average as the result of climatic conditions, uncontrolled use of water and significant losses in the water supply system and there is insufficient protection of drinking water in the coastal region during the tourist season.
This is of particular significance since most pollutants are found outside areas with developed collection systems and large-scale purifiers, which is why the implementation of adequate solutions for water treatment is vital for environmental protection.
The percentage of the population with access to sanitation is relatively small and most of the coverage is in areas close to town centres. Approximately 35 % of the population in urban areas are not connected to sewers. This is due to the underdevelopment of the primary and, in particular, secondary system of waste water.
A large percentage of the population use septic tanks and wells for the drainage of waste water and, in towns, where natural conditions allow, waste water is discharged directly into watercourses.
Flooding occurs around the major river systems (e.g. the Morača, Lim, Tara, Ćehotina, Ibar and Bojana rivers) and on the plains (Bar, Cetinje, Dell Matica). There is also seasonal flooding around Lake Skadar. Measures to control water flow and protect against flooding are rudimentary.
Permalinks
Permalink to this version

Permalink to latest version