Air pollution - Drivers and pressures (Latvia)
SOER 2010 Common environmental theme (Deprecated)
expired
This page was
archived
on
21 Mar 2015
with reason:
A new version has been published
SOER Common environmental theme from Latvia
Topic

Air pollution
Published: 26 Nov 2010 Modified: 21 Mar 2015
In general, the fall in emissions during the 1990s was due to a decrease in total fuel consumption caused by the transformation of the national economy, increased energy efficiency and a switch from solid fuels and liquid fuels to natural gas and biomass fuels. In recent years, emission levels have remained relatively stable.
The energy sector is the main source of sulphur dioxide emissions in Latvia.
Domestic heating and the use of solvents and other products represent significant sources of volatile organic compounds (VOCs).
The largest proportion of nitrogen oxide emissions originates from the transport sector (particularly road transport) and the number of registered motor vehicles per 1 000 inhabitants continues to increase (Figure 7).
Almost all NH3 emissions originate from agricultural activity.
Overall, air pollution decreased between 1990 and 2005 − SO2 by 96 %, VOCs by 34 %, and NH3 by 70 % (Figure 8). During this period, the relative influence of the transport sector on nitrogen oxide emissions grew, while the influence of energy production fell by almost 50 %[1].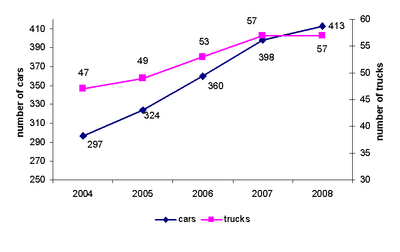 Figure 7: Number of registered motor vehicles per 1 000 inhabitants
Source: Latvian Environment, Geology and Meteorology Centre
General trend in air pollutant emissions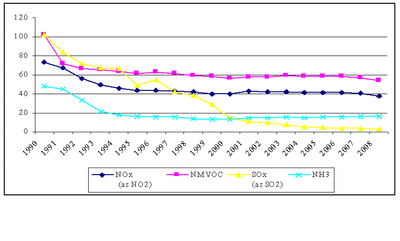 Figure 8: SO2, NOx, NMVOC, NH3 emissions, 1990–2008 (1 000 tonnes)
Source: Latvian Environment, Geology and Meteorology Centre
Figure 9: Emissions of particulate matter, 2000–2008 (1 000 tonnes)
Source: Latvian Environment, Geology and Meteorology Centre
State of the Environment, National Report 2008 [in Latvian]
Sustainable Development Indicators in Latvia 2006 [in Latvian]
Permalinks
Permalink to this version

Permalink to latest version