Freshwater - State and impacts (Albania)
SOER 2010 Common environmental theme (Deprecated)
expired
This content has been archived on
21 Mar 2015
, reason:
A new version has been published
SOER Common environmental theme from Albania
Topic

Freshwater
Published: 30 Nov 2010 Modified: 21 Mar 2015
Evaluation of the state of surface waters in rivers and lakes and control of their pollution is carried out by monitoring in compliance with the National Programme on Environmental Monitoring. Based on the Decision ( of the Council of Ministers DCM no. 103, dated 31.3.2002] ) On environmental monitoring in the Republic of Albania, institutions are contracted by the Ministry of Environment, Forests and Water Administration to monitor the quality of surface water, bathing water, groundwater and wastewater discharges.
Wastewater discharges in the main cities are monitored to measure their impacts on rivers, lakes and coastal waters. Monitoring in urban and rural areas is carried out for some cities. Studies on surface water quality are based on information provided by sampling at the 30 stations of the national river water quality monitoring network and monitoring at six lake stations.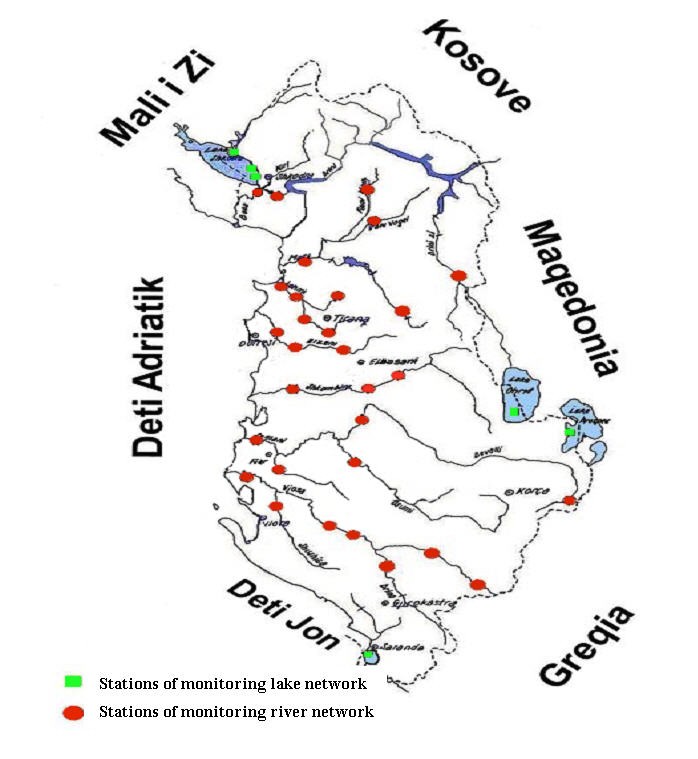 Rivers
During the period 2001-2008, Biological Oxygen Demand (BOD5), a measure of organic pollution) remained at a more or less constant level, indicating continuing organic pollution, caused by regular urban water discharges into rivers. The highest level of BOD5 is found in the Ishem River.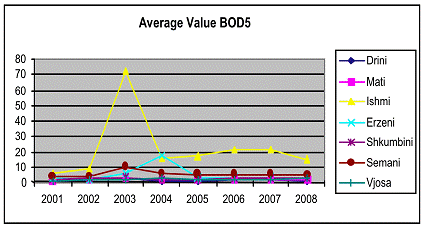 Concentrations of ammonium in rivers show clear changes from year to year and there is a rising trend, notably for 2003-2006, with concentrations apparently decreasing in period 2007-2008.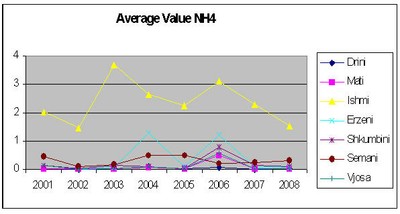 The annual mean concentrations of nitrate in all rivers have decreased, but levels have stabilised in 2006-2008.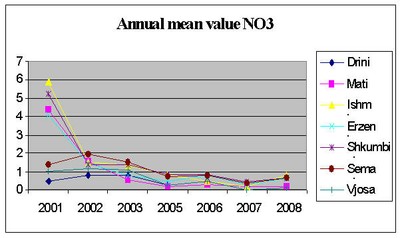 The concentrations of total phosphorus (P-tot) have been relatively stable in all monitored rivers excepting the Ishem.
Lakes
Ohrid Lake
The phosphorus content of 0.006-0.01mg/l, the high content of dissolved oxygen, and relatively high values of transparency, indicate that the water in this lake is oligotrophically stable.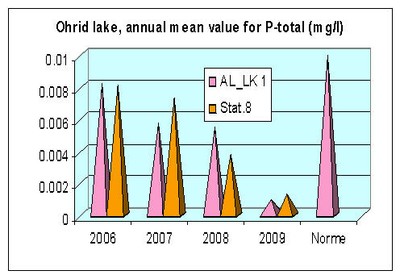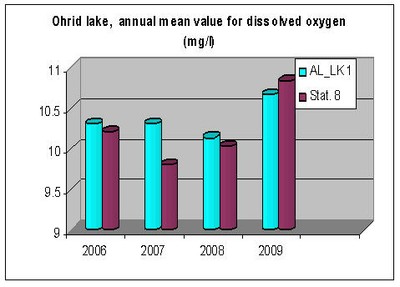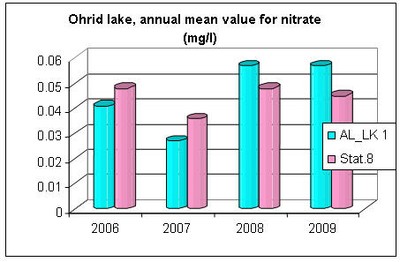 The other indicators of pollution such as nitrate content, although at low levels, should not be ignored because the trends are rising compared with previous years.
Prespa Lake
The oxygen and phosphorus contents show that the lake is already at a mezotrophic tending towards a eutrophic level. The ecological system of the lake requires a detailed study but that will necessitate collaboration between Albania, Macedonia and Greece.
Shkodra Lake
The water in the lake is relatively saturated with oxygen; the phosphorus content values are low and decreasing at the bottom of lake; the electrical conductivity of water is rising due to different discharges into the lake.




Shkodra lake, monthly mean value for chlorophyll-a, 2009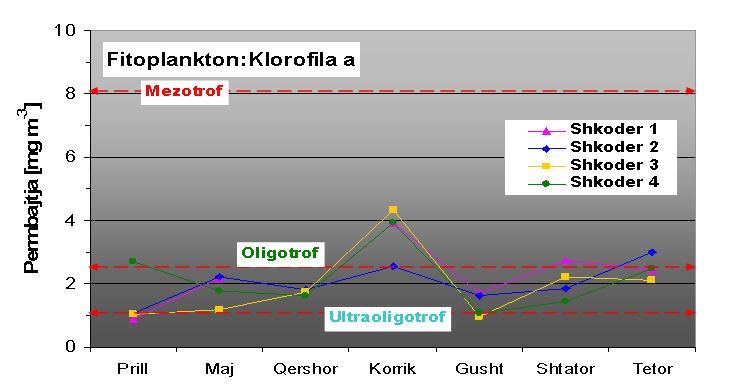 Groundwaters
Groundwater is a vital source of drinking water for Albania's people. In low-lying western and south-eastern parts of country, where about two thirds of its population is concentrated, drinking water comes mainly from groundwater. Intensive exploitation of groundwater often creates hydrodynamic and hydrochemical disequilibriums that result in a permanent pollution risk to nature and human activities.
Groundwater monitoring is carried out in the Drini, Mati, Ishëm-Erzen, Shkumbini, Seman, Vjosa and Zona Jonike basins. Groundwaters generally have good physical and chemical properties, meeting local pollution standards, with no massive pollution of ponds. Some nitrogen dioxide and ammonium is found in some special drilling sites but these are isolated occurrences resulting mainly from poor implementation of rigorous exclusion areas and sanitary protection around the drilling.
Fig.1 Annual mean value for NO3 2008-2009
Fig.2 Annual mean value for NO2 2008-2009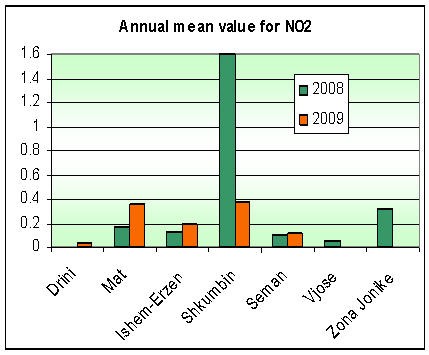 Groundwater is found to be neutral or alkaline. No acid water has been found in the monitored ponds and drillings.
Monitoring results during the period 2002-2008 indicate that in all basins general mineralisation, nitrate and nitrite content are within the permitted levels and the pH of groundwaters is within the permitted levels for drinking water. However, the required standards for ammonium content are not met ,
Permalinks
Permalink to this version

Permalink to latest version