News
European environmental technology atlas launched
News
Published 30 Apr 2008
Last modified 21 Jun 2016
A web-based navigation tool, the environmental technology atlas, was presented today during the EU informal council meeting in Essen, Germany.
The ambition with this new tool, prepared by the European Environment Agency (EEA), is to assist private companies as well as organisations and public bodies who need to find sources of new environmental technology across our continent.
'Information on environmental technology is now widely needed to help policy-makers, companies and citizens determine how to best tackle some of our key environmental problems. Whilst it exists, much of the information is dispersed at national levels and not easy to find. Given the Agency's working remit as a European environmental information provider, this was a critical gap that we needed to help fill.' said EEA executive director Jacqueline McGlade.
The web-based atlas covers knowledge centres, major technology installations and private companies all over Europe. It has been developed in coordination with the German Federal Ministry for the Environment, Nature Conservation and Nuclear Safety.
The environmental technology atlas reflects the technology areas referred to in the German presidency position paper 'A new quality of life: a New Deal for economy, environment, and employment', namely: energy generation and power stations, energy efficiency, recycling and waste management, mobility and transport, water and wastewater, environmental engineering/systems engineering, life sciences and nanotechnology.
The European companies listed in the atlas deal with either pollution management, resource management, integrated activities or monitoring.
As the name suggests, the environmental technology atlas is a map-based tool. The user is presented with a European map and can zoom quickly into the geographical area of interest. This feature is further enhanced through the integration of the atlas with Google Earth, enabling the chosen locations to be shown on top of a satellite image of the area. Searches can also be more highly specified by using thematic filters and keywords, allowing the user for instance to search solely for private companies engaged in waste management technology in Germany and France.
Data has been collected from a wide range of national business directories, yellow pages, and Chamber of Commerce member lists.
What is launched in Essen is primarily the new tool. While there are already several thousand data entries included at the time of start-up, much of the further population of the atlas is to be a bottom-up process: the atlas offers businesses and organisations free of charge listing — which they can do online by filling in a simple form.
For more information, see: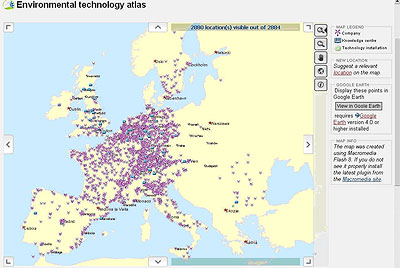 Overview: searching for environmental technology in Europe is greatly facilitated by the EEA's new tool presented at the EU informal council in Essen.
Permalinks
Permalink to this version

Permalink to latest version

Topics