News
Cutting noise with quiet asphalt and traffic lane management
News
Published 08 Nov 2011
Last modified 25 Aug 2016
Photo: ©
hirondellecanada | flickr.com
Noise pollution affects many Europeans, and for some, it is not only a nuisance - it can also trigger serious disease. Tuesday evening, at a prestigious ceremony in London, the European Environment Agency (EEA) and the Noise Abatement Society (NAS) presented the European Soundscape Award for the first time to raise awareness and recognise initiatives that help reduce noise levels. The winner was a Dutch project which was commended for its integrated traffic noise reduction scheme.
Across Europe, at least 100 million people are exposed to damaging levels of noise just from road traffic. Exposure to unwanted noise can cause stress and interfere with sleep, rest and study. Moreover, prolonged exposure can also trigger serious illness such as hypertension and heart disease. 
The EEA and NAS have teamed up to raise awareness about the impacts of noise and to reward European initiatives in the field of noise control or soundscape management. Organisers encouraged any product, campaign, innovation or scheme offering a creative solution to the problem of noise to submit an application for the new European Soundscape Award. The EEA and NAS received 16 entries from 12 countries, covering a wide range of noise-related topics. 
The winner of the European Soundscape Award 2011
The Dutch province of Gelderland and the municipality of Wijchen won the European Soundscape Award 2011 for their sustainable and integrated traffic noise reduction solution in the village of Alverna. The winning project has combined a range of innovative measures to reduce noise levels. The measures consist of:
Moving and reducing the number of traffic lanes
Sinking the road by 0.5m
Constructing low-level sound barriers of 1m on each side of the road
Using special 'quiet' asphalt 
Reducing the speed limit from 80 to 50 km/h in Alverna
These measures meant planners were able to achieve the same effect as installing the usual unattractive, 4m-high noise barriers.The project also includes a tree planting scheme to create attractive pedestrianised areas. In addition to the noise reduction benefits, the full package of measures also increases road safety, reduces fuel use, helps improve air quality and quality of life in the village.

The winning team: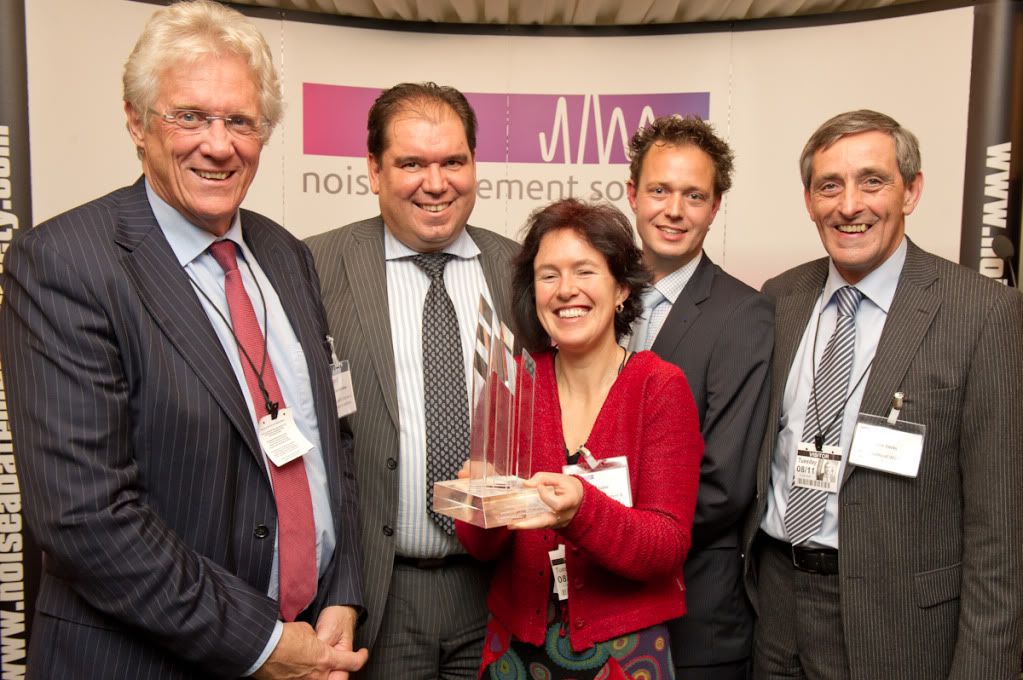 The runner-up award was presented to the Dutch Noise Abatement Society for the 'Electric Heroes – Go smart, go electric' campaign to encourage the uptake of electric scooters in The Hague and Zaanstad. 
Links
Permalinks
Permalink to this version

Permalink to latest version
Geographic coverage

Topics