Sustainable Consumption - What does that mean?
Event at the European Environment Agency, 10 October 2008, Kongens Nytorv 6, Copenhagen Denmark
Vertical listing
When
10 Oct 2008
from

03:45 PM

to

11:00 PM

Where
Contact Name
Anna Gasquet
Contact Phone

0045 3336 7100

Add event to calendar

vCal




iCal
The European Environment Agency (EEA) is an EU decentralised agency based in Copenhagen, Denmark. For the 3rd year in a row, the EEA will participate in Copenhagen Culture night, on 10 October 2008. This is the annual event in Copenhagen where cultural institutions and lots of other organisations open their doors to the public, offering a wide range of activities.

This year's EEA programme will focus on sustainable consumption and production. Our building located in Kongens Nytorv 6, in the heart of the Danish capital, will be filled with activities from 15.45 and continuing throughout the evening. This event is mostly targeting families. The more "serious" part of the evening programme will be a panel debate on how our food choices have impacts on the environment.
EEA Culture night poster (click to enlarge):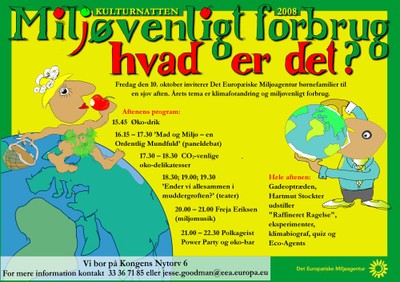 Programme for the evening:

15.45 Organic welcome drinks
16.15 – 17.30 "Food and Environment – A Big Mouthful". Consumer policy will be discussed. Led by a debate panel with Danish politicians, consumer and retail market representatives, and EEA Sustainable Consumption and Production experts.
17.30 - 18.30 CO2 friendly food

17.15 – 20.30 Science is cool... Experience various experiments performed interactively with students from Danish Natural Science Festival.

18.30; 19.00; 19.30 "The Fisherman and his wife." Dance department from Ballerup Ungdomsskole perform their rendition of the Brother Grimm's fairytale. (30 min)

20.00 - 21.00 Eco-songs by Freja Eriksen

21.00 – 22.30 Polkageist Power Party: Energetic live band inspired by salsa, calypso, funk, rock and Balkan music. Plus you can enjoy organic treats.


Throughout the evening: street performance, quiz, Eco-Agents, cinema , Hartmut Stockter's "Refined Junk" art exhibition.

To obtain additional information about this event and/or register for the debate, please write an email to anna.gasquet@eea.europa.eu or call 0045 3336 7100.
Best regards,
The EEA Information Centre
Permalinks
Permalink to this version

Permalink to latest version
Temporal coverage