Copenhagen Culture Night at the European Environment Agency (2012)
This content has been archived on
16 Oct 2014
, reason:
No more updates will be done
Once again on 12 October, starting from 18.00 o'clock in the evening, we are opening our doors to Copenhagen residents – families, environment enthusiasts, students or anyone who is interested in finding out and learning about our environment. We may play the hosts, but this year's spotlight will be on our source of life "water" and our often misunderstood neighbours "the bats". Copenhagen Culture Night is the annual event in Copenhagen, when cultural institutions and lots of other organisations offer a wide range of activities in an open-house setting. It is a unique opportunity for the EEA to welcome Copenhageners and tourists taking part in this event.
Vertical listing
When
12 Oct 2012
from

06:00 PM

to

11:00 PM

Where
Contact Name

Maja Tinson

Contact Phone

+45 3336 7100

Add event to calendar

vCal




iCal
Programme
This year's programme of activities will focus on water and bats, in honour of the UN International Year of Water and the Year of the Bat. Of course will also find an EEA stand with lots of information about environmental issues, a kids corner and we will present some interesting videos in a video loop throughout the whole event.
18.00–20.30: Mini fair

Grow vegetables – and fish – with aquaponics - Aquaponics
Experience aquaponics on Culture Night. Aquaponics is a method of growing fish and plants in a closed ecosystem. The plants grow fast and naturally by absorbing the nutrients which come from the fish excrements. In return, the plants cleanse the water so it is always clean and clear. Fish and plants which are produced using the aquaponics method are 100 % natural and contain no toxins.
On Culture Night you can see and experience one of the very first Danish aquaponics systems, when "The Rolling Greenhouse" visits the EEA. Come and see living Tilapias, which is one of the most widely eaten fish in the world, and smell the fresh vegetable and herbs that grow in the greenhouse.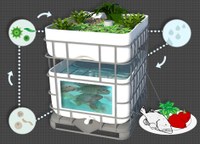 Go exploring in the magic world of water! - Energi & Vandværkstedet (The Energy and Water Science Centre)
Find out where your tap water comes from and study a water drop up close.
At The Energy and Water Science Centre's stand you can follow the water's journey from raindrop to the subsoil, past the waterworks and out through your tap. From there it travels back through the toilet to the sewer system and wastewater treatment plant – and finally back into nature.
Explore the water's journey through the soil layers. Study a water drop up close. Make squash from groundwater – and drink it if you dare.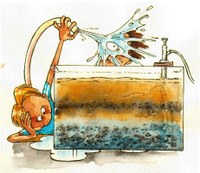 Learn about bats and see a real bat house! - Kalle Jørgensen/Farkas Szodoray-Paradi
Bats live close to humans. They thrive in nature, but also in cities and houses. For habitats they depend on trees in cities and parks, attics, towers and wall cracks. Come and see architect Kalle Jørgensen's "House for Bats" which plays on this interaction between bats and humans – nature and culture. The house reads as a comment on the bats as a cultural phenomenon and has been constructed to look and feel like all the cracks and holes which normally constitute the natural habitats of bats.
The Romanian bat expert Farkas Szodoray-Paradi will be present to tell you everything you've ever wanted to know about the mysterious world of bats.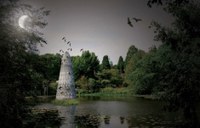 Do you have what it takes to be a water superhero? - Max100/Københavns Energi (Copenhagen Energy)

Learn to save water – in a fun way.
Meet the water saving heroes Max 100 and Maxine and their arch-enemy the Water Villain. Get free water conservation advice and win prizes in the water conservation obstacle course – become the fastest water saving hero in town!
Water conservation prizes for all participants, both kids and adults.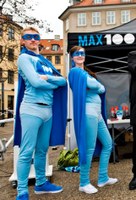 18.30 – 20.20 Theatre play by Ballerup Ungdomsskole ("Becoming Batman")
The play will be at 18.30-18.50, 19.00-19.20, 19.30-19.50, 20.00-20-20
Ib is not like the other bats and that's tough! Bats are expected to fly, hang upside down and love the night. But what if you're afraid of these things? Ib is a maladjusted bat who is trying to fit in. He dreams of being just like Batman. When the bat community comes under threat, Ib is suddenly the only bat who can save the day!
Ballerup Youth School (www.bask.dk) produces spectacular musicals starring actors between the ages of 14 and 22. Since 2006 the European Environment Agency and Ballerup Youth School have collaborated on theatre plays specially made for Culture Night. For this year, they have developed a performance which invites children of all ages into the magic world of bats.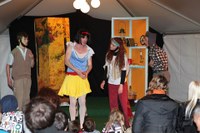 21.00 – 22.30 Anne Eltard Quartet concert
Anne Eltard Quartet invites you to an evening of evocative sounds and beautiful songs in the cosy EEA courtyard. The quartet's repertoire is an enticing mixture of Anne Eltard's own compositions, instrumental songs, ballads, fiery gypsy sounds and Nordic notes with a twist of Balkan. The sound is acoustic and the ensemble showcases their musical ease when they offer an evening in the company of Cornelis Vreeswijk, Lulu Ziegler, Liva Weel and others.
For 30 years Anne Eltard has been a part of the Danish and international musical scene as a violinist, vocalist and composer, from the absolute underground to the Royal Danish Theatre. The quartet consists of Anne Eltard, Hugo Rasmussen, Lars Krarup and Anders Pedersen.
Permalinks
Permalink to this version

Permalink to latest version
Temporal coverage