Figure
Trend in Arctic Sea ice extent in March and September
Figure
Created 14 Jun 2012
Published 19 Nov 2012
Last modified 26 Aug 2017
This page was
archived
on
26 Aug 2017
with reason:
A new version has been published
This figure shows the time series of Arctic Sea ice extent from 1979 to 2012. Trend lines and observation points for March (the month of sea ice extent maximum) and September (the month of sea ice extent minimum) have been indicated.
/data-and-maps/figures/ga-downloads/H6U5QP2GEY/arctic-sea-ice-extent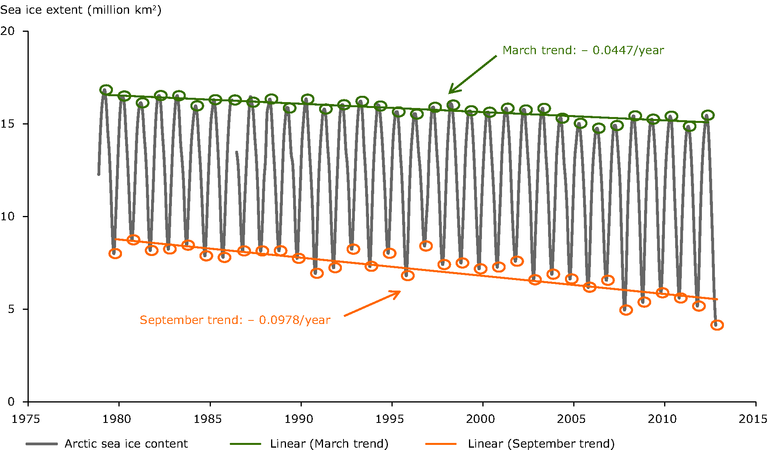 Download
European data
Metadata
Additional information
Geographical coverage: Arctic sea
Data regularly updated and downloadable Source: data produced by the EUMETSAT OSI SAF (http://osisaf.met.no) and the CryoClim (http://www.cryoclim.net) project delivered through MyOcean (http://www.myocean.eu).
involved Persons: Thomas Lavergne , Mari Anne Killie,  Lars Anders Breivik (METNO). Stefan Kern (ZMAW)  University of Hamburg /  CliSAP  Grindelberg 5 / D-20144 Hamburg / Germany
Permalinks
Permalink to this version

Permalink to latest version
Geographic coverage

Topics