European pollutant emission register
Page
Last modified 16 Oct 2014, 12:48 PM
EPER - The European Pollutant Emission Register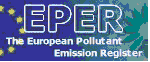 EPER is the European Pollutant Emission Register - the first European-wide register of industrial emissions into to air and water.

It gives you access to information on the annual emissions of approx. 9,200 industrial facilities in the 15 Member States of the EU as well as Norway and Hungary mostly for the year 2001 and approx. 12,000 facilities in the 25 Member States of the EU and Norway for the year 2004.
It lets you group information easily, by pollutant, activity (sector), air and water (direct or via a sewerage system) or by country.
It is also possible to see detailed data on individual facilities.
You can search by name or by clicking on a map. Alternatively you can look for the sources of a particular pollutant.
Permalinks
Permalink to this version

Permalink to latest version