Environmental impacts
Page
expired
Last modified 23 May 2014, 12:00 PM
This content has been archived on
23 May 2014
, reason:
Content not regularly updated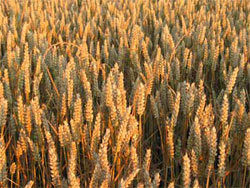 Ground-level ozone can damage all types of green vegetation, including the foliage of trees. Ozone is absorbed by leaves and impedes plant growth.
Ozone is recognised as the most serious regional air pollution problem for the agricultural sector in Europe. It reduces crop yields by hindering plant growth.
In 2000, it was estimated that the overall ozone damage to crops corresponded to an economic loss to farmers across EU-25 of about EUR 2.8 billion.
There are marked differences in damage to crops across Europe, depending on agricultural activity, soil moisture and ozone concentration. Most affected by elevated ozone concentrations are countries that are growing wheat.
The economic or ecological cost of ozone damage to wild vegetation has not been estimated.
© Photo: Pawel Kazmierczyk/EEA, 2004
For references, please go to www.eea.europa.eu/soer or scan the QR code.
This briefing is part of the EEA's report The European Environment - State and Outlook 2015. The EEA is an official agency of the EU, tasked with providing information on Europe's environment.
PDF generated on 24 Oct 2016, 09:59 AM