Netherlands
Climate change mitigation (Netherlands)
Why should we care about this issue
Topic

Climate change
Published: 26 Nov 2010 Modified: 23 Nov 2010
Climate change is one of the greatest challenges of our time. If left unchecked, climate change will impact all levels of society. As anthropogenic greenhouse gas emissions have a strong influence on global climate, mitigation action is required on all levels of society, on a global, European and national scale. Curbing greenhouse gas emissions also improves local air quality and lessens the dependency on fossil-fuel imports.
The key drivers and pressures
Published: 26 Nov 2010 Modified: 08 Apr 2011
National and sectoral greenhouse gas emissions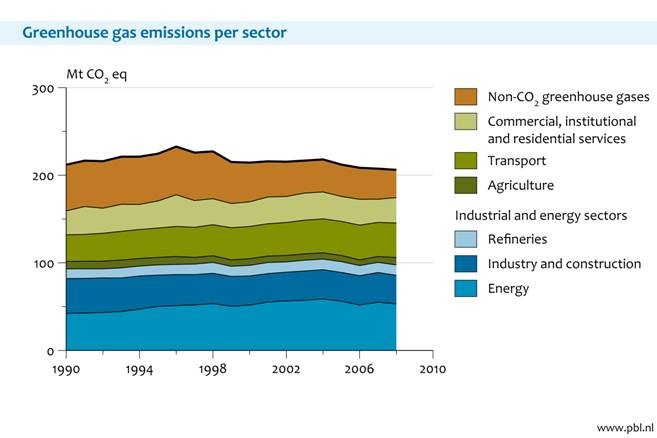 Figure 1 – Greenhouse gas emissions per sector in the Netherlands
Source: Pollutant Release and Transfer Register (PRTR) (2009, PBL)
In 2008, Dutch national emissions were 206 Mtonnes CO2 equivalent, which is about 3 % below the emissions of 1990[1]. Carbon dioxide emissions, about 85 % of the total in greenhouse gas emissions, increased by 10 % between 1990 and 2007. Non-CO2 emissions (methane, nitrous oxide and fluorinated greenhouse gases) decreased by 40 % in this period. With an 48 % share in 2008, the energy and industry sectors are the largest contributors of national greenhouse gas emissions. The energy sector alone contributed 31 % to national emissions in 2008. The transport sector, with an 18 % share in 2008, is also a significant emitter of greenhouse gases in the Netherlands.
Energy
Electricity is mainly produced by coal-fired and gas-fired power stations. Compared to other EU countries, the contribution of nuclear and renewable energy sources to electricity production is small. In 2008, the share of renewable energy accounted for about 7.5 % of domestic electricity consumption.
Industry
Energy-related greenhouse gas emissions from industry declined in the period 1990 to 2008. This was partly due to an increased use of cogeneration in joint ventures (the emissions of which are ascribed to the energy sector).
Non-energy-related greenhouse gas emissions from industry have been declining since 1999. This is mainly due to reduction in non-CO2 greenhouse gas emissions (such as fluorinated greenhouse gases and nitrous oxide). The nitrous oxide emissions from industry have dropped significantly since 2007 (23 % compared to 2006), due to abatement technology installed at all nitric acid production plants.
Transport
Despite efforts to increase fuel efficiency of cars, CO2 emissions from road transport increased by more than 35 % between 1990 and 2008. In recent years, biofuel blending has led to significant emission reductions. Biofuels share in fuels for road transport accounted for 2 % in 2007 and increased to more than 3 % in 2008.
Biofuel consumption between 2003 and 2008 http://www.milieuennatuurcompendium.nl/indicatoren/nl0535-Biobrandstoffen.html?i=15-103
---
[1] All 2008 figures are based on provisional data. Emissions excluding LULUCF
The 2020 outlook
Published: 26 Nov 2010 Modified: 08 Apr 2011
Figure 2 – Historical and projected greenhouse gas emissions in the Netherlands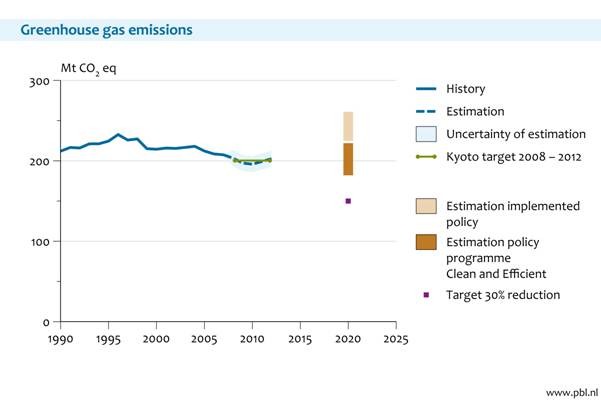 Source: Environmental Balance 2009 (PBL)
With current implemented policies, greenhouse gas emissions are projected to rise to between 225 and 261 Mtonnes CO2 equivalent by 2020. This range includes uncertainty about economic developments and is 6-23 % higher than emissions in the base year 1990.
The Kyoto target for the Netherlands is likely to be met, mainly due to the recession and by using the flexible mechanisms of the Kyoto Protocol. The required emission reduction for the Netherlands under the Kyoto Protocol was set at a 6 % emission reduction below 1990 levels, corresponding to an average emission level of 200 Mtonnes CO2 equivalents, annually. The recession has lowered emission projections for the 2008-2012 period to an average of nearly 200 Mtonnes CO2 equivalents, annually (range is 190 to 210 Mtonnes). The Dutch Government may still need to use the flexible mechanisms, since for non-ETS sectors a shortage in emission rights of -10 to 50 Mtonnes is projected, whereas for ETS sectors a surplus of emission rights of 5 to 45 Mtonnes is projected. The government has already contracted sufficient Clean Development Mechanisms (CDMs) and Joint Implementation (JI) emission units to compensate the underachieving non-ETS sectors. Additional information on this subject can be found at:
http://www.pbl.nl/en/publications/2009/Environmental-Balance-2009.-Summary.html
Existing and planned responses
Published: 26 Nov 2010 Modified: 23 Nov 2010
To meet the national objectives for 2020, the previous Dutch Government was implementing the policy programme 'Clean and efficient' (in Dutch: Schoon en Zuinig). This programme includes both policies in place and policy options and plans. When both current and planned policies are taken into account, national emission level in 2020 is projected to vary between 182 and 222 Mtonnes CO2 equivalent, 4 % above to 15 % below the 1990 emission level. This level is excluding the emission rights purchased by ETS companies. Source: Environmental Balance 2009 http://www.pbl.nl/en/publications/2009/Environmental-Balance-2009.-Summary.html
The European 'effort-sharing' target for the Netherlands requires an emission reduction of 16 % by 2020, compared to 2005, for the non-ETS sectors. This target falls within the projected emission range of 89-105 Mtonnes, when both current and planned policies are taken into account. The newly elected government, into power since October 2010, has announced to revise the climate strategy of its predecessor.
For references, please go to www.eea.europa.eu/soer or scan the QR code.
This briefing is part of the EEA's report The European Environment - State and Outlook 2015. The EEA is an official agency of the EU, tasked with providing information on Europe's environment.
PDF generated on 07 Mar 2015, 02:23 AM