Country profile - Societal developments (Former Yugoslav Republic of Macedonia)
SOER Country profile from Macedonia the former Yugoslavian Republic of
Published: 26 Nov 2010 Modified: 13 Apr 2011
Figures
Figure 2: Number of inhabitants according to censuses 1921 - 2008
*Estimated population (status 31.12) Source: State statistical office
Data source
Fullscreen image
Original link
Map 3: Population density in 2008, by municipalities according to territorial organisation 2004
Source: State Statistical Office
Data source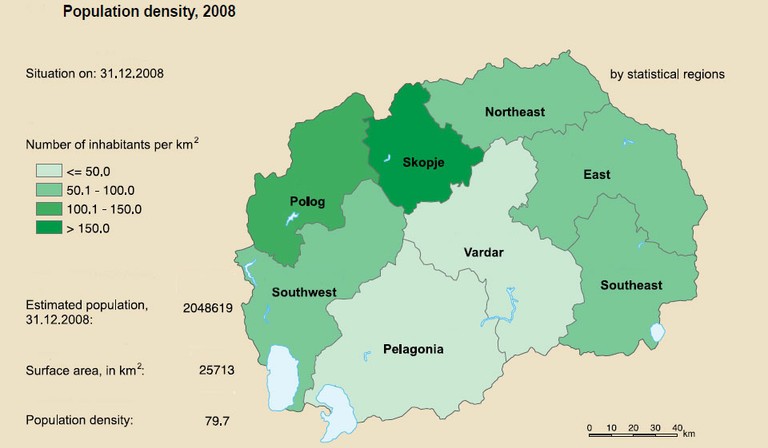 Fullscreen image
Original link
The Former Yugoslav Republic of Macedonia became an independent state in 1991, following the disintegration of the former Socialist Federal Republic of Yugoslavia. It gained its independence peacefully, but came out of the federation as the least-developed Yugoslav republic producing just 5 % of the total federal goods and services. Insufficiently developed infrastructure, UN sanctions on part of former Yugoslavia which used to be Macedonia's largest market, and the Greek economic embargo related to the dispute about the name of the country constrained economic development up to 1996. Then, gross domestic product (GDP) started to grow each year up to 2000. However, the commitment to economic reform, free exchange and regional integration was undermined by the conflict in 2001 resulting in a 4.5 % fall in the economy due to decreased trade volumes, occasional closure of borders, an increased deficit because of security-related expenditures and insecurity of investors. Growth resumed at 0.9 % in 2002, followed by a modest 2.8 % in 2003 with estimated growth of 4.8 % for 2008.
But the unemployment rate still remains high and with significant participation from the younger population from 15 to 24 years of age. The unemployment rate for that age group in 1998 was 70.9%, in 2002, 58.4% and in 2008, 56.4%
In the period from 1998 to 2008, the biggest number of unemployed persons were seeking job for more than 1 year. In 2008, their participation in the total number of unemployed was 84.9%, a number that poses a critical problem for the national economy[1].
The republic has also made significant progress in the field of the environment between the 1980s and the 1990s. The most outstanding achievements include:
improvement and extension of water supply systems in urban areas, connection of rural settlements to regional water supply systems and development of local water supply systems;
construction and extension of wastewater collection systems in urban areas and construction of sewerage networks in rural areas;
construction of wastewater collection and treatment in the areas of the three natural lakes – Ohrid, Prespa and Dojran;
Establishment of organised waste collection at the municipal level in most parts of urban areas.
These positive environmental developments resulted from the high priority attached to this issue by the authorities.
In 2002, the republic initiated the process of harmonisation of its environmental legislation with the EU; it has adopted many strategic documents related to environmental issues which require heavy investment in environmental infrastructure.
In recognition of the achievements made and in response to its application, the country was awarded the status of candidate country for full membership of the European Union in December 2005. This act by itself resulted in accelerated efforts to bring national legislation in line with the EU acquis, and improvement of administrative and institutional capacity – all aimed at achievement of European standards in all areas of life. However, in spite of the positive assessment by the European Commission presented in its Progress Report in October 2009, confirming the achievement of all set benchmarks, the country has not been awarded the date for initiation of membership negotiation due to the name dispute with its EU neighbour Greece.
The Former Yugoslav Republic of Macedonia is a parliamentary democracy, and Macedonian society is characterised by its multi-ethnic, multi-faith and multi-cultural composition, with all ethnic communities being guaranteed equal rights and opportunities under the Constitution.
The average population density of the country in 2008 is 79.7 inhabitants/km2, with significant variations around this average figure.
---
[1] Macedonia in Figures - 2009. Published by the State Statistical Office
Air quality management
Air quality management is a key tool for improving its quality. Ambient air quality has deteriorated since the early 1950s due to increased levels of pollutant emissions resulting from industrial development and increased volumes of traffic.
Pollution from industry and energy production, the burning of fossil fuels and transport activities all pose a threat to air quality, in particular in towns, cities and areas with intensive industry. Poor air quality can lead to serious health problems, especially for the youngest generation[2].
In the period from 2002 till 2008 for which emission data are available, the trend for al pollutants it is variable and i probably based on the discontinuous operation of the industrial and energy processes. Namely our country is still in the transition period and there is on-going process of complete or partly closure of the installation or change of the production which have major effect on the trend[1].
Air quality problems are particularly pronounced in and around major cities[2], thus potentially affecting 60 % of the total population[3].
Ozone layer protection
In 1994, the Former Yugoslav Republic of Macedonia ratified the Vienna Convention on Ozone Layer Protection and the Montreal Protocol on Ozone Depleting Substances (ODS). In 1997, the Office for Protection of the Ozone Layer was established as a part of MEPP with the purpose of coordinating national activities to reduce and eliminate ODS. This office has implemented a number of projects[1] in all relevant sectors that use chemicals that are covered by the Conventions. These efforts have resulted in the elimination of more than 90 % of the substances classified in the Annexes of the Montreal Protocol. The office is also responsible for awareness-raising and public participation in the field of ODS. Full elimination of CFCs by 2009 was the main challenge faced for this issue, and it was achieved as planned.
---
[1] The project for CFC-11/12 phasing-out in the refrigerator factory "Frinko"; Project for CFC-11 phasing-out in the production of elastic foams in the "Sileks" Factory; Project for CFC-11 phasing-out in the production of hard foams in the "Sileks" Factory; Pilot projects for alternative use of methyl bromide in agriculture; Project "Plan for cooling management"; Project for CFC-11/12 phasing-out in the production of aerosols in "Alkaloid".
Water management
The country is classified as semi-arid – the area of Ovce Pole is the driest area in the central Balkan Peninsula. The use, protection and conservation of water resources is therefore of utmost importance. According to the hydrographical conditions of the country there are four river basin areas[1] and three major natural lakes[2]. Most of the surface waters are internal to the country and formed on the territory by precipitation. Macedonia is not rich in surface water, having about 3 000 m3/capita, and is dependent on depends on precipitation. In total, the annually available surface water is assessed to be in the order of 6 372 billion m3.[3]
About 4 400 springs with a total annual yield of 992 million m3 are registered of which 58 have a capacity of over 100 l/s.
Macedonia abounds with mineral water, thermal water and thermo-mineral water. Geothermal water is traditionally used for spa and medical cure purposes.
There are 44 wetlands covering a total area of 57 422 ha, or about 2 % of the total territory. Most of this area is occupied by natural lakes. The water quality of these wetlands is endangered by uncontrolled wastewater discharges, uncontrolled water abstraction, tourist activities and unfavourable weather conditions.
The monitoring network covers 20 measuring points located on rivers, lakes and reservoirs. Quality control consists of analysis of physical-chemical, toxic-chemical, and microbiological parameters.
There is no systematic monitoring of industrial wastewater.
The water supply systems are operated and managed by public enterprises. In the urban municipal areas, connection rates are 82-100 %, with 1 200 000 inhabitants in these areas are connected to a public water supply system. In rural areas, connection rates exhibit a spread of 10-100 %. The available data indicate average connection rates of about 70 % corresponding to an estimate of 250 000 inhabitants connected to a public water supply system.
Only 12 cities have constructed separate sewage systems. The City of Skopje has constructed a separate system for wastewater[4] (56%) and for precipitation water (18%), from the overall planned system for wastewater and precipitation water network in City of Skopje. The length of the collection network is 280.6 km. At the national level, the length of the sewage collection network is 1 239.1 km. Sixty percent of dwellings are connected to a public sewage system, 21 % have septic tanks and another 19 % have only a system of uncontrolled wastewater discharge. There is no monitoring of the wastewater discharged by municipal sewage systems. The management of the sewage systems is the responsibility of the public water supply and sewage enterprises.
Investments in municipal infrastructure are at very low level, and will need to increase in order to meet the requirements of the
acquis.
There is a lack of a general plan for environmental investment, especially in the area of wastewater treatment.
---
[3] Second National Environmental Action Plan of the Republic of Macedonia, 2006, page 31, page 36
Soil management
The main characteristics of the current situation may be summarised as follows:
erosion remains the most important type of soil degradation. According to the republic's erosion map (Water Management Institute,1993), 96.5 % of the total area is under processes of erosion;
according to data for 2005, around 10 % of the territory is categorised as unproductive land;
only half of the productive land is arable, corresponding to 25 % of the territory. However, parts of the arable land have been abandoned, thus reducing this to 20 % of the territory;
Only 10 % of the arable land belongs to higher land-use classes. The reduction of the arable areas also occurs in the most fertile areas as the result of different types of degradation;
overall, in recent years, around 70 000 ha, most of which is first class land, have been removed from agricultural production;
contamination of productive soil continues to present a problem, especially due to the lack of monitoring of the degree of contamination through established monitoring and information systems.

[1]
---
[1] Second National Environmental Action Plan of the Republic of Macedonia, 2006, page 38
Waste management
The generation of municipal waste[1] – waste from households, commercial waste and other waste types – is about 570 000 tonnes annually. Around 25 % of the total amount is biodegradable. On average, annual waste generation is 250-315 kg/person (data is based on samples and from public utilities).
No system has yet been organised for the collection and recycling of packaging waste, and national legislation to incorporate the Packaging Directive has not yet been prepared.
Hazardous and non-hazardous industrial solid waste is usually disposed of, together with waste from other processes, at industrial landfills, or, together with other waste, at municipal landfills. It has been estimated that around 5 000 tonnes of industrial non-hazardous waste are disposed of in municipal landfills annually, together with around 500 tonnes of industrial hazardous waste.
Some wastes are recycled by the informal sector, including metals, paper, plastics, batteries and waste oils.
Regular waste collection services are limited mainly to urban areas with around 90 % coverage in cities and suburbs, but only 10 % of the rural population. This means that 70 % of the total population is provided with waste collection service on a regular basis, while the remaining portion, living far from urban centres, manages their wastes independently. There has been no regular collection of prior selected waste, except collection of certain types of bulk wastes in Skopje.
Waste collection services are performed mainly by public utilities dealing with water supply and wastewater collection, and other municipal services. Waste disposal is not compliant with technical and/or environmental standards.
Figures
Figure 3: GDP per capita in Purchasing Power Standards (PPS) (EU-27 = 100)
Source: EUROSTAT
Data source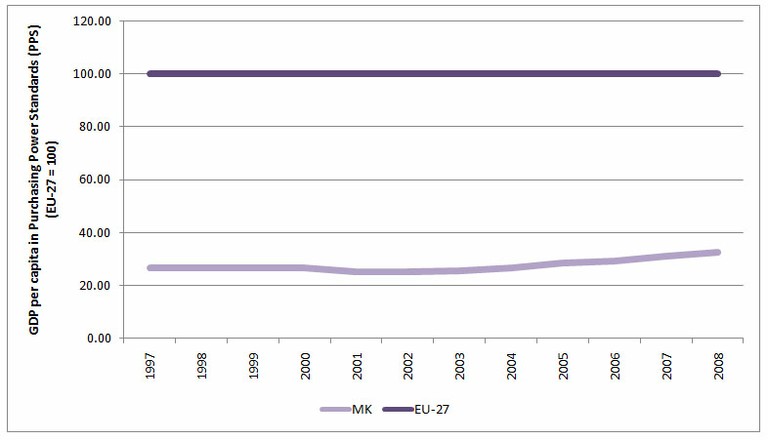 Fullscreen image
Original link
Economy
The economy is small, with a GDP of just little over $4 billion in 2003. The GDP real growth rate of 2.8 % for that year was well above most European countries. More recent data show that for 2007 the GDP grows up to $5.4 billion.
From 2003-2007 the biggest share of the structure of the GDP are Service activities which include trade, hotels and restaurants, transport storage and communication, financial intermediation, real estate, renting and business activities, public administration, health, education and other community, social and personal service activities. The share in 2003 is 43.9% and 45.7% in 2007.
The share of Industry, including Energy and Construction is 26.2% in 2003 and 27.9% in 2007, while Agriculture, forestry and Fishery share with 11.4% in 2003 and with 9.4% in 2007.
In 2004, the government passed a progressive Trade Companies Law aimed at easing impediments to foreign investment, providing tax and investment incentives, and guaranteeing shareholder rights. In 2006, the government began implementing a one-stop procedure for business registration that considerably shortened the time required to register a new business.
The governmental objective to create a favourable environment for foreign and domestic investments remains in force.
For references, please go to www.eea.europa.eu/soer or scan the QR code.
This briefing is part of the EEA's report The European Environment - State and Outlook 2015. The EEA is an official agency of the EU, tasked with providing information on Europe's environment.
PDF generated on 06 Mar 2015, 11:02 PM