Latvia
Land use (Latvia)
Why should we care about this issue
Topic

Land
Published: 26 Nov 2010 Modified: 23 Nov 2010
The shortage of agricultural land is fast becoming a worldwide phenomenon. It is therefore essential to have an appropriate land policy and adequate land-use statistics. Agricultural production offers considerable potential for Latvia's national economy, particularly given that production potential is twice as high as Latvia's consumption rate. The challenge is to overcome limited competitiveness and productivity, mainly due to the fact that subsidies are among the lowest in the EU for farming and agricultural land management.
Agriculture is still the main source of production in Latvia, partly thanks to the continuing traditions of agricultural lifestyle and land use. However, recently Latvia has seen a rapid expansion of urban areas, often at the expense of agricultural land and rural areas. Rural-to-urban migration has also caused essential changes in land use, affecting not only land-use statistics but also the environment, e.g. natural ecosystems and human health. Phenomena that have changed the landscape significantly are the re-naturalisation of previously-managed agricultural lands and the felling of timber in forest areas. The main problems which need to be addressed are urban sprawl, abandonment of agricultural land and afforestation in the context of climate change.
The state and impacts
Published: 26 Nov 2010 Modified: 08 Apr 2011
State
In recent years, Latvia has experienced a significant trend towards the abandonment of agricultural land, caused by the unfavourable economic situation in the agricultural sector, rural-to-urban migration and the ageing of the rural population. As a result, the most important feature of the Latvian landscape - the countryside - has suffered negative effects. Moreover, due to the current economic recession, there is evidence that the trend towards abandonment and migration are increasing and there is a risk that certain areas will eventually become depressed.
The second trend is towards urban sprawl. During the years of economic growth, there was a tendency to build family houses in the suburbs and commute to work in cities. The urban sprawl caused a reduction in natural areas and landscape fragmentation and these problems still remain, even though the period of economic expansion is now over.
The third trend is towards the depletion of natural resources. During a period of economic decline, there is a tendency to engage in actions that generate short-term income. This may take the form of intensive timber harvesting or the depletion of mineral deposits and peat resources.
According to Latvia's Annual Land Report, 2008, the proportion of different land-use types has not changed radically since 1995. In recent years, the proportion of agricultural land fell slightly, while the proportion of forests and yard areas[1] increased. This is connected to afforestation and the transformation of agricultural land for development. Almost half of Latvia's territory is covered in forest (45.7 %). Agricultural land covers 37.7 % while yard areas only account for 1.5 %.
Dynamics of land structure according to types of land use[2]
(% of total state area)
| Year | Agricultural land | Forests | Scrub | Swamp | Under water | Yards (including built-up areas) | Roads | Other uses |
| --- | --- | --- | --- | --- | --- | --- | --- | --- |
| 2000 | 38.5 | 44.4 | 1.9 | 4.2 | 3.3 | 1.4 | 1.9 | 4.4 |
| 2001 | 38.4 | 44.3 | 1.8 | 4.0 | 3.5 | 1.4 | 2.0 | 4.6 |
| 2002 | 38.3 | 44.5 | 1.8 | 4.0 | 3.5 | 1.4 | 2.0 | 4.5 |
| 2003 | 38.3 | 44.7 | 1.8 | 3.9 | 3.6 | 1.4 | 2.0 | 4.3 |
| 2004 | 38.2 | 45.0 | 1.8 | 3.8 | 3.6 | 1.4 | 2.1 | 4.1 |
| 2005 | 38.1 | 45.2 | 1.8 | 3.9 | 3.6 | 1.4 | 2.1 | 3.9 |
| 2006 | 38.0 | 45.4 | 1.8 | 3.9 | 3.6 | 1.4 | 2.1 | 3.8 |
| 2007 | 37.9 | 45.5 | 1.8 | 3.9 | 3.7 | 1.4 | 2.1 | 3.7 |
| 2008 | 37.7 | 45.7 | 1.8 | 3.9 | 3.7 | 1.5 | 2.1 | 3.6 |
When plotted in the diagrams below, these data show that there are no relevant changes in the proportions of land-use types.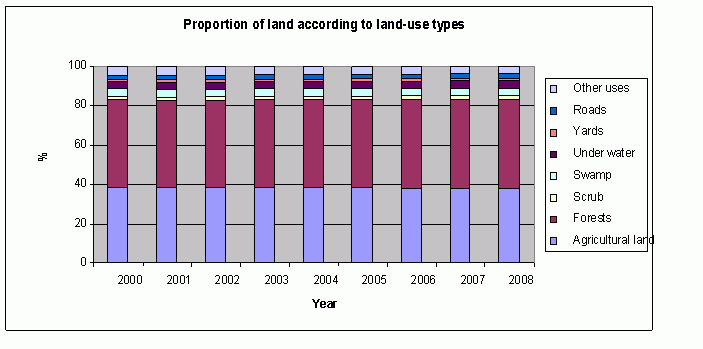 The proportion of land use types in 2008 appears in the diagram below:
Research carried out by the Ministry of Agriculture in cooperation with the Latvian Rural Consulting and Education Centre indicates that in 2005 the area of abandoned agricultural land was 14 % of total agricultural land area, which is 3.6 % more than in 1995.
According to the Rural Support Service[3], 1 566 048 hectares (64 %) of all agricultural land was declared in applications for payments under the EU's Single Area Payment Scheme in 2008. Only 1 051 458 hectares (67 %) of this land was involved in agricultural production. It is assumed that the rest of the area declared (514 590 hectares) is being maintained in a good agricultural and environmental state in order to receive the relevant financial support. However, agricultural land management is not monitored extensively and therefore comprehensive information is not available.
Impacts
The development of rural areas and agricultural land for construction purposes not only reduces natural areas and changes usage but also has an influence on the environment. This development leads to land degradation (e.g. landscape re-naturalisation, fragmentation and afforestation), contributes to a reduction in biodiversity and exacerbates the problem of inadequate infrastructure.
The depopulation of rural areas leads to agricultural land abandonment and degradation. At present, the characteristic features of rural areas in Latvia are re-naturalisation, a homogeneous landscape and afforestation.
On the other hand, agricultural land abandonment also causes a decrease in agricultural run-off and, as a result, reduced eutrophication in water bodies. Nevertheless, research has shown that in the long term, agricultural land abandonment reduces biodiversity.
The key drivers and pressures
Published: 26 Nov 2010 Modified: 23 Nov 2010
Drivers
The main drivers of land-use change are economically-related. Periods of economic growth have resulted in a tendency towards urban sprawl, depopulation in rural areas and rural-to-urban migration. The social driver − change of lifestyle − has caused agricultural land abandonment and the transformation of natural areas and agricultural land around cities into built-up areas.
During periods of economic decline, the problem of agricultural land abandonment is exacerbated, emigration recommences and support measures for agriculture have proved to be insufficient.
Drivers that are of great importance but sometimes also have an opposite effect are policy drivers such as the EU's direct payments. On the one hand, direct payments for maintaining agricultural land in good condition help to discourage land abandonment and other processes. Yet on the other hand, they also support afforestation. Thus, changes are being made to the landscape and land use anyway. Due to the low price of agricultural and forest land, there is a tendency to purchase land for deforestation, without undertaking any real agricultural activities to sustain it.
Environmental drivers do not play a substantial role in land-use changes. However, they are relevant in coastal areas where coastal erosion is increasing, for example along the Baltic Sea and in the Gulf of Riga.
Pressures
Changes in lifestyle, rural-to-urban migration and emigration lead to land abandonment. However, EU direct payments encourage farmers to maintain agricultural land in good condition, so the landscape is not modified too much. On the other hand, support for afforestation promotes the transformation of abandoned agricultural land to forests, changing landscape and ecosystems substantially.
Economic decline and unfavourable economic situations in agriculture provoke actions to generate immediate income - for example, depletion of natural resources and intensive timber harvesting.
The 2020 outlook
Published: 26 Nov 2010 Modified: 23 Nov 2010
A long-term scenario for land use in Latvia has been developed as part of the Land Policy Guidelines 2008–2014. The scenario is based on development trends and studies of land-use in Europe.
In the foreseeable future (2030), as demand for food increases in various regions of the world, so the demand for agricultural land will also grow. Latvia currently has legal restrictions on land transactions for non-citizens. Under the terms of the EU Accession Agreement, these restrictions will expire in 2013 (if the term is not extended). At this time, the amount of unused agricultural land will probably decrease, however, significant changes in land use are not envisaged.
Forestry management will be based on balanced use of resources and environmental sustainability. There will be insignificant increases in forest areas and protected natural areas will constitute around 19.5 % of the country.
The maintenance of typical ecosystems and sustainability in land use will be ensured by retaining existing land-use proportions.

Proportion of each type of land use (% of total territory)
Land use, 2007

Land use, 2030

Agricultural land — 38 %

Unused agricultural land, % of total agricultural land — 14.6 %

Forest land — 55 %

Building areas — 4.1 %

Other land (scrub, wetlands, land under water) —13.1 %

Agricultural land — 35 %

Unused agricultural land, % of total agricultural land — 1 %

Forest land — 56 %

Building areas — 7 %

Other land (scrub, wetlands, land under water) — 12 %
Existing and planned responses
Published: 26 Nov 2010 Modified: 23 Nov 2010
The necessity to improve spatial planning systems and increase local government capacity in spatial planning is recognised by the Spatial Planning System Development Concept. The spatial plan at local municipality level is the most important planning document for influencing future land-use trends.
The Spatial Planning System Development Concept also states that it is essential to define the spatial structure of state territory in order to ensure a sustainable settlement structure and polycentric development. This will also prevent urban sprawl. Latvia has developed Sustainable development strategy to 2030 which includes a spatial development perspective.
Substantial legislation has also been developed on land-use and ownership. After the re-establishment of Latvian independence, land reform aimed to restitute property rights to former owners, or their heirs, and to establish a legal basis for private land ownership. Several legislative acts will come into effect in 2011 to conclude the land reform process. This will significantly ease development activities involving land expropriation and land transactions.
The Ministry of Agriculture manages EU and state support and initiates legislative changes in sectors such as agriculture, forestry, food and veterinary science, rural development and fisheries. The Ministry has developed a rural development programme for Latvia (2007–2013) which focuses on the following priorities:
educated and creative individuals
technological excellence and flexibility of businesses
scientific research and development.
The Land Policy Guidelines for 2008–2014 recognise the necessity to coordinate policy relating to land issues across different sectors. The objective of the Land Policy Guidelines is to ensure sustainable land use and protection, including the protection of the soil, forests and waters, and to prevent land degradation. The resulting Land Management Concept is developed. It covers principles of land use, the rights and responsibilities of land-users, the competence of the state and local municipalities in land management, landscape protection, planning and management and measures to prevent land degradation. It is envisaged to include these topics in Land Management Law which is currently being developed.
References
For references, please go to www.eea.europa.eu/soer or scan the QR code.
This briefing is part of the EEA's report The European Environment - State and Outlook 2015. The EEA is an official agency of the EU, tasked with providing information on Europe's environment.
PDF generated on 05 Mar 2015, 01:10 PM