Lithuania
Freshwater (Lithuania)
Why should we care about this issue
Topic

Freshwater
Published: 26 Nov 2010 Modified: 23 Nov 2010
In Lithuania the most intensive use of surface water is in the energy sector. Groundwater is mainly used for economic and household needs. Over the last decade, a fall in the level of groundwater and an increase in evaporation have reduced surface run-off. The urban population of Lithuania is served by a centralised supply of groundwater for drinking, while a large part of the rural population still uses water from wells. These wells are mainly found in areas of intensive agriculture. For this reason, diffuse agricultural pollution affects not only the quality of surface waters but also the health of those extracting water from wells. Diffuse agricultural pollution is the main source of nitrate nitrogen pollution and accounts for up to 70 % of the total nitrate nitrogen pollution load in water bodies. Another source of surface water pollution is inadequately-treated or untreated waste water discharged into the environment from towns and villages which do not yet have modern waste water treatment plants. Estimates show that about 70 % of total point-source pollution load to water bodies is released via discharge from urban and rural waste water treatment plants.
The state and impacts
Published: 26 Nov 2010 Modified: 08 Apr 2011
Figures
Fig. 1 Distribution of migrating fish in Lithuanian rivers Source: Pisciculture and Fisheries Research Centre.
Fullscreen image
Original link
Fig. 1 Distribution of migrating fish in Lithuanian rivers Source: Pisciculture and Fisheries Research Centre.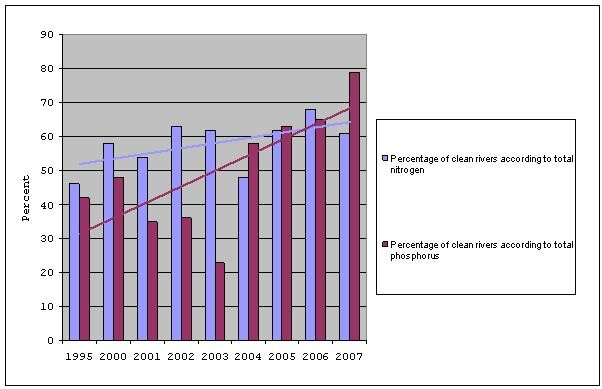 Fullscreen image
Original link
Fig. 3. Fluctuation of groundwater level in clay soils (1 - annual average; 2 - long-term average)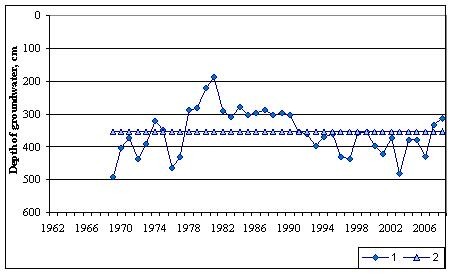 Fullscreen image
Original link
Lithuania has four official river basin districts that are part of the Baltic Sea region. The average annual river discharge is around 25 km3. According to the water status classification criteria derived in accordance to the requirements of the Water Framework Directive (Directive 2000/60/EC), some 47 % of the water bodies in Lithuania's largest river basin, the Nemunas Basin, fall within the group at risk. Lithuania has over 80 operating hydropower plants, built by damming some 50 rivers and this has made approximately 80 % of the country's territory inaccessible to migrating fish (Fig. 1).
| | |
| --- | --- |
| Original | Translation |
| Upių baseinai, pasiekiami praeivėms žuvims | Rivers basins accessible to migrating fish |
| Prarastos teritorijos | Inaccessible territories |
| Patvakos (ne žemesnės kaip 3 m, ant tvenkinių didesnių kaip 5 ha) | Dams (at least 3 m high, on reservoirs of over 5 ha) |
According to national monitoring data, the quantity of substances entering rivers and enhancing eutrophication, such as nitrogen and phosphorus, has declined while the percentage of clean rivers has been increasing on an annual basis (Fig. 2).
| | | |
| --- | --- | --- |
| Year | Percentage of clean rivers according to total nitrogen | Percentage of clean rivers according to total phosphorus |
| 1995 | 46 | 42 |
| 2000 | 58 | 48 |
| 2001 | 54 | 35 |
| 2002 | 63 | 36 |
| 2003 | 62 | 23 |
| 2004 | 48 | 58 |
| 2005 | 62 | 63 |
| 2006 | 68 | 65 |
| 2007 | 61 | 79 |
On average, groundwater meets quality standards at 90 % of the monitoring sites. The highest levels of nitrates are observed in urban areas or zones of intensive agriculture. Lithuania began monitoring the status of groundwater resources in 1946. Data on the groundwater level indicate that changes in climatic conditions have had a negative impact on groundwater resources in recent years. Dry springs followed by hot, dry summers have an adverse effect on groundwater resources. The groundwater level is an indicator of a dry period in the subsurface (Fig. 3).
The most sensitive areas are lowland zones, made up of glacial and lacustrine deposits with low permeability (clay, till), where the loss of groundwater resources is higher than groundwater recharge.


In 2007, groundwater levels indicated the end of a dry period. However, the weather conditions in 2008 were unfavourable for groundwater resources. In glaciolacustrine lowlands, where shallow groundwater occurs at a depth of less than 3 m, the rate of evaporation is higher than that of recharge. Consequently the balance of groundwater resources was negative in 2008 (-2.96 m3/s). In glacial lowlands, where shallow groundwater is found in glacial deposits and glaciolacustrine sandy lowlands at a depth of below 5 m, annual groundwater resources were 1.51 m3/s. The best situation was observed in sandy glaciofluvial lowlands and highlands where natural groundwater resources were close to the long-term average. However, natural shallow groundwater resources throughout the country were below the long-term average (Table 1).
Table 1. Groundwater resources
Lithology of vadose zone

Groundwater resources, m3/s

2008

2007

Long-term average

Lacustrine clay, peat

-2.96

-0.001

2.9

Glacial loam, sandy loam, alluvial, marine and eolitan sand

1.51

2.3

14.7

Alluvial, marine lacustrine sand

39.12

40.0

32.0

Glaciolacustrine sand

25.16

35.1

26.0

Glaciofluvial sand, various grains

17.24

17.1

20.0

Alluvial and glaciofluvial sand with gravel

41.87

40.0

41.2

Pebble and gravel

1.13

1.29

1.2

Total:

123.1

135.79

138.0
The key drivers and pressures
Published: 26 Nov 2010 Modified: 08 Apr 2011
The main sources of surface water pollution are inadequately-treated domestic waste water and diffuse pollution from the agricultural sector. In the rivers of the Nemunas River Basin District levels of nitric nitrogen from diffuse sources of pollution exceed the levels from point sources of pollution more than 10 times (Fig. 4). Groundwater quality has been significantly influenced by changes in the intensity of land use between five and 10 years ago.
| | | | |
| --- | --- | --- | --- |
| Pollution/pollutant | NO3-N | NH4-N | Total phosphorus (P) |
| Point source | 733 | 238 | 196 |
| Diffuse | 10 854 | 160 | 207 |
| Background | 5 265 | 127 | 453 |
Figure 4:
The volume of surface water abstraction mainly depends on demand in the energy sector where water is used for cooling or driving turbines. The energy sector consumes about 98 % of the total surface water abstracted. Groundwater (around 63 %) is mostly used for economic and household purposes.
The 2020 outlook
Published: 26 Nov 2010 Modified: 23 Nov 2010
Measures for reducing the pollution of water bodies are set out in the Council Directive concerning urban wastewater treatment (91/271/EEC) and the Nitrates Directive (91/676/EEC). According to the rules for issuing, renewing and cancelling integrated pollution prevention and control permits, all water users taking over 100 m3 of water within a 24-hour period and discharging 5 m3 or more of waste water in the same period must obtain integrated pollution prevention and control permits and pay taxes for the use of natural resources and pollution of the environment. Diffuse pollution is controlled by a government resolution on special land and forest use conditions, also by legislation regulating the application of manure, surveillance of its impact on water bodies etc. The protection and management of water resources in Lithuania is considered an environmental policy priority and is organised on the basis of river basins. The European Union Water Framework Directive (2000/60/EC) was transposed into national law in 2003. Pursuant to the Water Framework Directive and the Water Act, water bodies will be managed and protected according to the natural hydrological rather than administrative boundaries of river basins. With a view to facilitating the management of water and water bodies, the Lithuanian river basins have been combined into four river basin districts. At present, river basin district management plans and implementation programmes are being developed for each river basin district.
The National Sustainable Development Strategy has set targets to reduce the nitrogen pollution load from point sources by 810 tonnes, phosphorus pollution by 85 tonnes and the seven-day biological oxygen demand by 1 050 tonnes before 2012, against 2004 levels.
Following the opening of modern waste water treatment plants in cities, Lithuania plans to stop discharging untreated or inadequately treated industrial and domestic waste water from 2020, thereby reducing the pollution of surface water with substances that promote eutrophication.
Introducing the principles of clean production and reusable water systems will reduce demand for water in production. Following implementation of environmental measures, water losses in 2020 should account for no more than 10 % of the total water supply.
Related indicators
For references, please go to www.eea.europa.eu/soer or scan the QR code.
This briefing is part of the EEA's report The European Environment - State and Outlook 2015. The EEA is an official agency of the EU, tasked with providing information on Europe's environment.
PDF generated on 05 Mar 2015, 04:43 PM