Nature protection and biodiversity - National Responses (Belgium)
Common environmental theme
National Biodiversity Strategy 2006-2016, Belgium
Topic

Nature and biodiversity
more info

Organisation name

NFP-Belgium

Reporting country

Belgium

Organisation website

Contact link

Last updated

22 Dec 2010

Content license

Content provider
Published
: 05 Nov 2010
Modified
: 13 Apr 2011
Feed synced
: 22 Dec 2010
original
At the national level, the National Biodiversity Strategy 2006-2016, adopted in October 2006, was developed as a direct response to Article 6 of the Convention on Biological Diversity. It is the first document on biodiversity that is applicable both at federal and regional levels.
The strategy spells out a range of priority objectives to anticipate, prevent and reduce the causes of biodiversity loss in Belgium. It also aims to (i) implement the Convention on Biodiversity, (ii) reach the 2010 target set out by the EU (halt the loss of biodiversity in Europe by 2010) and (iii) provide an integrated national response to the numerous treaties and agreements on biodiversity to which Belgium is a party.
More information available on: http://www.biodiv.be/implementation/strategy-be
Integration of biodiversity in sectoral activities
In November 2009, the federal government adopted the Federal Plan for the Sectoral Integration of Biodiversity. This plan is one of the government contributions to the 2010 International Year of Biodiversity and to the implementation of Belgium's National Biodiversity Strategy 2006-2016.
The plan focuses on four key sectors at the federal level: economy, development cooperation, science policy and transport. The objective is to better integrate biodiversity concerns in the activities of these sectors. This sectoral integration of biodiversity should not be restricted to a limited number of sectors, hence this plan is to be seen as a first step in this approach.
More information available on: http://www.biodiv.be/implementation/laws-policies/policies/federal/biodiv-plan
Protected areas
An overall total surface area for protected areas (PAs) cannot be given, since surfaces of PAs of several types overlap, wholly or partially.
The total Natura 2000 surface area in the terrestrial zone comes to 12.6 % of Belgium. In the marine zone about 12 % of the Belgian territorial sea and its exclusive economic zone is designated as Natura 2000.
The demarcation of the protected areas, which are summarised in Table 2, is embedded in regional policies aimed at countering the loss of biodiversity (except for the federal marine protected areas). Hence the response to biodiversity loss is described on a regional level below.
Brussels-Capital

Flanders

Wallonia

Federal marine

Belgium

Number

Area (ha)

Number

Area (ha)

Number

Area (ha)

Number

Area (ha)

Number

Area(ha)

Total surface area

16 140

1 352 200

1 684 400

346 200


3 052 800

Nature reserves

public nature reserves

13

117

368

14 546

147

7 058

1

670

406

21 083

private nature reserves

-

-

554

19 302

135

2 261

-

-

767

20 432

Natura 2000

3

2 432

62

166 187

240

220 945

5

42 305

310

428 908

Forest reserves

2

112

47

2 546

13

610

-

-

61

4 556

Forest special protection areas

4

587

Wetlands of biological interest

-

-

-

-

51

1 091

-

-

49

1 045

Caves

-

-

-

-

70

-

-

-

63

-

Natural parcs

-

-

1

5 700

9

306 971

-

-

10

312 167

Ramsar and other wetlands

-

-

4

5 572

4

38 528

1

1900

9

4 600

Dune Protection Act: protected dunes

-

-

135

1 105

-

-

-

-

±117

1 088
Table 2: Overview of the numbers and surface area of various types of protected areas (Source: National Focal Point of Belgium for the Convention on Biological Diversity (2009), p96 – revised according to recent changes)
Designated protected areas
In Belgium there are no special targets requiring protected areas to cover a minimum percentage of the ecological regions. However, the EU Habitats Directive and Birds Directive include qualitative targets for the designation of protected areas for the listed endangered species and habitats in Belgium.
At the end of 2008, the Flemish region had 20 014 ha of nature reserves. Just for the year 2008, the area of nature reserves has increased by 1379 ha. At the end of 2008, the Flemish region had 2 554 ha of forest reserves. Between 2004 and 2007, the network grew on average by about 145 ha per year. Taking into account the areas with a nature-oriented management, the total area with 'conservation management' at the end of 2007 is 39 365 ha. 12.3 % of the Flemish region is designated as Natura 2000 area1.
---
1 National Focal Point of Belgium for the Convention on Biological Diversity (2009), p72.
In the Brussels-Capital Region, a major part of the zones of high biological value is the object of one or several protection measures of very variable content. 1.5 % of the Brussels-Capital Region is designated as nature or forest reserve (13 and 2 respectively). However, as much as 14 % of the Brussels-Capital Region is designated as Natura 2000 area. Protection areas (34 % of the forest area) where, among others, walking is strictly limited to the paths, have also been designated2.
---
Figures
Figure 15: Land area of protected sites in the Walloon Region
Source : SPW \u2013 DGO3 \u2013 DNF\n
Data source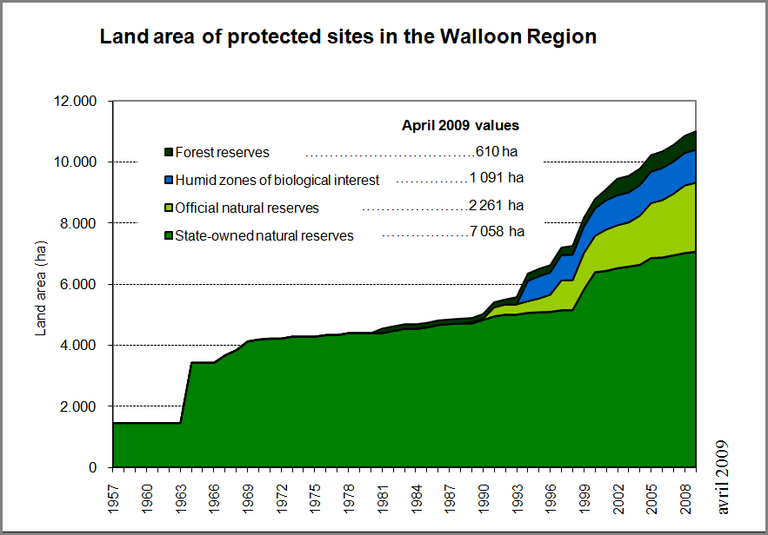 Fullscreen image
Original link
The network of protected natural sites is growing but remains underdeveloped in Wallonia. In late april 2009, around 11,000 ha in natural sites (wich correspond to 0.65% of the Walloon territory) enjoyed high-protection status. Tho Walloon Region had 147 state nature reserves covering 7 058 ha, 135 approved nature reserves covering 2 261 ha, 13 forest reserves covering 610 ha, 51 wetlands of biological interest covering 1 091 ha and 70 underground cavities of scientific interest.
The general consensus among experts is that high-protection status needs to be assigned to 5 to 10% of the territory. Consequently, at least 73,000 ha in important ecological sites currently do not have a sufficient protection status. Extra efforts will need to be brought to bear in order to attain the minimum recommended land area.
Since 2004, Belgium has scored 100 % for the 'Sufficiency of sites designated under the EU habitats directive' index Eurostat.
Regionally, this is supported by the following policy:
Sites designated under the EU Habitats and Birds Directives. In the Flemish Region, 24 Special Protection Areas have been designated with a total area of 98 423 ha, or 7.3 % of the Flemish territory. There were 38 sites designated and put on the list of Sites of Community Interest by the European Commission. The Sites of Community Interest have a total area of 104 888 ha, or 7.8 % of the Flemish territory. The total Natura 2000 area comprises 166 187 ha (12.3 % of the Flemish terrestrial area). Marine areas are not included, as they are under the jurisdiction of the Belgian federal government. In 2008, there was a limited increase in the Sites of Community Interest, when the main channel of the Sea Scheldt and Ijzer were included. An international comparison shows that 12.3 % is low in comparison to the European average, but high when compared to neighbouring, densely populated regions.
Spatial planning for nature and forest areas. The land destination maps are being actualised to include the designation of the Flemish Ecological Network that supports and enhances Natura 2000, and to extend green destinations for nature and for forest.
Site-specific instruments. These instruments give a framework for conservation measures and for setting up partnerships:
- development of conservation objectives for SCI and SPA sites (Natura 2000)
- site-specific Nature Objectives Plans
- projects for nature development and restoration, especially in Natura 2000 sites
- development and implementation of management plans for nature reserves, forest reserves, parks and green spaces.
Information can be found on http://www.natuurenbos.be and on http://www.natuurindicatoren.be.
Figures
Figure 16: Land use in Natura 2000 sites in the Walloon Region (2006)
Source : SPW - DGO3 - DEMNA\n\n
Data source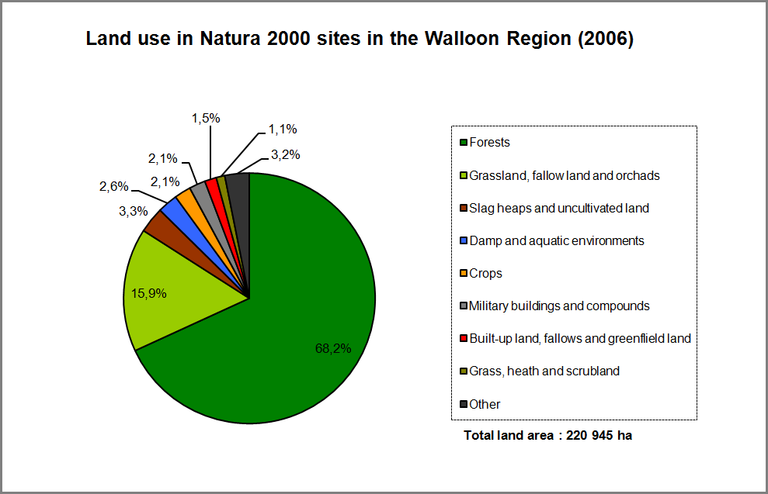 Fullscreen image
Original link
1) There are 240 Natura 2000 sites in the Walloon Region, covering 220 945 ha, equivalent to 13 % of the Region. The network is made up of almost 70 % in forests, representing 27 % of all Walloon woodlands). Grassland, fallow land and orchards on the one hand, and crops on the other, respectively occupy 16 % and 2 % of the total network, i.e. around 7 % of the Region's agricultural land.
2) The general concept of the ecological network has been transposed in the 'Main Ecological Structure' (Structure ecologique principale or SEP) and has been mapped. This structure contains two types of areas:
- Core areas: mainly dedicated to nature conservation,
- Ecological development areas: areas where human activities are less intensive in order to guarantee a balance between nature conservation and economic incomes.
In order to encourage farmers to apply agri-environmental measures, subsidies are increased if they are applied in interesting sites for nature (Natura 2000 sites and SEP areas).
In late 2009, The "SEP" covered 301,485 ha, i.e. 18% of the Walloon Region. Natura 2000 sites constitute the three-quarters of the actual "SEP".
3) Nature development programmes in Wallonia are complementary to the protection of sites of significant biological interest. They mainly aim at the redeployment and consolidation of the ecological network. Besides 'River contracts', four programmes are supported by the Walloon Region : (1) Municipal nature development programmes ('Plans communaux de développement de la nature' (PCDN)), (2) Natural Parks, (3) 'roadside' convention (late reaping) and (4) 'attics and steeples' convention (for improving living conditions of the wild fauna in buildings, mainly in churches (breeding grounds, bats…). In 2008, respectively 28, 32 et 21 % of municipalities were involved in one, two and three programmes. The most successful programmes are the 'roadside' and 'attics and steeples' conventions. They are the easiest to set up at municipal level and there is considerable regional support for the effort needed for implementation.
Despite its urban character, the Brussels Region and its hinterland contain significant biodiversity often superior to many other territories in Belgium. Under the EU Habitats Directive, three sets of sites forming a mosaic of 48 sites were proposed and approved by the commission as 'Special Areas of Conservation' for a total area of more than 2 300 hectares. This is nearly 14 % of the total surface area (16 140 ha) of the administrative region.
Brussels is currently working on a better integration of the Habitat Directive in the regional legislation (new and better coordinated law). The 'green network plan' is the master plan for the ecological network. It is integrated into the Regional Land Use Plan and the Regional Development Plan. The green network aims to create a green continuity throughout the Brussels-Capital Region, which, combined with ecological management, enable a larger dispersion of animal and plant species. A specific ecological network plan has been adopted as general guidance. The practical implementation in the field is not easy. The implementation of the Natura 2000 network, which is based on the concept of core areas and connecting areas, however, is already a major contribution to the realisation of the network and covers about 14.3 % of the regional territory. In addition Brussels is currently working on the elaboration of biodiversity plan as such.
For more details see: http://documentation.bruxellesenvironnement.be/documents/EE2006FR_volet2_nature_EV.PDF?langtype=2060 (French)
http://documentatie.leefmilieubrussel.be/documents/EE2006NL_volet2_nature_EV.PDF?langtype=2067 (Dutch).
For references, please go to www.eea.europa.eu/soer or scan the QR code.
This briefing is part of the EEA's report The European Environment - State and Outlook 2015. The EEA is an official agency of the EU, tasked with providing information on Europe's environment.
PDF generated on 06 Mar 2015, 02:50 PM