Bosnia and Herzegovina
Freshwater (Bosnia and Herzegovina)
Why should we care about this issue
Topic

Freshwater
Published: 26 Nov 2010 Modified: 23 Nov 2010
Satisfying the freshwater needs of present and future generations is a matter of the utmost importance for society. To do this it is necessary to preserve the integrity, diversity and quality of aquatic ecosystems and freshwater resources and treat them as natural treasures.
Bosnia and Herzegovina has internal renewable water resources amounting to 35.5 x 109 m3/yr. Taking into account the country's estimated population (3.926 million) the total renewable water resources per capita in Bosnia Herzegovina are 9.041 m3/inhabitant/year. However, these volumes are unevenly distributed.
There is a clear discrepancy between the amount of surface water available and the country's needs. The areas where water is scarcest are those with the greatest needs – for example, the sub-basin of the Bosna river is the most densely-populated area and also contains a large concentration of industrial resources. There is a period of water scarcity from June-September and this is the period during which water is most needed (population requirements, agriculture). At the same time, waste water treatment remains inadequate.
The situation regarding water quality is also unfavourable. The most densely-populated areas are also those where water is most polluted and many of them do not have a filter or treatment system to protect the quality, which limits usage downstream. One positive influence on the quality of surface water has been the decrease in industrial and agriculture activity during the post-war period.
One of the characteristics of the river network in Bosnia and Herzegovina is that numerous water courses are categorised as international rivers, either because they are boundary rivers or because they cross borders between Bosnia and Herzegovina and neighbouring countries.
Groundwater is an extremely important resource for water supplies. Estimated total reserves are 37.08 m3 (karst aquifers – 90 % and inter-granular aquifers 10 %) and the quality is good.
The institutions governing the water sector in Bosnia and Herzegovina function at different administrative levels. There are two state ministries dealing with water issues: the Ministry of Foreign Trade and Economic Relations in the Federation of Bosnia and Herzegovina is responsible for the coordination of activities and harmonisation of plans between government bodies in the two entities (Federation of Bosnia and Herzegovina and Republika Srpska). In addition, the Ministry of Agriculture, Water Management and Forestry plays a major role in water management. Under the 2006 Water Act, two water agencies were established: the Sava River District Water Agency, for the Danube basin, and the Adriatic Sea District Water Agency.
The state and impacts
Published: 26 Nov 2010 Modified: 08 Apr 2011
As a result of the war (1992-95) the monitoring system for water quality and quantity was put out of action. After 1997, efforts were made by various organisations and users to rebuild the network, however systematic water monitoring was only restored when the public companies for water management (currently the Water Agencies) began to participate, in cooperation with the hydro-meteorological service. As a consequence, there is no data available on water quality and quantity in Bosnia and Herzegovina for the 1990s.
CSI 020: Nutrients in freshwater
Based on the average value, the nitrate concentration in the rivers of Bosnia and Herzegovina is not high (period of monitoring 2000-2008). This is mainly due to the slow development of agriculture and industry (see Figure 1). However, some rivers, located in regions where industry is more developed, have reported high concentrations of nitrates. One example is the Spreca river (Sava River District), where in 2008 average nitrate concentration (8 samples during the year) was 5.81 mg NO3-N / l.
In general, nutrient concentrations in Bosnia and Herzegovina's surface waters have been slowly increasing.
The key drivers and pressures
Published: 26 Nov 2010 Modified: 08 Apr 2011
Domestic water supply
In Bosnia and Herzegovina, central municipal water supply systems are managed by over 120 water utilities, which are usually organised as public companies, owned by municipalities, cantons or cities. According to the country's National Environmental Action Plan (NEAP), the central municipal water supply systems, managed by municipal water supply utilities cover 56 % of the population in Bosnia and Herzegovina and 48 % in the Republika Srpska. Those who are not covered by the central municipal water supply system rely on their own local community water supply systems or on individual wells.
Before 1991, maintenance and repair was not carried out systematically on water supply systems and during the war they often did not function. in some areas, the war caused serious destruction to networks and water supply facilities. Total water losses in water supply systems for households range from 25–75 % in different water utilities. In addition, there is often over 30 % physical leakage.
Irrigation
Even before the war in 1991, Bosnia and Herzegovina had a much lower irrigated surface area than the world average. According to official statistics for 2006, the country now has 1 553 000 hectares of cultivable land and 1 005 000 hectares of arable land. According to the Federal Agricultural Strategy for 2006-2010, Bosnia and Herzegovina only irrigates around 8 000 hectares of its surface, i.e. around 0.5 % of cultivable land or 0.8 % of arable land. Unfortunately, during the war (1992–1995) some irrigation systems were destroyed and put out of use, however some of these have been reconstructed. Most irrigation now occurs in the southern, Mediterranean zone of Bosnia and Herzegovina and in the north, close to the Sava river.
Exact technical data on irrigation facilities, water quantities used for irrigation and modes of irrigation is currently not available.
Industry
According to the National Environmental Action Plan (NEAP), industries in Bosnia and Herzegovina mainly use water from their own sources, however they also take some from the public water supply system. It is assumed that industrial production in Bosnia and Herzegovina is greatly reduced compared to the situation at the beginning of the 1990s (around 35 % of the pre-war capacity). As a result, water consumption in the industrial sector has been reduced, which has also contributed to a decrease in pollution.
CLIM002: Observed changes in annual precipitation
The extreme and average monthly values for precipitation were analysed at Tuzla, Sarajevo and Mostar, for the three major climatic modifications in Bosnia and Herzegovina: moderate continental climate in northern Bosnia and the lower parts of central Bosnia, in the higher mountainous parts of central Bosnia, and coastal climate in Herzegovina, the southern part of the country. Figure 2 shows the maximum, minimum and average values of monthly precipitation for two periods of 26 years − 1956-1981 and 1982-2007. Significant changes can be seen for Mostar, where the average precipitation during the period 1982-2007 was significantly lower than in the period 1956-1981, for all months except September. Mostar is located in the Bosnian-Herzegovinian part of the Adriatic river basin and is influenced by the the Mediterranean climate.
For those parts of the country with a continental climate, it is not possible to draw conclusions on significant changes in precipitation based on the graphs below indicating average annual values. It is necessary to carry out a more sophisticated analysis using other research methods for the calculation of precipitation: increases in the number of consecutive days without rain, changes in intensity and frequency of storm, flooding and drought and the inclusion of phenomena that have previously occurred only once every 50 years, but which now occur every five to ten years. The climatic modification for the higher mountainous parts of central Bosnia appears to be missing.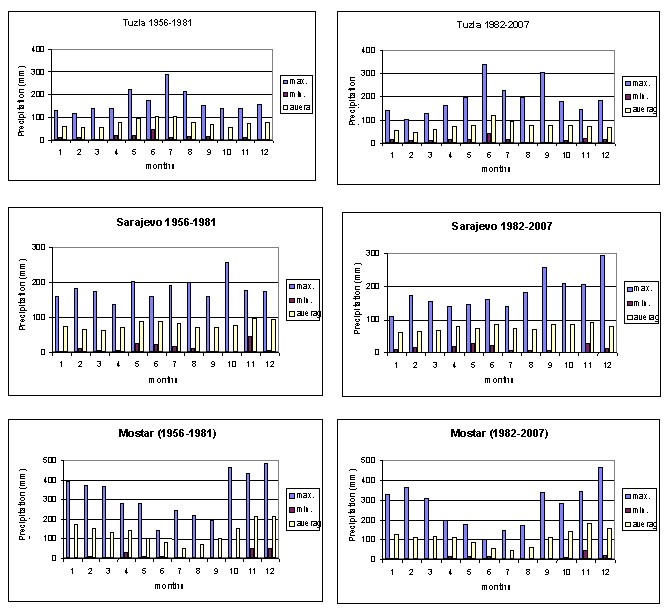 The 2020 outlook
Published: 26 Nov 2010 Modified: 23 Nov 2010
In Bosnia and Herzegovina's water sector there is no water management strategy at state level. The elaboration of water management strategies has only become an obligation since the introduction of the new Water Act in 2006.
In September 2006, the Republika Srpska developed a framework plan for the development of water management as an interim phase, pending the finalisation of a strategy. The framework plan aimed to provide planning/management measures until key strategic planning documents were enacted in the water sector and also to serve as a basis for the Republika Srpska's development strategy.
In the Federation of Bosnia and Herzegovina, a water management strategy has been elaborated but not yet adopted as a basic planning document for the development of the water sector in Bosnia and Herzegovina. This strategy includes assessment of the current state of water management; objectives for water protection, flood protection and sustainable usage of water; priorities for achieving objectives in water management; provision of the necessary funds for implementing programmes and deadlines for achieving objectives and identifying the actions necessary to implement international agreements relating to water management.
The strategy defines water management policy in the Federation of Bosnia and Herzegovina and sets out objectives in relation to water protection, flood protection and the sustainable usage of water:
General objectives of the strategy:
to reduce pollution, prevent degradation and achieve good water status

to improve sustainable water usage

to ensure equal access to water

to foster social and economic growth

to protect ecosystems

to reduce the risk of flooding and other negative effects of water

to ensure public participation in decision-making related to water

to prevent and solve conflicts related to water protection and water usage

to fulfil obligations under international agreements to which Bosnia and Herzegovina is a signatory.
Existing and planned responses
Published: 26 Nov 2010 Modified: 23 Nov 2010
In Bosnia and Herzegovina, water supply systems mostly rely on ground water (more than 80 %) for water supplies and it is rare for systems to use surface waters. Frequency and duration of water supply interruptions depends on the region and on seasonal variability. Generally, water supply systems do not suffer serious interruptions due to lack of water availability. The most difficult situation is the high level of total losses unaccounted for, the majority of which are network water losses. According to data from Bosnia and Herzegovina's statistics agency, in 2006 total water losses in all public water supply systems (households, industry and agriculture and other users) calculated as a ratio of the total volumes abstracted and the total volume delivered were 53 %.
The United States Agency for International Development (USAID) has commissioned a study of ten water supply utilities to assess current conditions and make recommendations for improving water and wastewater facilities at local and municipal level. In addition, USAID, together with the international organisation World Learning as the implementing agency, recently arranged a series of workshops devoted to cost recovery, accounting, budgeting, reporting and management in water supply utilities.
The World Bank has established a facility that would make commercial loans available to qualifying municipalities. In the case of loans for improvement of water supplies, local water supply utilities have to meet commercial credit standards in order to qualify for such loans. The Bank is willing to provide financial support to the water supply utilities to help them restructure and improve their financial and institutional capabilities and to create a regulatory framework for municipal borrowing.
For references, please go to www.eea.europa.eu/soer or scan the QR code.
This briefing is part of the EEA's report The European Environment - State and Outlook 2015. The EEA is an official agency of the EU, tasked with providing information on Europe's environment.
PDF generated on 06 Mar 2015, 05:37 PM