The contribution of transport to air quality - TERM 2012: Transport indicators tracking progress towards environmental targets in Europe
Publication
Created 20 Nov 2012
Published 27 Nov 2012
Note: new versions are available!
EEA Report No 10/2012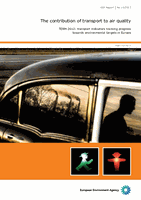 TERM 2012 presents the most relevant and up to date information on the main issues regarding transport and environment in Europe, particularly in areas with specific policy targets such as greenhouse gas emissions and energy consumption, transport demand levels, noise and other issues. It also offers an overview of the transport sector's impact on air pollutant emissions and air quality. It discusses the contributions made by all modes of transport to direct air pollutant emissions and also to 'secondary' air pollutants formed in the atmosphere. Alongside the recently published Air quality in Europe - 2012 report, TERM 2012 aims to inform the European Commission's review of the Thematic Strategy on Air Pollution.
Content
For references, please go to www.eea.europa.eu/soer or scan the QR code.
This briefing is part of the EEA's report The European Environment - State and Outlook 2015. The EEA is an official agency of the EU, tasked with providing information on Europe's environment.
PDF generated on 28 Oct 2016, 10:53 PM