Catalogue of forward-looking indicators from selected sources; A contribution to the forward-looking component of a shared environmental information system (SEIS/Forward)
Publication
Created 07 Oct 2008
Published 07 Oct 2008
Technical report No 8/2008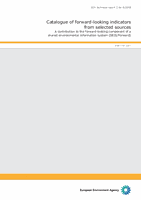 Work on reviewing the availability of forward-looking indicators started in 2005, with the aim of enhancing their use in European environmental assessments. This work has resulted in an overview of the availability of forward-looking information (scenarios and indicators) across all themes and with various geographical coverage.
Content
For references, please go to www.eea.europa.eu/soer or scan the QR code.
This briefing is part of the EEA's report The European Environment - State and Outlook 2015. The EEA is an official agency of the EU, tasked with providing information on Europe's environment.
PDF generated on 28 Oct 2016, 05:13 AM