Figure 4: Frequency distribution of ozone concentrations in excess of the 180 µg/m3
Page
Last modified 20 Apr 2016, 02:34 PM
| | | | | | | | | | | | | | | | |
| --- | --- | --- | --- | --- | --- | --- | --- | --- | --- | --- | --- | --- | --- | --- | --- |
|   | AT | BE | DE | DK | ES | FI | FR | GB | GR | IE | IT | LU | NL | PT | SE |
| | | | | | | | | | | | | | | | |
| --- | --- | --- | --- | --- | --- | --- | --- | --- | --- | --- | --- | --- | --- | --- | --- |
| #Ex | 99 | 27 | 607 | 1 | 99 | 2 | 217 | 38 | 102 | 0 | 191 | 6 | 92 | 5 | 7 |
| #St | 114 | 22 | 386 | 6 | 132 | 11 | 155 | 42 | 11 | 6 | 69 | 5 | 38 | 9 | 6 |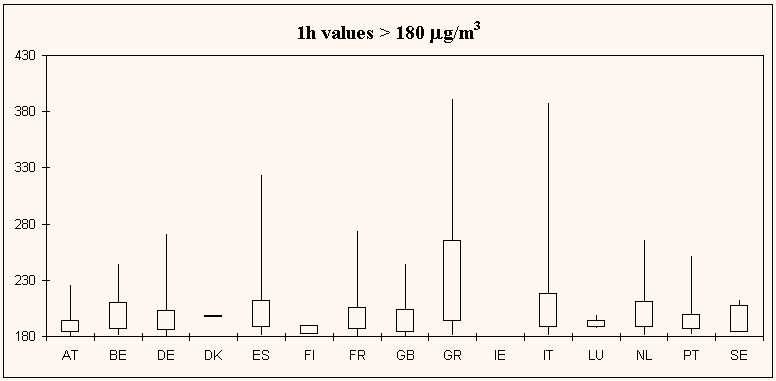 Figure 4: Frequency distribution of ozone concentrations in excess of the 180 µg/m3 threshold for hourly values (April-July 1996). For each country the total number of observed exceedances is given in row '#Ex', the number of stations is given in row '#St'. Frequency distributions are presented as Box-Jenkins plots indicating the minimum, the 25-Percentile, the 75-percentile and the maximum value.


For references, please go to www.eea.europa.eu/soer or scan the QR code.
This briefing is part of the EEA's report The European Environment - State and Outlook 2015. The EEA is an official agency of the EU, tasked with providing information on Europe's environment.
PDF generated on 28 Oct 2016, 05:17 PM