Fig 4.2: Social Trends In the EU
Page
Last modified 16 Oct 2014, 12:49 PM
Social Trends In the EU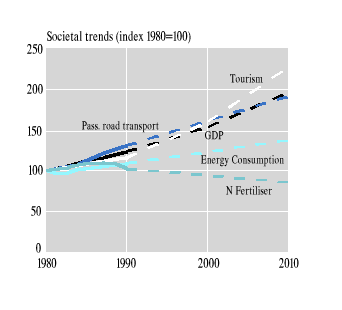 Figure 4.1: Societal trends in the European Union (GDP, passenger road transport, energy consumption, nitrogen fertiliser use and tourism) and current scenarios
Note: Future growth rate for tourism is in terms of arrivals, while past trends are in terms of overnight stays
Sources: Eurostat; DRI et al., 1994.

For references, please go to www.eea.europa.eu/soer or scan the QR code.
This briefing is part of the EEA's report The European Environment - State and Outlook 2015. The EEA is an official agency of the EU, tasked with providing information on Europe's environment.
PDF generated on 24 Oct 2016, 10:11 AM