Środowisko Europy 2005 - Stan i prognozy
Publikacja
Utworzone: 2005-11-29
Opublikowane 2005-11-29
Uwaga: nowe wersje są dostępne!
State of the environment report No 1/2005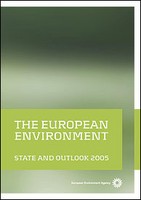 Geographic coverage
Austria,
Belgium,
Bulgaria,
Cyprus,
Czech Republic,
Denmark,
Estonia,
Finland,
France,
Germany,
Greece,
Hungary,
Ireland,
Italy,
Latvia,
Lithuania,
Luxembourg,
Malta,
Netherlands,
Poland,
Portugal,
Romania,
Slovakia,
Slovenia,
Spain,
Sweden,
United Kingdom
Akcje Dokumentu
Podziel się z innymi
For references, please go to www.eea.europa.eu/soer or scan the QR code.
This briefing is part of the EEA's report The European Environment - State and Outlook 2015. The EEA is an official agency of the EU, tasked with providing information on Europe's environment.
PDF generated on 2016-10-22 16:09