About Irena
Puslapis
Paskutinį kartą keista 2009-11-16 16:19
Indicator reporting on the integration of environmental concerns into agricultural policy
The IRENA operation
During each of its meetings, in Cardiff (June 1998), Vienna (December 1998) and Helsinki (December 1999), the European Council requested the Commission to report on the integration of environmental concerns into Community sectoral policies. As a contribution to meeting this requirement for the agricultural sector, it is necessary to develop indicators to monitor such integration, i.e. agri-environmental indicators (AEI). A set of indicators has been identified in a communication from the Commission to the Council and European Parliament (COM(2000) 20), and this set, and the statistics and other information needed to realise the indicators, is the subject of a further Commission communication (COM(2001) 144).
IRENA geographical coverage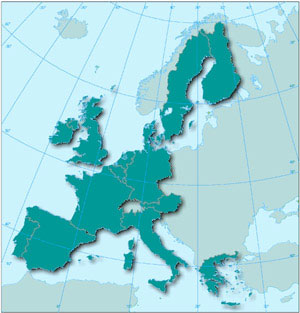 For references, please go to www.eea.europa.eu/soer or scan the QR code.
This briefing is part of the EEA's report The European Environment - State and Outlook 2015. The EEA is an official agency of the EU, tasked with providing information on Europe's environment.
PDF generated on 2016-10-28 10:39