Friends at the gates - Major success for EEA open house event.
News
Published 20 Oct 2006
Last modified 21 Jun 2016, 03:46 PM
Nearly a thousand Copenhageners visited the European Environment Agency when we stayed open to the public all evening during Copenhagen Culture night on the 13th October.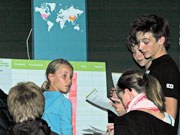 Energetic: Hundreds of children took part in the treasure-hunt on the theme of energy. Here a group struggles to answer how much greenhouse gases an average person produces annually in different countries.
The evening's program was kicked off with a very well attended panel debate highlighting the topic of bio-energy as an option for Denmark from various angles. EEA project manager Peder Jensen explained the opportunities and limitations of bioenergy in Denmark, while the chairman of the energy committee of the Danish parliament Eyvind Vesselbo and MP Anne Grete Homsgaard gave the political views from the government and opposition side respectively, and Lene Lange from the Danish company Novozymes offered the industry perspective. The debate, chaired by Danish Radio journalist Karen Hjulmand, also benefited from an active audience with lots of questions to the panel.

A wide range of activities were on offer for visitors of all ages throughout the evening. A treasure hunt on the theme of energy and aimed specifically at children presented participants with a variety of tasks to solve and questions to answer. A theatre group from a local school (Ballerup ungdomsskole) performed a piece with an environmental theme, especially written for the evening and based on the H.C. Andersen fairy-tale "The Nightingale" and (mainly unplugged) music was provided by the choir KonTakt and the urban street-rock band Oooh Sticky.

EEA communications manager Marion Hannerup says "The success of the evening shows that the environment is definitely of interest to the general public. The event clearly helped raise awareness of both the Agency and the issue of energy saving among Copenhageners."

For references, please go to www.eea.europa.eu/soer or scan the QR code.
This briefing is part of the EEA's report The European Environment - State and Outlook 2015. The EEA is an official agency of the EU, tasked with providing information on Europe's environment.
PDF generated on 27 Oct 2016, 11:04 PM