Europe's land cover on DVD
News
Published 30 Apr 2008
Last modified 21 Jun 2016, 03:46 PM
The Corine Land Cover 2000 (CLC 2000) database, which offers borderless information on land cover and land cover changes over the past decade, is now out on DVD.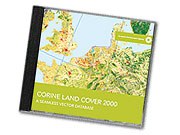 Corine land cover 2000 - A seamless vector database
CLC 2000 maps land cover and land cover changes across 32 European countries using photo-interpretation of satellite images. The seamless vector database allows users to do borderless, pan-European analysis on land cover.
Among its many applications, CLC2000 can be used for assessing the impact of climate change and monitoring urban development. Primarily intended as a tool for national and European policymakers, CLC 2000 has also been found to be useful in commercial products, such as on-line maps and navigation systems.
'CLC 2000 – A seamless vector database'
is available from the EEA Data Service
For references, please go to www.eea.europa.eu/soer or scan the QR code.
This briefing is part of the EEA's report The European Environment - State and Outlook 2015. The EEA is an official agency of the EU, tasked with providing information on Europe's environment.
PDF generated on 29 Oct 2016, 02:14 AM