Celebrating Europe and its environment
News
Published 30 Apr 2008
Last modified 21 Jun 2016, 03:46 PM
This year not only marks the 50th anniversary of the Treaty of Rome, but also 35 years of European Union environmental policy. The European Environment Agency celebrates the occasion by looking back at the last 50 years and reflecting on the environmental challenges that lie ahead. On 25 March 1957, six countries signed the Treaty of Rome, establishing the European Economic Community. Their aim was to create a Common Market in order to secure prosperity, peace and stability. Environment was not part of the policy package. Today, sustainable development and environmental protection are among the core values of the European Union, which now counts 27 Member States.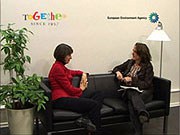 Interview
Jacqueline McGlade, Executive Director, looks back and ahead
For references, please go to www.eea.europa.eu/soer or scan the QR code.
This briefing is part of the EEA's report The European Environment - State and Outlook 2015. The EEA is an official agency of the EU, tasked with providing information on Europe's environment.
PDF generated on 26 Oct 2016, 09:04 AM