Car Free Friday
News
Published 30 Apr 2008
Last modified 21 Jun 2016, 03:46 PM
Today is European 'Car Free Day'. In over a thousand towns and cities across the continent, people will be going about their business without their cars. The environment is not the only one to benefit. EEA staff, who regularly travel to work without a car in Copenhagen, see health and flexibility as major bonuses in avoiding the gridlock. "Pleasure, freedom and a little bit of exercise everyday" is what walking or cycling to work means for one staff member.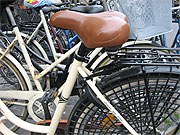 Many will cycle to work on Friday as part of the European car-free day
In Stockholm, an expert from the EEA's transport network, Birgitta Malmborg, believes Car Free Day allows people to experience the variety of alternatives that exist. "The day points to what we could achieve in the future," she says.

Car Free Day is organised by the European Commission as part of mobility week, which is designed to raise awareness of the environmental and health impacts arising from private car use. 

Road transport in Europe is responsible for 21% of all reported greenhouse gas emissions (international aviation/freight and shipping are not included). Tackling private car use is therefore crucial in fighting climate change.

Private cars are also major contributors to air pollution in urban areas; a cause of an estimated 370,000 premature Europeans deaths each year. Improvements in technology continue to cut emissions from individual cars. However, these improvements are undermined by our ever increasing use of cars.

A thousand car-free towns and cities for just one day is not a solution, it is merely a starting point.

Links:
Transport and environment: facing a dilemma - TERM 2005

For references, please go to www.eea.europa.eu/soer or scan the QR code.
This briefing is part of the EEA's report The European Environment - State and Outlook 2015. The EEA is an official agency of the EU, tasked with providing information on Europe's environment.
PDF generated on 26 Oct 2016, 07:31 PM