Find out the level of ozone pollution in Europe
News
Published 18 Jul 2006
Last modified 28 Jun 2016, 06:04 PM
Ozone Web, a new internet tool, released by the EEA today, offers users the opportunity to monitor and track ground level ozone incidents on a pan-European scale, for the first time.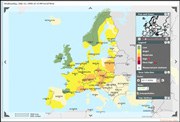 Ozone Web
Find out the level of ozone pollution in Europe
Ground level ozone presents one of the most prominent air pollution problems in Europe. Data from more than 500 air quality monitoring stations is sent to the EEA every hour and displayed in (near) real time on the new web site.
Either by entering a place name or by clicking on a map of Europe, users will be able to follow air quality locally and on a European scale. The web site will also include information on the health implications of the ozone values users are experiencing.
Links
For references, please go to www.eea.europa.eu/soer or scan the QR code.
This briefing is part of the EEA's report The European Environment - State and Outlook 2015. The EEA is an official agency of the EU, tasked with providing information on Europe's environment.
PDF generated on 27 Oct 2016, 05:03 PM