Indicator in focus
News
Published 30 Sep 2003
Last modified 28 Jun 2016, 06:03 PM
Greenhouse gas emissions in 10 EU accession countries compared with Kyoto target for 2008–12 (excluding fluorinated gases and land-use change and forestry)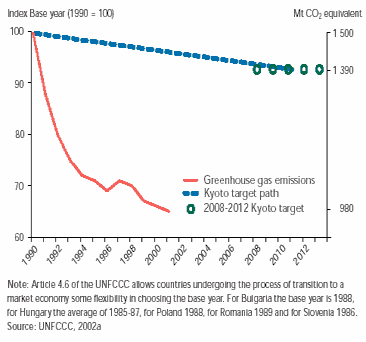 Greenhouse gas emissions in the accession countries fell by 35 % between the base year (1990, or earlier years for five countries) and 2000, and most countries are well on track to reach their Kyoto targets. However, in some countries emissions have started to increase again. For more information see: Europe's environment: the third assessment - Chapter 3 - Climate change . Climate change indicators.
For references, please go to www.eea.europa.eu/soer or scan the QR code.
This briefing is part of the EEA's report The European Environment - State and Outlook 2015. The EEA is an official agency of the EU, tasked with providing information on Europe's environment.
PDF generated on 27 Oct 2016, 11:05 AM