Europe's environmental progress at risk from unsustainable economic activities
News
Published 12 May 2003
Last modified 28 Jun 2016, 06:03 PM
The state of the environment across Europe has improved in several respects over the past decade, but much of the progress is likely to be wiped out by economic growth because governments have yet to make significant strides towards decoupling environmental pressures from economic activity. This is one of the key messages from the European Environment Agency's latest assessment of the environment in Europe, published today.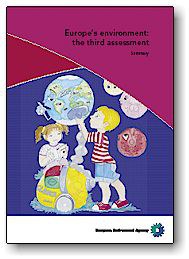 Report ... News release ...
For references, please go to www.eea.europa.eu/soer or scan the QR code.
This briefing is part of the EEA's report The European Environment - State and Outlook 2015. The EEA is an official agency of the EU, tasked with providing information on Europe's environment.
PDF generated on 23 Oct 2016, 09:10 PM