Total population - outlook from UNSTAT (Outlook 042) - Assessment published Jun 2006
Indicator Assessment
Created 08 Jan 2006
Published 08 Jun 2006
Last modified 07 Jul 2011, 02:50 PM
Note: new version is available!
Generic metadata
Topics
:

Environmental scenarios
(Primary topic)
Tags:
DPSIR
: Driving force
Typology
: Descriptive indicator (Type A - What is happening to the environment and to humans?)
Dynamic
Temporal coverage:
2000-2030
Contents
Key policy question:
What are the population trends in the pan-European region?
Key messages
Assessment is created in 2007
Total world population is projected to grow, with wide regional variations. China and India are likely to have the largest populations and maintain one of the highest growth rates in the world (especially India). In contrast, the EECCA population is forecasted to fall below the 2005 level. Other European regions are expected to have a small increase in population, taking migration factors into account.
Projected population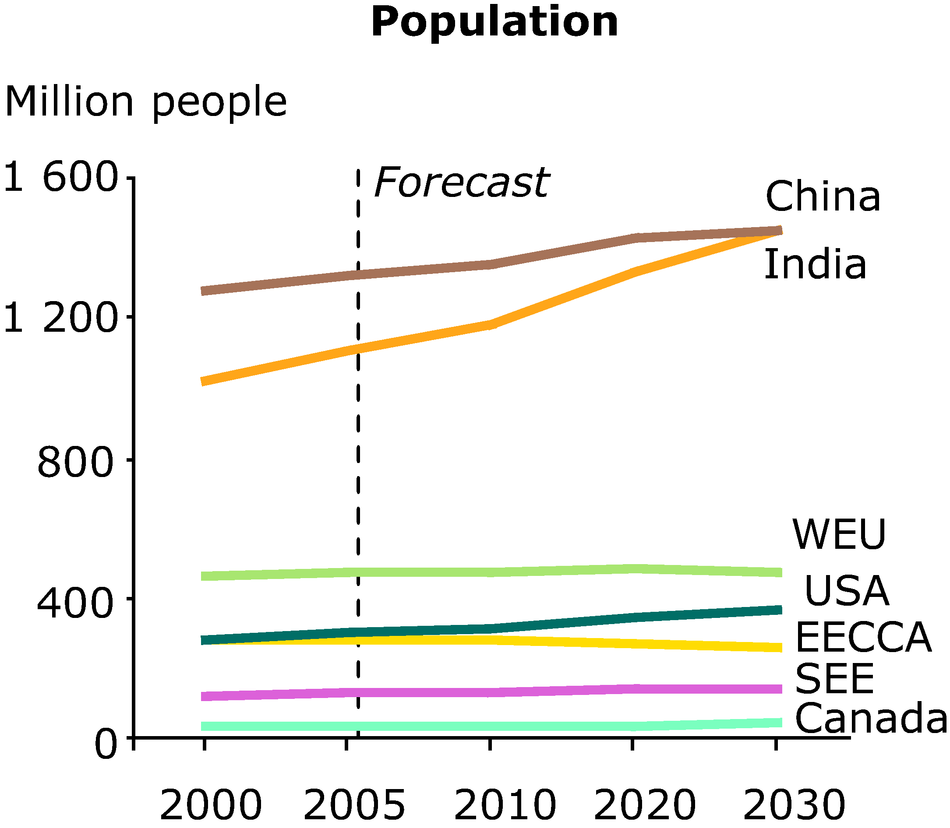 Note: International comparisons
Downloads and more info
Projected percentage change in total population from 2005 to 2030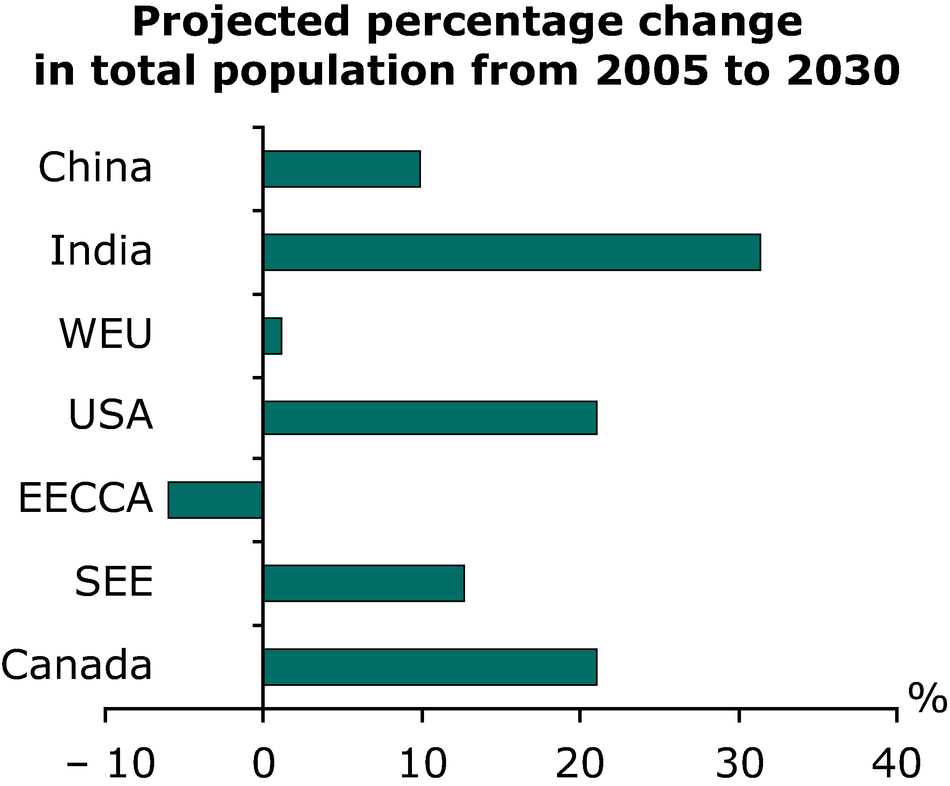 Note: International comparisons
Data source:
Population: United Nation Population Division (UN) World Population Prospects: The 2004 Revision, http://esa.un.org/unpp/.
Downloads and more info
Key assessment
Population trends in Europe from 2005 to 2030 are expected to vary between regions. The WEU population grows by only 1.1 % to around 477 million. The highest growth (16 %) is projected for SEE, from 127 million in 2005 to more than 142 million in 2030. The population in EECCA decreases by 6.1 %, from 277 million in 2005 to 260 million by 2030. The most-populated countries, India and China, continue to grow with the largest increase (31 %) in India, with the population overtaking that in China around 2030. The total population of Canada and USA increases from 330 million in 2005 to 400 million by 2030. The increase in this region (21 %) is expected to be higher than in Europe but lower than in India.
*Projections are based on the baseline OECD scenario. The baseline is a no new policies scenario by design, without anticipating deliberate interventions requiring new or intensified policies in response to the projected developments. Population indicators were adopted from the most recently published UN demographic projection, and economic developments were taken from the economic baseline elaborated with the ENV Linkages model of the OECD
Data sources
More information about this indicator
See this indicator specification for more details.
Contacts and ownership
EEA Contact Info
Tobias Dominik Lung
Ownership
EEA Management Plan
2010
(note: EEA internal system)
Dates
Frequency of updates
Updates are scheduled every 2 years in October-December (Q4)
Permalinks
Permalink to this version

Permalink to latest version
For references, please go to www.eea.europa.eu/soer or scan the QR code.
This briefing is part of the EEA's report The European Environment - State and Outlook 2015. The EEA is an official agency of the EU, tasked with providing information on Europe's environment.
PDF generated on 05 May 2015, 05:32 AM