Total energy consumption - outlook from EEA (Outlook 050) - Assessment published Jun 2006
Indicator Assessment
—
expired
Created 08 Jan 2006
Published 08 Jun 2006
Last modified 11 Mar 2014, 01:48 PM
Note: new version is available!
This content has been archived on
12 Nov 2013
, reason:
Content not regularly updated
Generic metadata
Topics
:

Environmental scenarios
(Primary topic)

Energy
Tags:
DPSIR
: Pressure
Typology
: Performance indicator (Type B - Does it matter?)
Contents
Key policy question:
Are we switching to less polluting fuels to meet our energy consumption?
Key messages
Total EU-25 energy consumption will continue to increase up to 2030. It is expected that in 2030 energy consumption will be 15% higher than it was 2000; the growth rates of energy become smaller over time with consumption virtually stabilising post 2020 reflecting low economic growth and stagnating population.
Total energy consumption 1990-2030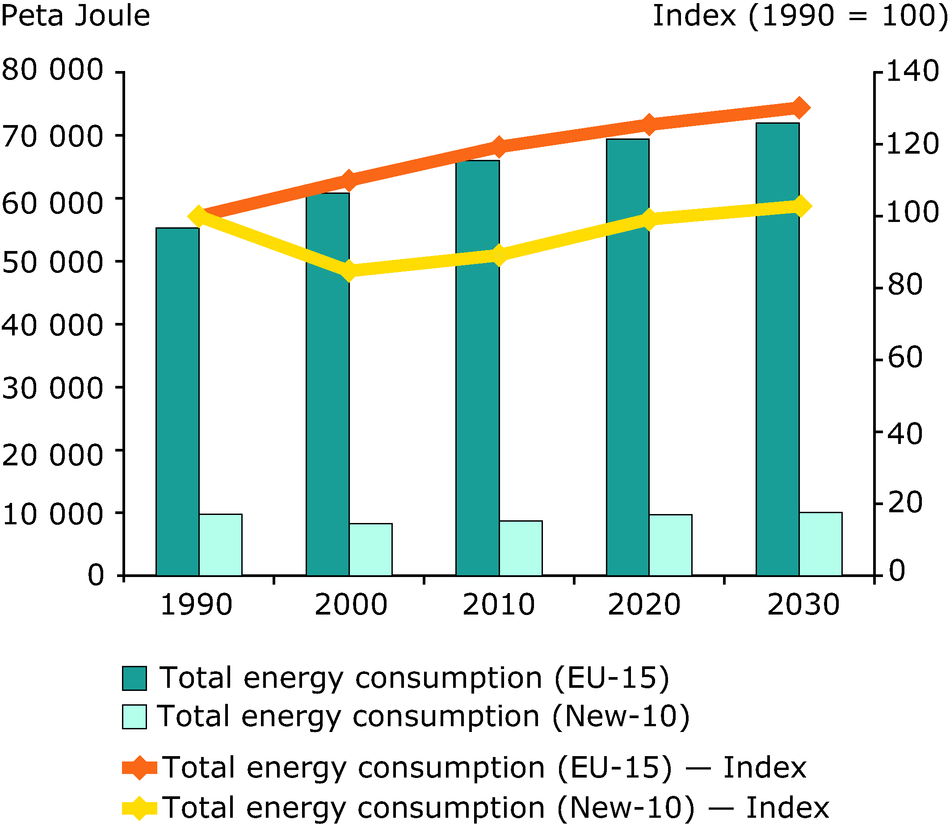 Note: N/A
Data source:
EEA European Topic Centre on Air and Climate Change: National Technical University of Athens (NTUA), 2003-2004.
Downloads and more info
Total energy consumption and final electricity demand vs. GDP growth 1990-2030

Note: N/A
Data source:
EEA European Topic Centre on Air and Climate Change: National Technical University of Athens (NTUA), 2003-2004.
Downloads and more info
Key assessment
The 15 % increase of energy consumption by 2030 will be much lower than the growth of GDP over the same period (79%) so that energy intensity (= ratio between energy consumption and GDP) improves by 1.5 % pa up to 2030 after having seen an improvement of 1.4% pa in the 1990s.
The energy consumption increase of 240 mtoe between 2000 and 2030 will be met by natural gas and renewables, which are the only energy sources that increase their market shares.
Oil remains the most important fuel, although its consumption in 2030 should not exceed the current level. Natural gas demand is expected to expand considerably by 140 mtoe up to 2030 after the substantial increase already seen in the 1990s. Solid fuels are projected to decrease somewhat by 2020 and to come back almost to the current level in 2030 following high oil and gas prices and the nuclear phase-out in certain Member States.
Renewables increase more than all other fuels in relative terms (more than doubling their contribution from current levels by the year 2030). In absolute terms they increase by 135 mtoe from 2000 to 2030 contributing nearly as much as natural gas towards the increase of energy demand.
Following the political decisions on nuclear-phase out in certain old Member States and the closure of plants with safety concerns in some new Member States, nuclear is somewhat smaller in 2030 than it was in 2000 (minus 11 %). Although nuclear generation has been rising in recent years, after 2010 the agreed policies on nuclear and the replacement cycles for older plants lead to more nuclear plant closure than there will be new investment. Nevertheless, high fossil fuel prices encourage significant investment in new nuclear power stations (including the new EPR type) in several Member States.
Despite the increase in fossil fuel use, their share in total energy consumption falls through 2030 reaching 77% (compared with 80% in 2000); the shares of solid fuels and oil decline by 3 and 5 percentage points respectively while the gas share increases 5 percentage points.
The share of nuclear in total energy consumption remains close to 14% up to 2010, from where it decreases to 11% by 2030; in total the share of indigenous and carbon free energy sources rises from 20% in 2000 to 23% in 2030.
Assessment was based on the report "European Energy and Transport: Trends to 2030" (update 2005) (some trends is recalculated a bit)
Link: http://ec.europa.eu/dgs/energy_transport/figures/trends_2030_update_2005/energy_transport_trends_2030_update_2005_en.pdf
Data sources
More information about this indicator
See this indicator specification for more details.
Contacts and ownership
EEA Contact Info
Anita Pirc Velkavrh
Ownership
EEA Management Plan
2010
(note: EEA internal system)
Dates
Permalinks
Permalink to this version

Permalink to latest version
For references, please go to www.eea.europa.eu/soer or scan the QR code.
This briefing is part of the EEA's report The European Environment - State and Outlook 2015. The EEA is an official agency of the EU, tasked with providing information on Europe's environment.
PDF generated on 27 Mar 2015, 08:16 PM