Timing of the cycle of agricultural crops (agrophenology)
Indicator Assessment
Created 08 Sep 2008
Published 08 Sep 2008
Last modified 04 Sep 2015, 06:59 PM
Note: new version is available!
Indicator codes:
CLIM 031
Key messages
There is evidence that the flowering and maturity of several species in Europe now occurs two or three weeks earlier than in the past.
The shortening of the phenological phases is expected to continue if temperatures continue to increase.

..
Modelled change of flowering date for winter wheat 1975-2007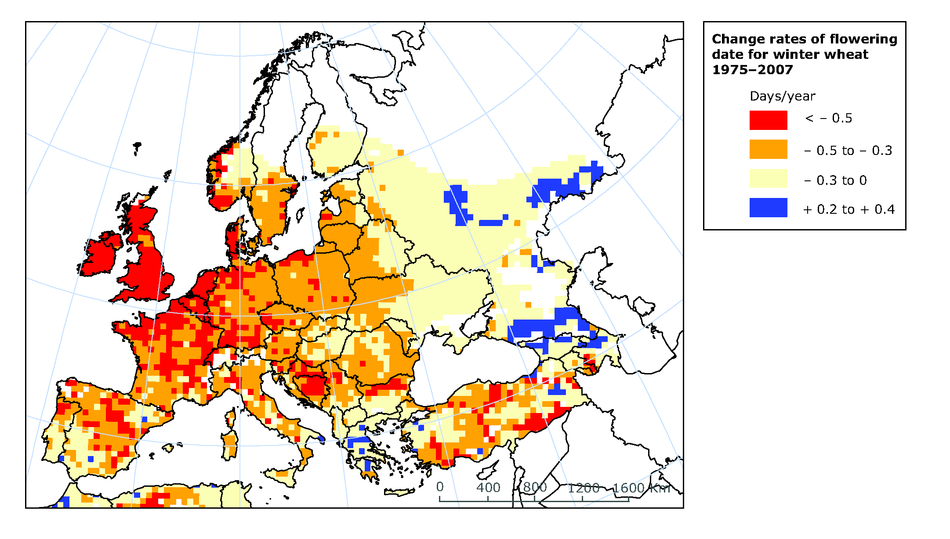 Note: The day of the year of flowering has been simulated by using a crop growth model (CGMS Crop Growth Monitoring System).
Data source:
MARS/STAT database (Genovese, 2004a, 2004b).
Downloads and more info
Potential alcohol level at harvest for Riesling in Alsace (France) 1972-2003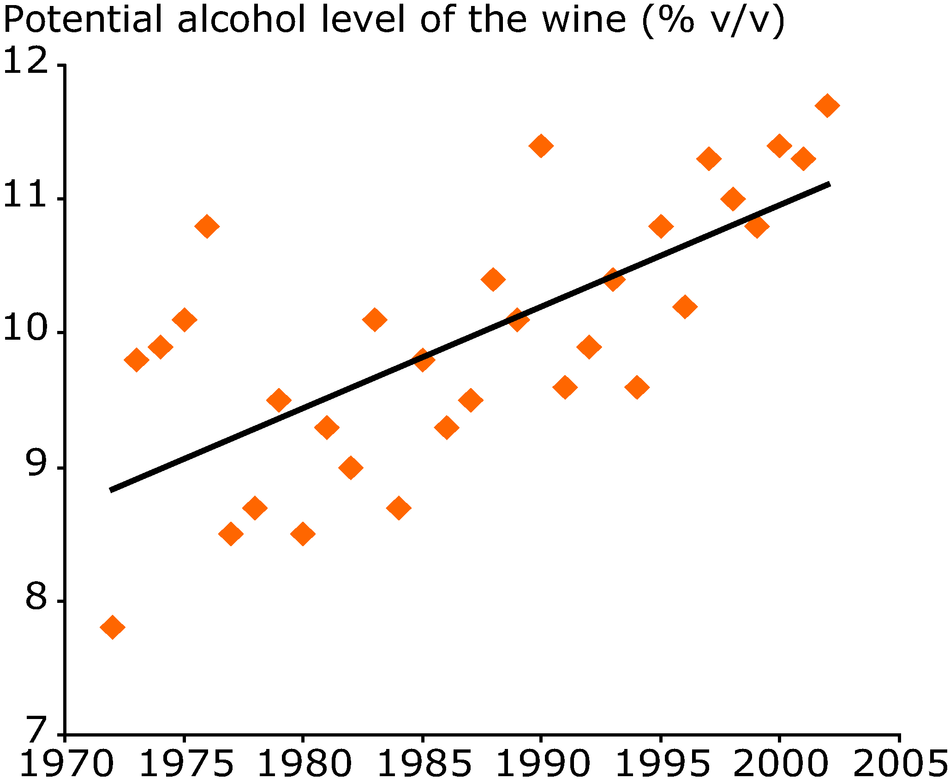 Note: The figure shows the potential alcohol level at harvest for Riesling in Alsace
Data source:
Duchêne, E. and Schneider, C., 2005. Grapevine and climatic changes: a glance at the situation in Alsace. Agronomy for Sustainable Development 24: 93-99. The original data is property of CIVA: http://www.vinsalsace.com/fr/index.html.
Downloads and more info
Past trends
Several studies have collected data and observed changes in the phenological phases of several perennial crops in Europe, such as the advance in the start of the growing season of fruit trees (2.3 days/10 years), cherry tree blossom (2.0 days/10 years), and apple tree blossom (2.2 days/10 years), in line with increases of up to 1.4 oC in mean annual air temperature in Germany (Chmielewski et al., 2004), and the advance of apricot and peach tree flowering by 1-3 weeks over the past 30 years for in France (Chuine et al., 2004).
Sowing or planting dates of several agricultural crops have been advanced, by 5 days for potatoes in Finland, 10 days for maize and sugar beet in Germany and 20 days for maize in France (IPCC, 2007).
Projections
Assuming that the warming trend will continue, further reductions in the number of days required for flower opening (anthesis) and maturity may be expected for areas in western Europe, where phenological changes are strongly accelerating (ECCE, 2005). However, the rate of the reduction of these phases may gradually decrease with a further increase in temperature due to a reduced efficiency of photosynthesis at high temperatures.

Indicator specification and metadata
Policy context and targets
Context description
In April 2009 the European Commission presented a White Paper on the framework for adaptation policies and measures to reduce the European Union's vulnerability to the impacts of climate change. The aim is to increase the resilience to climate change of health, property and the productive functions of land, inter alia by improving the management of water resources and ecosystems. More knowledge is needed on climate impact and vulnerability but a considerable amount of information and research already exists which can be shared better through a proposed Clearing House Mechanism. The White Paper stresses the need to mainstream adaptation into existing and new EU policies. A number of Member States have already taken action and several have prepared national adaptation plans. The EU is also developing actions to enhance and finance adaptation in developing countries as part of a new post-2012 global climate agreement expected in Copenhagen (Dec. 2009). For more information see: http://ec.europa.eu/environment/climat/adaptation/index_en.htm
Targets
No targets have been specified
Related policy documents
No related policy documents have been specified
Data sources
Generic metadata
Topics
:
Climate change
(Primary topic)
Tags:
soer2010 | thematic assessments | climate change | climate | global warming | adaptation | agriculture | temperatures
DPSIR
: Impact
Typology
: Descriptive indicator (Type A - What is happening to the environment and to humans?)
Dynamic
Temporal coverage:
1972-2007
Contacts and ownership
EEA Management Plan
2008 2.3.1
(note: EEA internal system)
Permalinks
Permalink to this version

Permalink to latest version
For references, please go to www.eea.europa.eu/soer or scan the QR code.
This briefing is part of the EEA's report The European Environment - State and Outlook 2015. The EEA is an official agency of the EU, tasked with providing information on Europe's environment.
PDF generated on 03 May 2016, 07:16 PM