Status of marine fish stocks (CSI 032) - Assessment published Feb 2009
Indicator Assessment
Created 08 Jan 2008
Published 18 Feb 2009
Last modified 11 Sep 2012, 04:51 PM
Note: new version is available!
Generic metadata
Topics
:

Fisheries
(Primary topic)
Coasts and seas
Tags:
DPSIR
: State
Typology
: Descriptive indicator (Type A - What is happening to the environment and to humans?)
Contents
Key policy question:
Is the use of commercial fish stocks sustainable?
Key messages
Most of the commercial catch is taken from stocks that are assessed. There is however a clear trend from north to south, with almost all catch coming from assessed stocks in the north to about half of the catch in the south. In the Black Sea no stocks are assessed. Of the assessed commercial stocks in the NE Atlantic, about one third is outside safe biological limits. In the Mediterranean, about half of the assessed stocks are fished outside safe biological limits.

Total catch in ICES and GFCM fishing regions of Europe in 2006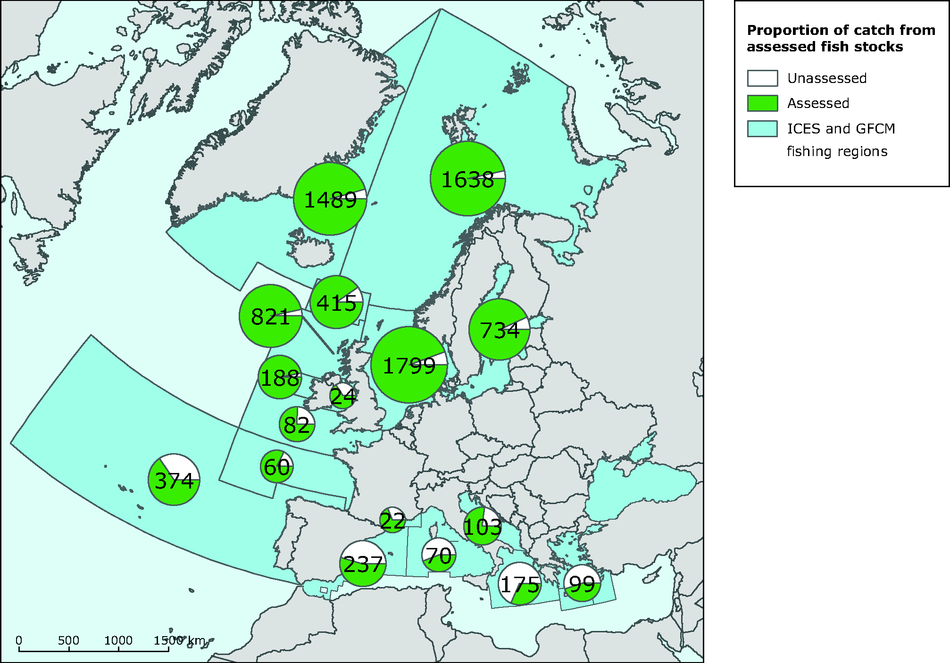 Note: Catch is divided into proportions of catch of assessed stocks (green) and catch of unassessed stocks (white)
Data source:
GFCM and ICES
Downloads and more info
Status of the fish stocks in ICES and GFCM fishing regions of Europe in 2006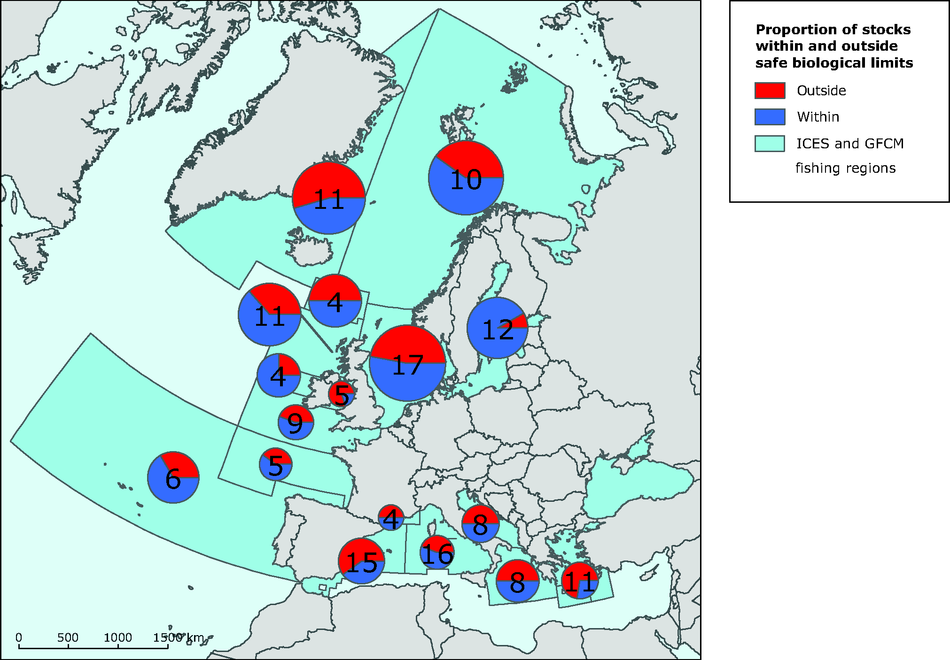 Note: The chart shows the proportion of assessed stocks which are overfished (red) and stocks within safe biological limits (blue)
Data source:
GFCM and ICES
Downloads and more info
State of commercial fish stocks in N E Atlantic and Baltic Sea in 2006.
Note: N/A
Downloads and more info
State of commercial fish stocks in Mediterranean Sea up to 2006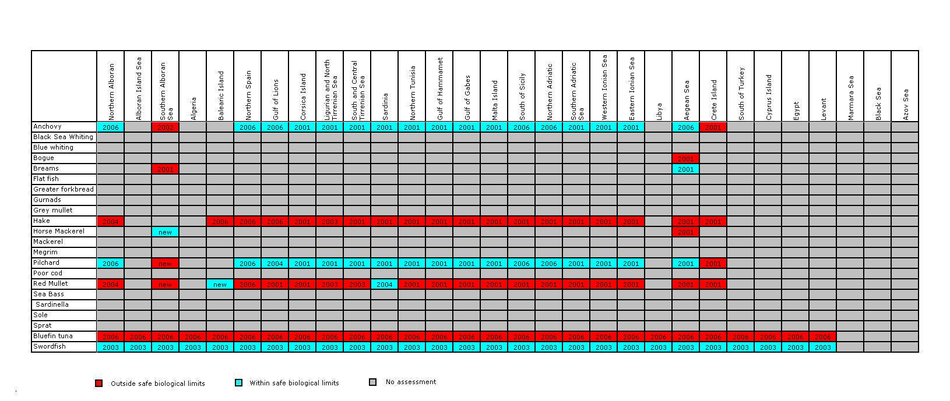 Note: N/A
Downloads and more info
Key assessment
Many commercial fish stocks in European waters remain non-assessed (Figure 1). In the NE Atlantic, the percentage (of catch in weight to the total catch) of non-assessed stocks range from a minimum of 3 % (W. Scotland and West of Ireland) to a maximum of 34 % (Irish Sea and Iberian Peninsula). There is a general trend from North to South of an increase in percentage of non-assessed stocks. In the Mediterranean region, the percentage is higher ranging from 23% in the Adriatic Sea to 70% for tuna and tuna like species for the entire Mediterranean. In the Black Sea no stock is assessed.

Of the assessed commercial stocks in the NE Atlantic, 8% (Baltic Sea) to 80 % (Irish Sea) are outside safe biological limits (SBL) (Figures 2 and 3). For the other areas in the NE Atlantic the percentages of stocks outside safe biological limits vary between 25% and 55%. It can be seen that the pelagic stocks (fish living in the waters column well above the sea bottom and sometimes close to the sea surface) like herring and mackerel are doing better in general than demersal (fish living close to the sea bottom) stocks like cod, plaice and sole (Figure 3). In the Mediterranean the percentage of stocks outside SBL ranges from 44% to 73%, with the Aegean and the Cretan Sea being in the worst condition (Figure 2). Here the small pelagic stocks like anchovy and sardine are doing better than demersal stocks like hake and red mullet and bluefin tuna (Figure 4).
When examining the NE Atlantic stocks more closely, the following conclusions can be drawn:
The pelagic stocks are generally fished sustainably.
Almost all demersal stocks have declined and are currently not sustainable. Over the recent decades there have been a slight, but steady decline in the stocks and there is still no clear sign of a stop of this trend.
Industrial species especially the capelin and sandeel stocks, are not doing well. This is, however, more due to natural causes than high fishing pressure (ICES Advisory Report 2006).
In the Mediterranean region the following conclusions can be drawn:
Only two demersal and two small pelagic species are monitored by the General Fisheries Commission for the Mediterranean (GFCM), with a limited spatial coverage. Demersal stocks remain outside safe biological limits. Many assessments that cover wider areas are based on preliminary results. Small pelagic stocks in the same area exhibit large-scale fluctuations, but are not fully exploited anywhere, except for anchovy and pilchard in the Southern Alboran and Cretan Seas.
According to the latest assessment by the International Commission for the Conservation of Atlantic Tunas (ICCAT 2003) a strong recruitment of swordfish over recent years has rendered the exploitation of the stock sustainable.
Concern still remains about the over-exploitation of bluefin tuna. Uncertainties of stock assessment and lack of documented reporting (including EU Member States) still hinder management of these highly migratory species. Bluefin tuna catches continue to exceed the sustainable rate and ICCAT states in its recent assessment of 2006: "it is apparent that the total allowable catch is not respected and is largely ineffective in controlling overall catch. The Committee's evaluation of the current regulatory scheme is that, unless it is adjusted to impose greater control over the fisheries by improving compliance and to reduce fishing mortality rates, it will lead to further reduction in spawning stock biomass with high risk of fisheries and stock collapse."
The main recommendations and actions taken by EU, Norway and ICES to recover the NE Atlantic stocks outside safe biological limits are:
Recovery plans have now been developed and agreed for several demersal stocks.
ICES recommends to ban cod fishing in the North Sea, Irish Sea and west of Scotland, the Kattegat and the Central Baltic and to develop recovery plans to rebuild the stocks.
Days-at-sea regulations have been added to the existing regulations (Total Allowable Catches, license, minimum mesh and landing sizes, closed areas and seasons etc.).
Illegal landings are still taking place in some areas and in some fisheries, but the control seems to be improving. Estimating the illegal landings is difficult and there is at present no institution within the entire management system which is given the task. Thus, this has been left up to ad hoc attempts mainly by scientists. These estimates are very uncertain, but seem to have improved in precision in recent years. In some cases like for Northeast Arctic cod illegal landings of over 100 000 t (about 30% of the officially reported catch) in a given year have been estimated.
ICES advises that fishing for deep-sea fish species should be permitted only when there are accompanying programmes to collect appropriate data. The expansion of such fisheries should be very slow until reliable assessments indicate that increased harvests are sustainable. This scientific advice is not yet fully implemented by the fishery management bodies.
Data sources
More information about this indicator
See this indicator specification for more details.
Contacts and ownership
EEA Contact Info
User not found: carvacon
Ownership
EEA Management Plan
2010
(note: EEA internal system)
Dates
Frequency of updates
Updates are scheduled once per year in July-September (Q3)
Permalinks
Permalink to this version

Permalink to latest version
For references, please go to www.eea.europa.eu/soer or scan the QR code.
This briefing is part of the EEA's report The European Environment - State and Outlook 2015. The EEA is an official agency of the EU, tasked with providing information on Europe's environment.
PDF generated on 25 Apr 2015, 02:44 AM