Sea surface temperature (CLIM 013) - Assessment published Nov 2012
Indicator Assessment
Created 09 Nov 2012
Published 20 Nov 2012
Last modified 31 Jan 2014, 01:17 PM
Note: new version is available!
Generic metadata
Topics
:
Climate change
(Primary topic)
Coasts and seas
Tags:
DPSIR
: Impact
Typology
: Descriptive indicator (Type A - What is happening to the environment and to humans?)
Dynamic
Temporal coverage:
1870-2011
Contents
Key policy question:
What is the trend in surface water temperature across European seas?
Key messages
Sea surface temperature in European seas is increasing more rapidly than in the global oceans.
The rate of increase in sea surface temperature in all European seas during the past 25 years is the largest ever measured in any previous 25-year period. It has been about 10 times faster than the average rate of increase during the past century and beyond.
Global sea surface temperature is projected to rise more slowly than atmospheric temperature.
Annual average sea surface temperature anomaly in different European seas

Note: Time series of annual average sea surface temperature (°C), referenced to the average temperature between 1986 and 2010, in each of the European seas. Data sources: SST datasets from the Hadley Centre (HADISST1 (global)), MOON-ENEA (Mediterranean Sea), and Bundesamt für Seeschifffahrt und Hydrographie (Baltic and North Seas), and MyOcean.
Downloads and more info
Mean annual sea surface temperature trend in European seas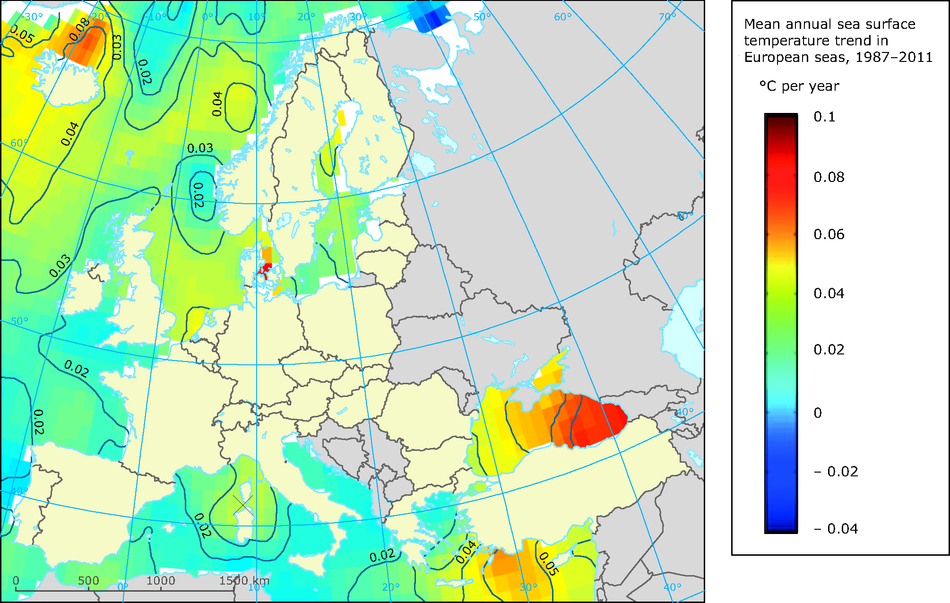 Note: Spatial distribution of sea surface temperature trend over the past 25 years (1987-2011) for the European seas as calculated from the HADISST1 dataset. The units are °C/yr. Source: HADSST1 dataset (http://hadobs.metoffice.com/hadisst/data/download.html), masked where ice coverage constituted more than 20% of the sea water.
Downloads and more info
Key assessment
Past trends
SST is increasing globally and in Europe's seas [i] but the rate of warming varies across European seas (Figure 1 and 2). Observed changes in SST of the global ocean and the regional seas of Europe are consistent with the changes in atmospheric temperature [ii].
Projections
Global SST is projected to rise more slowly than atmospheric temperature. Initially ocean warming will be largest in the upper 100 m of the ocean, but warming will continue to penetrate in the deep ocean during the 21st century [iii] (Watterson, 2003; Stouffer, 2004; IPCC, 2007). It is not possible to project changes in SST or the different geographic regions across Europe because the spatial resolution of the coupled ocean-climate models is not high enough to evaluate trends on the scale of individual European regional seas.
---
[i] Claude Frankignoul and Elodie Kestenare, "Observed Atlantic SST anomaly impact on the NAO: an update", Journal of Climate 18, Nr. 19 (Oktober 2005): 4089–4094.
[ii] S. Levitus, "Warming of the World Ocean", Science 287, Nr. 5461 (März 24, 2000): 2225–2229; N. A. Rayner et al., "Improved analyses of changes and uncertainties in sea surface temperature measured in situ since the mid-nineteenth century: the HadSST2 dataset", Journal of Climate 19, Nr. 3 (Februar 2006): 446–469.
[iii] I. G. Watterson, "Effects of a dynamic ocean on simulated climate sensitivity to greenhouse gases", Climate Dynamics 21 (2003): 197–209; R.J. Stouffer, "Time scales of climate response", Journal of Climate 17 (2004): 209–217; IPCC, Climate Change 2007: The Physical Science Basis. Contribution of Working Group I to the Fourth Assessment Report of the Intergovernmental Panel on Climate Change, S. Solomon et al. (Cambridge: Cambridge University Press, 2007), http://www.ipcc.ch/publications_and_data/ar4/wg1/en/contents.html.
Data sources
More information about this indicator
See this indicator specification for more details.
Dates
Frequency of updates
Updates are scheduled every 4 years in October-December (Q4)
Permalinks
Permalink to this version

Permalink to latest version
For references, please go to www.eea.europa.eu/soer or scan the QR code.
This briefing is part of the EEA's report The European Environment - State and Outlook 2015. The EEA is an official agency of the EU, tasked with providing information on Europe's environment.
PDF generated on 04 May 2015, 02:57 AM