River flow drought
Indicator Assessment
Created 21 Jul 2008
Published 08 Sep 2008
Last modified 04 Sep 2015, 06:59 PM
Note: new version is available!
Indicator codes:
CLIM 018
Key messages
Europe has been affected by several major droughts in recent decades, such as the catastrophic drought associated with the summer 2003 heatwave in central parts of the continent and the 2005 drought in the Iberian Peninsula.
Despite the absence of an overall trend in Europe as a whole, climate change has probably increased the frequency and/or severity of droughts in some regions.
Climate change is projected to increase the frequency and intensity of droughts in many regions of Europe as a result of higher temperatures, decreased summer precipitation, and more and longer dry spells.
The regions most prone to an increase in drought hazard are southern and south-eastern Europe, but minimum river flows will also decrease significantly in many other parts of the continent, especially in summer.

.
Change in the severity of river flow droughts in Europe 1962-1990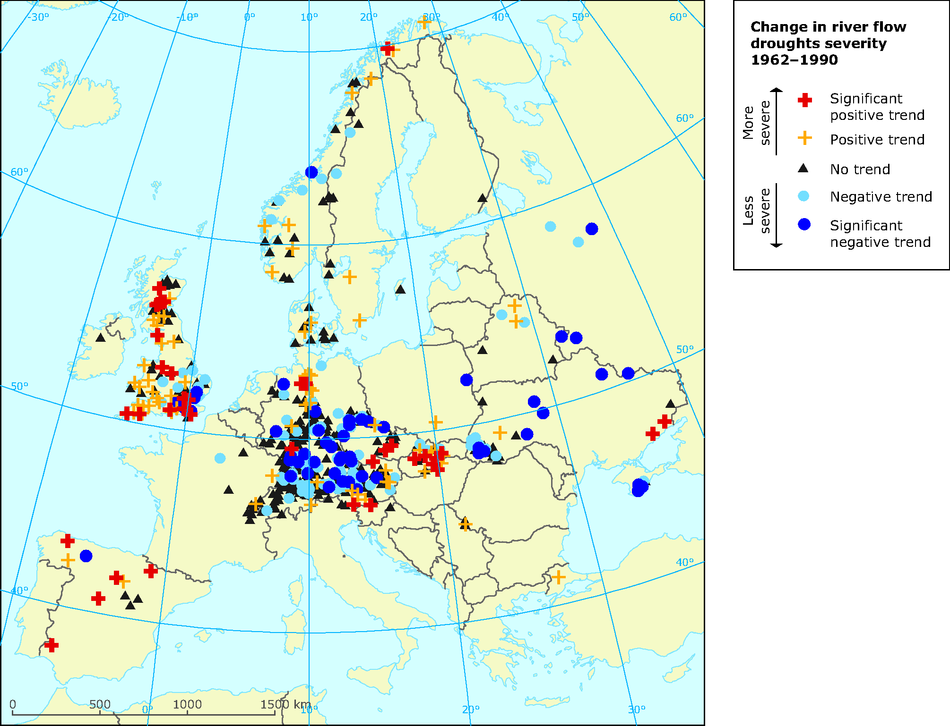 Note: The map shows change in the severity of river droughts
Data source:
Hisdal, H.; Stahl, K.; Tallaksen, L. M. and Demuth, S., 2001. Have droughts in Europe become more severe or frequent? International Journal of Climatology 21: 317333.
Downloads and more info
Change in the severity of river flow droughts in France 1960-2000
Note:
Data source:
Lang, M.; Renard, B.; Sauquet, E.; Bois, P.; Dupeyrat, A.; Laurent, C.; Mestre, O.; Niel, H.; Neppel, L. and Gailhard, J., 2006. Climate Variability and Change Hydrological Impacts. IAHS Publ. 308.
Downloads and more info
Projected change in mean annual and summer minimum 7-day river flow between 2071-2100 and the reference period 1961-1990

Note: Red indicates more severe droughts, blue less severe droughts
Data source:
Feyen, L. and Dankers, R., 2008. River flow drought in Europe in a future climate. Manuscript submitted to Global Environmental Change.
Downloads and more info
Past trends
Over the past 30 years, Europe has been affected by a number of major droughts, most notably in 1976, 1989, 1991, and more recently, the prolonged drought over large parts of the continent associated with the 2003 summer heatwave. The most serious drought in the Iberian Peninsula in 60 years occurred in 2005, reducing overall EU cereal yields by an estimated 10 %. The drought also triggered forest fires, killing 15 people and destroying 180 000 ha of forest and farmland in Portugal alone (UNEP, 2006). However, there is no evidence that river flow droughts have become more severe or frequent over Europe in general in recent decades (Hisdal et al., 2001), nor is there conclusive proof of a general increase in summer dryness in Europe over the past 50 years due to reduced summer moisture availability (van der Schrier et al., 2006).
Despite the absence of a general trend in Europe, there have been distinct regional differences. In particular, more severe river flow droughts have been observed in Spain, the eastern part of eastern Europe and large parts of the United Kingdom (Hisdal et al., 2001). However, in the United Kingdom there is no evidence of a significant increase in the frequency of occurrence of low river flows (Hanneford and Marsh, 2006). In large parts of central Europe and in the western parts of eastern Europe droughts have become less severe (Hisdal et al., 2001). In France, a majority of stations showed a decreasing trend in the annual minima of 30-day mean river flows over the past 40 years, but no such trend was found for drought severity or duration (Lang et al., 2006). In southern and eastern Norway there has been a tendency towards more severe summer droughts (Hisdal et al., 2001). On the other hand, several stations in Europe have shown trends towards less severe low flows over the 20th century, consistent with an increasing number of reservoirs becoming operational in the catchments over the period for which there are records (Svensson et al., 2005).
Projections
River flow droughts are projected to increase in frequency and severity in southern and south-eastern Europe, the United Kingdom, France, Benelux, and western parts of Germany over the coming decades. In snow-dominated regions, where droughts typically occur in winter, river flow droughts are projected to become less severe because a lower fraction of precipitation will fall as snow in warmer winters. In most of Europe, the projected decrease in summer precipitation, accompanied by rising temperatures which enhances evaporative demand, may lead to more frequent and intense summer droughts (Douville et al., 2002; Lehner et al., 2006; Feyen and Dankers, 2008). As a result of both climate change and increasing water withdrawals, more river basins will be affected by severe water stress, resulting in increased competition for water resources. The regions most prone to an increase in drought risk are the Mediterranean and south-eastern parts of Europe, which already suffer most from water stress (Alcamo et al., 2003; Schroter et al., 2005).

Indicator specification and metadata
Policy context and targets
Context description
In April 2009 the European Commission presented a White Paper on the framework for adaptation policies and measures to reduce the European Union's vulnerability to the impacts of climate change. The aim is to increase the resilience to climate change of health, property and the productive functions of land, inter alia by improving the management of water resources and ecosystems. More knowledge is needed on climate impact and vulnerability but a considerable amount of information and research already exists which can be shared better through a proposed Clearing House Mechanism. The White Paper stresses the need to mainstream adaptation into existing and new EU policies. A number of Member States have already taken action and several have prepared national adaptation plans. The EU is also developing actions to enhance and finance adaptation in developing countries as part of a new post-2012 global climate agreement expected in Copenhagen (Dec. 2009). For more information see: http://ec.europa.eu/environment/climat/adaptation/index_en.htm
Targets
No targets have been specified
Related policy documents
No related policy documents have been specified
Data sources
Generic metadata
Topics
:
Climate change
(Primary topic)
Tags:
DPSIR
: Impact
Typology
: Descriptive indicator (Type A - What is happening to the environment and to humans?)
Dynamic
Temporal coverage:
1960-2000, 2071-2098
Contacts and ownership
EEA Management Plan
2008 2.3.1
(note: EEA internal system)
Permalinks
Permalink to this version

Permalink to latest version
For references, please go to www.eea.europa.eu/soer or scan the QR code.
This briefing is part of the EEA's report The European Environment - State and Outlook 2015. The EEA is an official agency of the EU, tasked with providing information on Europe's environment.
PDF generated on 01 May 2016, 11:20 AM