Red List Index for European species (SEBI 002) - Assessment published May 2010
Indicator Assessment
Created 10 Sep 2009
Published 21 May 2010
Last modified 07 Jul 2011, 02:48 PM
Generic metadata
Topics
:

Biodiversity
(Primary topic)
Tags:
extinction | birds | species | biodiversity
DPSIR
: State
Typology
: N/A
Dynamic
Temporal coverage:
1994-2004
Contents
Key policy question:
Has the risk of extinction for European birds changed?
Key messages
To date, the Red List Index has been calculated only for bird species at a European level, so the information in the current indicator is limited to European birds.
The overall risk of extinction among Europe's birds has generally been on the rise over the last decade. While the status of some species has due to conservation action, many more have deteriorated because of worsening threats and/or declining populations.
Red List Index (RLI) for European birds based on pan-European extinction risk 1994-2004
Note: How to read the graph: The smaller the RLI is, the greater the number of European bird species with an increased extinction risk
Data source:
BirdLife International, 2008.
Downloads and more info
Red List Indices (RLIs) for birds in the EU-25, EFTA-4, Eastern Europe, the Caucasus and South-Eastern Europe during 1994-2004, based on their extinction risk at pan-European level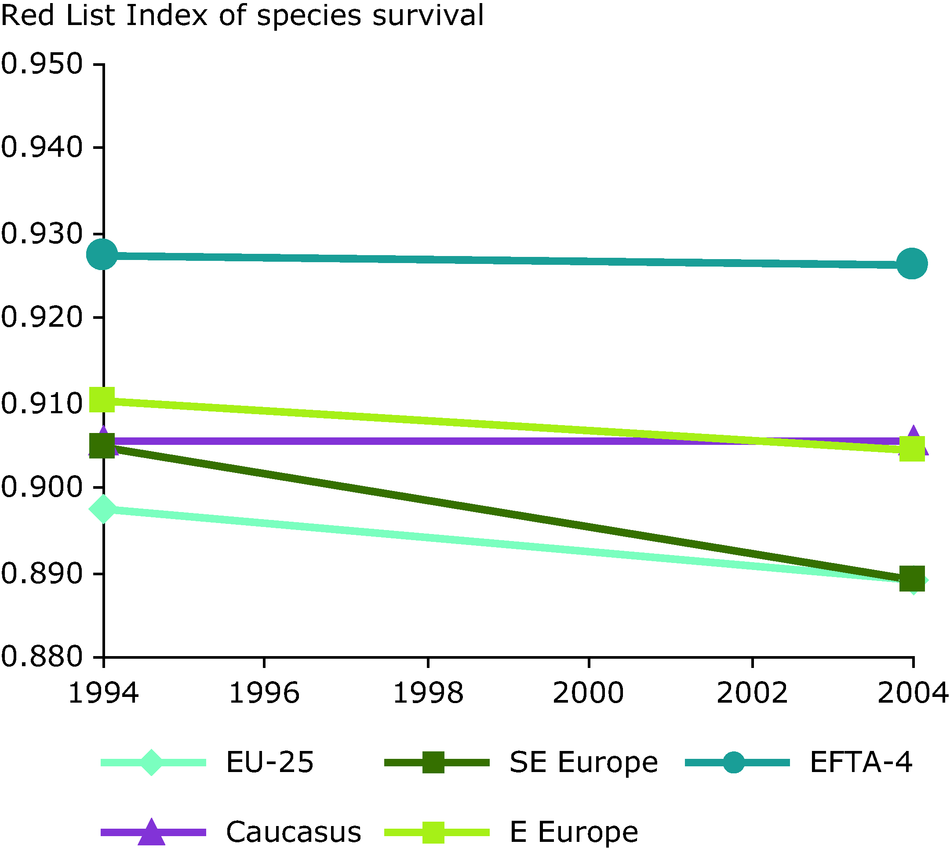 Note: n = 522 species How to read the graph: a lower value means a lower chance of survival (increased extinction risk).
Data source:
BirdLife International, 2008.
Downloads and more info
Key assessment
Extinction risk overall is increasing for European bird species. In the figure above, for example, the decrease from a value of 0.89 to 0.87 reflects the balance between 19 species (out of a total of 522) improving in status during 1994 - 2004 but 51 species deteriorating in status.
All European groups of countries show a consistent decline, except possibly the Caucasus. The EU-25 shows a continuing decline, from a starting point that was already lower than in other sub-regions, indicating that species in the EU-25 are more threatened overall.
NOTES
The IUCN Red List categorises species as 'Extinct', 'Extinct in the Wild', 'Critically Endangered', 'Endangered', 'Vulnerable', 'Near Threatened', 'Least Concern', 'Data Deficient' and 'Not Evaluated'.
The RLI is calculated from the number of species that moved from one category to another between assessments owing to a genuine improvement or deterioration in status (i.e. category changes owing to revised taxonomy or improved knowledge are excluded).
If for more species the extinction risk has increased instead of decreased the RLI goes down. Extinction risk for this indicator is assessed at the European level, i.e. the risk that a species ceases to exist in Europe (even if the species may survive in other regions of the world).
Decreasing RLI values mean that biodiversity is being lost at an increasing rate. No change in the RLI value means that there are no changes in the expected rate of species extinctions (it does not mean that biodiversity loss has stopped, or that the biodiversity will remain unchanged). Increasing RLI values mean that there is a decrease in the expected future rate of species extinctions (i.e. a reduction in the rate of biodiversity loss).
FURTHER INFORMATION
Data sources
More information about this indicator
See this indicator specification for more details.
Contacts and ownership
EEA Contact Info
Katarzyna Biala
Ownership
EEA Management Plan
2010
(note: EEA internal system)
Dates
Frequency of updates
Updates are scheduled every 6 years in July-September (Q3)
Permalinks
Permalink to this version

Permalink to latest version
For references, please go to www.eea.europa.eu/soer or scan the QR code.
This briefing is part of the EEA's report The European Environment - State and Outlook 2015. The EEA is an official agency of the EU, tasked with providing information on Europe's environment.
PDF generated on 19 Apr 2015, 03:38 AM