Production and consumption of ozone depleting substances (CSI 006/CLIM 049) - Assessment published Oct 2007
Indicator Assessment
Created 17 May 2005
Published 15 Oct 2007
Last modified 12 Mar 2015, 11:35 AM
Note: new version is available!
Generic metadata
Topics
:
Climate change
(Primary topic)
Tags:
DPSIR
: Driving force
Typology
: Policy-effectiveness indicator (Type D)
Dynamic
Temporal coverage:
1986-2006
Contents
Key policy question:
Are ozone-depleting substances being phased out according to the agreed schedule?
Key messages
The total production and consumption of ozone depleting substances in EEA member countries has decreased strongly since the Montreal Protocol was signed in 1987. In 2006, consumption and production stood at 615 and 114 ODP tonnes, respectively.
Production of ozone depleting substances in EEA member countries, 1986-2006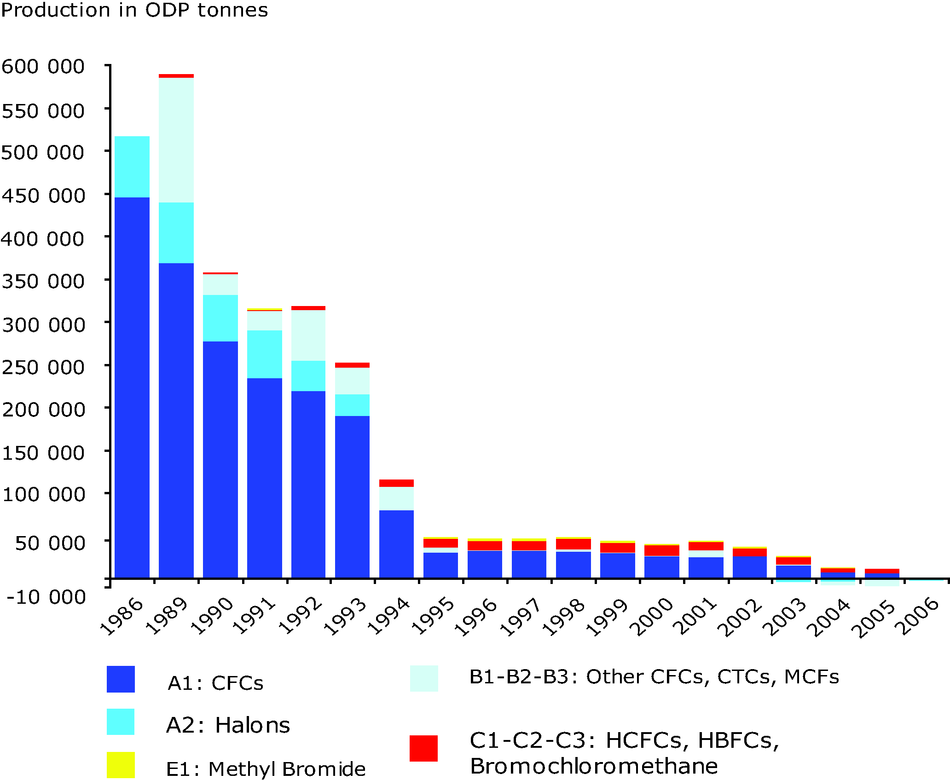 Note: Some of the calculated production or consumption figures may be negative
Downloads and more info
Consumption of ozone depleting substances in EU-27, 1986-2006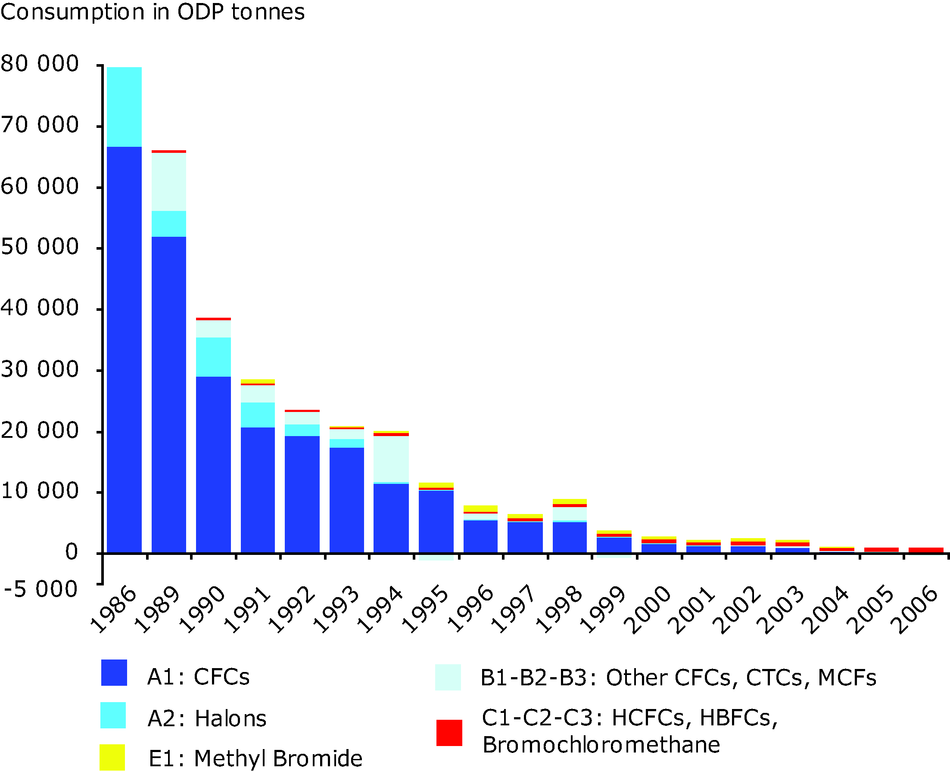 Note: Consumption is defined as production plus imports minus exports of controlled substances under the Montreal Protocol
Downloads and more info
Key assessment
'The Montreal Protocol is working'. This is the main conclusion from UNEP's 2006 Synthesis Assessment under the Montreal Protocol on Substances that Deplete the Ozone Layer. UNEP's Synthesis Assessment is supported by the three 2006 Assessment Panel Reports (i.e. Scientific Panel, Environmental Effects Panel and Technology and Economic Panel). The Panels are the pillars of the ozone protection regime since the implementation of the Montreal Protocol in 1987 (i.e. the UNEP treaty to protect the Earth's ozone layer).
The 2006 UNEP Assessment shows there is clear evidence of a decrease in the atmospheric burden of ozone-depleting substances (ODSs) in the lower atmosphere and in the stratosphere. There are also some early signs of an onset of the expected stratospheric ozone recovery.
For the EEA member countries as a whole, consumption and production of ozone-depleting substances fell significantly between 2005 and 2006. Before the Montreal Protocol was signed in 1987, the production of ODSs in the EEA stood at about 516616 ODP tonnes. In 2006, production was down to 114 OPD tonnes. The consumption of ODPs fell from 406320 in 1986 to -615 in 2006 (see charts).
According to the conclusions from the Panels, there are a number of options available to return to the pre-1980 levels (the period used as benchmark for the global ozone layer recovery). These include: 1) accelerated phase-out of hydrochlorofluorocarbons (HCFCs) and tighter control of methyl bromide applications and 2) immediate collection and destruction, in order of importance, of halons, chlorofluorocarbons (CFCs), and HCFCs.
HCFCs both damage the ozone layer (although less than CFCs) and contribute to global warming. They were planned as interim substitutes and were due to be phased out in 2030 by developed countries and in 2040 by developing ones. However, HCFC concentrations continue to increase in the atmosphere. Governments have recently agreed to freeze production of HCFCs in developing countries in 2013 and bring forward the final phase-out date of these chemicals by ten years in both developed and developing countries (Montreal/Nairobi, 22 September 2007). This can be seen as a historic agreement to tackle the challenges of protecting the ozone layer and combating climate change at the same time.
It is worth noting that according to UNEP's 2006 Assessment, there exist technically and economically feasible substitutes for almost all ODS applications.
Some other key findings are:

Polar ozone loss will remain large and highly variable in the coming decades, and the Antarctic ozone hole will persist longer than previously estimated.

Failure to continue to comply with the Montreal Protocol could delay or even prevent the recovery of the ozone layer.

UV-B radiation influences living organisms, ecosystems, and materials. In human populations it can cause severe damage to the eyes, skin cancers, and suppressions of the immune system.

The projected recovery of the ozone layer is sensitive to future levels and greenhouse gases and the associated changes in climate.

Climate change will influence the exposure of all living organisms to UV-B radiation via changes in cloudiness, precipitation, and ice cover.
Data sources
More information about this indicator
See this indicator specification for more details.
Contacts and ownership
EEA Contact Info
Peder Gabrielsen
Ownership
EEA Management Plan
2010
(note: EEA internal system)
Dates
Frequency of updates
Updates are scheduled once per year in October-December (Q4)
Permalinks
Permalink to this version

Permalink to latest version
For references, please go to www.eea.europa.eu/soer or scan the QR code.
This briefing is part of the EEA's report The European Environment - State and Outlook 2015. The EEA is an official agency of the EU, tasked with providing information on Europe's environment.
PDF generated on 05 May 2015, 01:43 AM