Primary energy consumption by fuel (CSI 029/ENER 026) - Assessment published Apr 2006
Indicator Assessment
—
expired
Created 06 Apr 2006
Published 12 Apr 2006
Last modified 11 Mar 2014, 01:48 PM
Note: new version is available!
This content has been archived on
06 Nov 2013
, reason:
Other (Not currently being regularly updated)
Generic metadata
Topics
:

Energy
(Primary topic)
Tags:
DPSIR
: Driving force
Typology
: Descriptive indicator (Type A - What is happening to the environment and to humans?)
Contents
Key policy question:
What are the trends concerning the energy mix in gross inland energy consumption Europe?
Key messages
Fossil fuels continue to dominate total energy consumption, but environmental pressures have been reduced by switching from coal and lignite to relatively clean natural gas.
Total energy consumption by fuel in the EU-25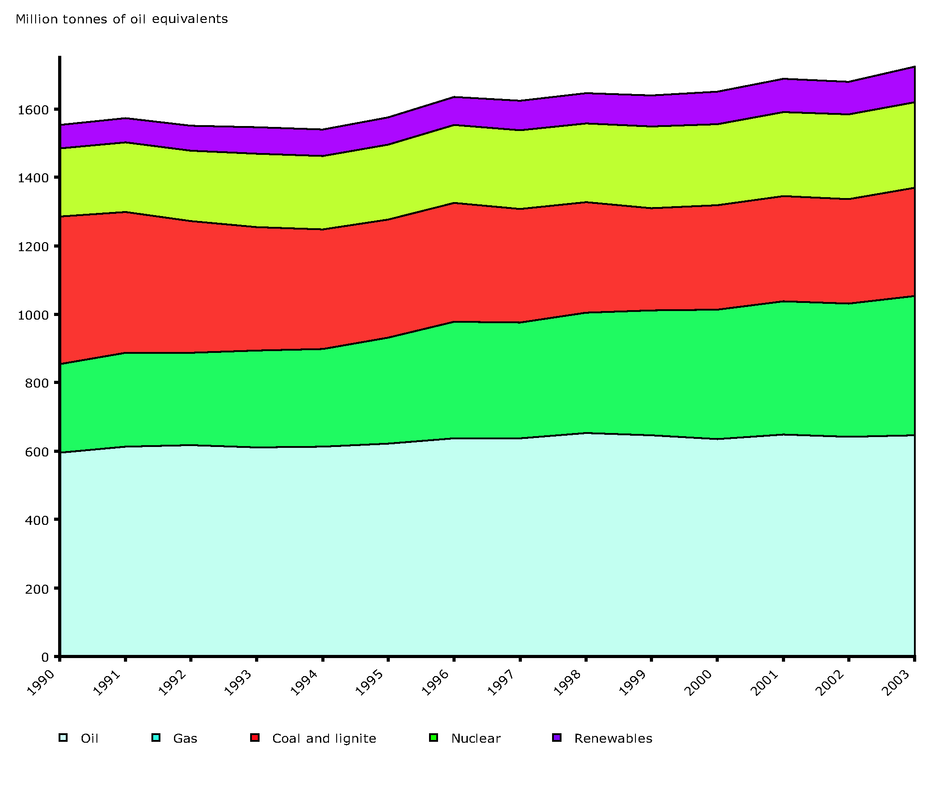 Note: (1990 - 2003)
Downloads and more info
Total energy consumption by fuel (%)
Note: TOE refers to tonnes of oil equivalent.
Downloads and more info
Key assessment
The share of fossil fuels such as coal, lignite, oil and natural gas in total energy consumption declined only slightly between 1990 and 2003, down to 79 %. Their use has considerable impact on the environment and is the main cause of sulphur oxide, nitrogen oxide and greenhouse gas emissions. However, changes to the fossil fuel mix have benefited the environment, with the share of coal and lignite declining continuously and being replaced by relatively cleaner natural gas, which now has a 23.6 % share. In recent years, higher gas prices have led to an increased consumption of coal, with an associated rise in greenhouse gas emissions.
Most of the switch between fossil fuels occured in the power generation sector. In the pre-2004 EU-15 Member States this was supported by the implementation of environmental legislation and the liberalisation of electricity markets, which stimulated the use of combined-cycle gas plants due to their high efficiency, low capital cost and low gas prices in the early 1990s, and by the expansion of the trans-EU gas network. Fuel mix changes in the new Member States were induced by the process of economic transformation, which led to changes in fuel prices and taxation and removal of energy subsidies, and policies to privatise and restructure the energy sector.
Renewable energy, which typically has lower environmental impacts than fossil fuels, has seen rapid growth in absolute terms, but from a low starting point. Despite increased support at the EU and national level, its contribution to total energy consumption remains low at 6 %. The share of nuclear power has grown slowly to reach almost 15 % of total energy consumption in 2003. While nuclear power produces little pollution under normal operations there is a risk of accidental radioactive releases, and highly radioactive wastes are accumulating for which no generally acceptable disposal route has yet been established.
Overall, the changes in the fuel mix of total energy consumption contributed to reducing emissions of greenhouse gases and acidifying substances per unit of energy produced. Rising total energy consumption however counteracted some of the environmental benefits of the fuel switch. Total energy consumption in the EU-25 increased by 10.9 % over the period 1990-2003.
Data sources
More information about this indicator
See this indicator specification for more details.
Contacts and ownership
EEA Contact Info
Anca-Diana Barbu
Ownership
EEA Management Plan
2010
(note: EEA internal system)
Dates
Frequency of updates
Updates are scheduled once per year in October-December (Q4)
Permalinks
Permalink to this version

Permalink to latest version
For references, please go to www.eea.europa.eu/soer or scan the QR code.
This briefing is part of the EEA's report The European Environment - State and Outlook 2015. The EEA is an official agency of the EU, tasked with providing information on Europe's environment.
PDF generated on 27 Mar 2015, 04:57 AM