Passenger transport demand (CSI 035/TERM 012) - Assessment published Apr 2009
Indicator Assessment
Created 11 Dec 2008
Published 21 Apr 2009
Last modified 13 Dec 2013, 04:28 PM
Note: new version is available!
Generic metadata
Topics
:

Transport
(Primary topic)
Tags:
DPSIR
: Driving force
Typology
: Descriptive indicator (Type A - What is happening to the environment and to humans?)
Dynamic
Temporal coverage:
1995-2006
Contents
Key policy question:
Is passenger transport demand being decoupled from economic growth?
Key messages
Passenger transport demand in EEA-32 is growing slower than GDP. Demand for air transport is growing faster than for any other mode of passenger transport with rail transport coming second (between 1996 and 2006).
Trend in passenger transport demand and GDP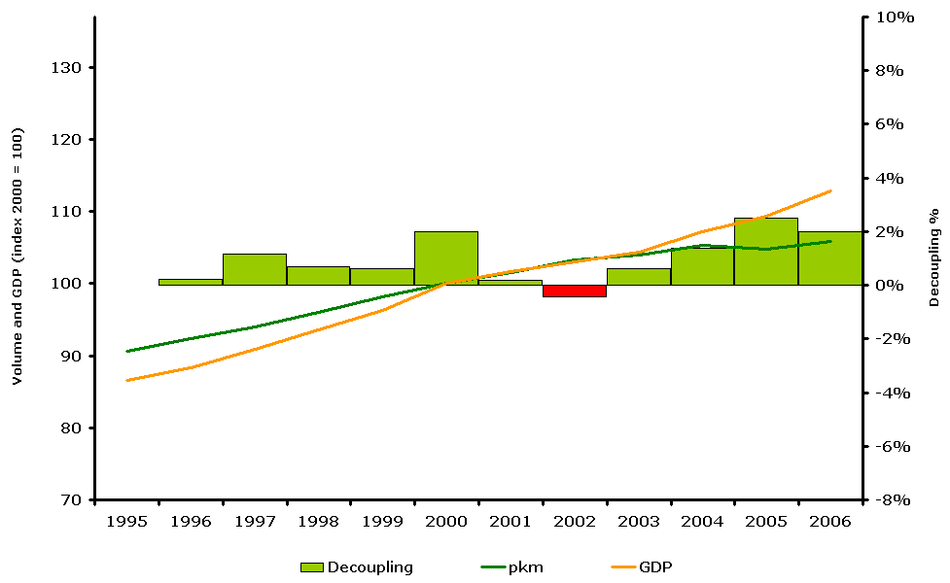 Note: Aviation is not included
Downloads and more info
Trends in the annual intensity of passenger transport demand
Note: Total passenger transport demand data including air are not available for all countries and years
Downloads and more info
Key assessment
Over the past decade, passenger transport growth has been slower on average than the growth of the economy. However, passenger transport demand has grown steadily in the EEA countries as a whole, thereby making it increasingly difficult to stabilise or reduce the environmental impacts of transport.
The majority of countries saw growth in passenger transport demand every year, with the exception of Austria and Switzerland. Private car passenger growth was observed in all countries, which influenced the demand for passenger transport in the region. The main underlying factor in this trend is the growth in incomes coupled with a tendency to spend more or less the same share of disposable income on transport. Additional income therefore means additional travel budget, which allows more frequent, faster, farther and more luxurious travelling.
Overall growth in passenger transport demand has been slower than for GDP. Passenger transport growth was marginally higher than GDP growth in 2002, but was then surpassed by growth in GDP from 2003 onwards.
Between 1996 and 2006 Turkey and Austria's bus usage has increased the most. Iceland, Estonia and Belgium have experienced the highest level of decline in bus usage across Europe.
The UK increased rail use by 45 % over a ten year period from 1996 to 2006. France experienced an increase in rail usage by 34 % over the same period. Bulgaria, Switzerland and Romania all experienced declines in rail usage.
Turkey and Greece experienced the largest increase in road use. The only country to have a decline in road use was Austria (less than one percent).
Data sources
More information about this indicator
See this indicator specification for more details.
Dates
Frequency of updates
Updates are scheduled once per year in October-December (Q4)
Permalinks
Permalink to this version

Permalink to latest version
For references, please go to www.eea.europa.eu/soer or scan the QR code.
This briefing is part of the EEA's report The European Environment - State and Outlook 2015. The EEA is an official agency of the EU, tasked with providing information on Europe's environment.
PDF generated on 04 May 2015, 04:58 AM