Passenger transport demand (CSI 035) - Assessment published Jun 2006
Indicator Assessment
—
expired
Created 25 May 2005
Published 29 Jun 2006
Last modified 11 Mar 2014, 01:48 PM
Note: new version is available!
This content has been archived on
12 Nov 2013
, reason:
Content not regularly updated
Generic metadata
Topics
:

Transport
(Primary topic)
Tags:
DPSIR
: Driving force
Typology
: Descriptive indicator (Type A - What is happening to the environment and to humans?)
Contents
Key policy question:
Is passenger transport demand being decoupled from economic growth?
Key messages
Growth in the volume of passenger transport has nearly paralleled that in GDP. Transport growth was marginally lower than GDP growth between 1997 and 2001, but once again exceeded it in 2002. Decoupling between transport demand and GDP over the period has been less than 0.5% per year compared with transport growth of 2.1% per year, and decoupling has not been achieved each year.
Trend in passenger transport demand and GDP
Note: If the decoupling indicator (vertical bars) is above 100 transport demand is outpacing GDP growth (i.e
Data source:
Eurostat and DG TREN, European Commission.
Downloads and more info
Trends in the annual intensity of passenger transport demand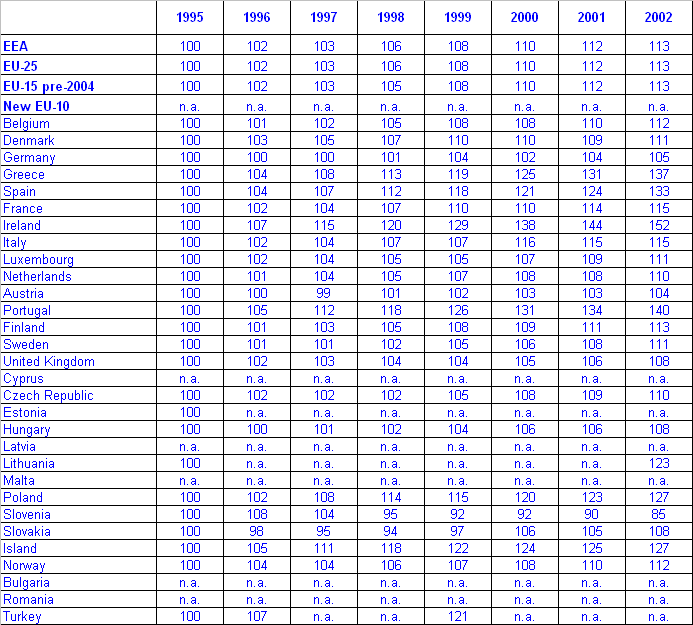 Note: Total passenger transport demand data including air are not available for all countries and years
Data source:
Passenger demand data used in the structural indicators (February 2005), Eurostat.
Downloads and more info
Key assessment
Over the past decade, passenger transport demand has grown steadily in the EEA countries as a whole, thereby making it increasingly difficult to stabilise or reduce the environmental impacts of transport. Most countries saw growth every year, but there are a few exceptions, notably Germany, where demand has remained almost stable since 1999. Transport demand per capita has also grown, and by 2002 had reached more than 10 000 km in the countries for which data are available.

The main underlying factor is the growth in incomes coupled with a tendency to spend more or less the same share of disposable income on transport. Additional income therefore means additional travel budget, which allows more frequent, faster, farther and more luxurious travelling. The average daily distance travelled by EU-15 citizens increased from 32 km in 1991 to 37 km in 1999, the fastest-growing modes of transport being the passenger car and aviation.

Overall growth in passenger transport demand has been very similar to that of GDP. Transport growth was marginally lower than GDP growth between 1997 and 2001, but once again exceeded it in 2002. From 1997, decoupling (difference between GDP and transport volume growth) between transport demand and GDP growth was less than 0.5% per year compared with transport growth of 2.1% per year. One explanatory factor for the slight decoupling is a greater instability in fuel prices from 1997 onwards, which may have reduced the tendency to invest in additional cars. The 'fuel price protests' in 2000, albeit primarily by hauliers, illustrated the reaction of road users to higher prices. This is also consistent with the higher growth in 2002, because fuel prices by then had once again come down. But increasing congestion in some cities has also been put forward as an explanatory factor.

EU-wide data on travel purposes are not available. However, based on national mobility surveys, 40 % of passenger transport demand in the 1990s was for leisure. Tourism is an important travel motive, and most of the trips attributed to tourism are long-distance ones. The importance of tourism for air traffic is highlighted by the presence of the tourist destinations Palma de Mallorca, Tenerife and Malaga in the top 20 airports that handle most passengers.
The stated objective of the Common Transport Policy of maintaining the 1998 modal shares is not currently being met. The share of car transport is stable at around 72% while air transport is growing and bus plus rail is declining steadily. In absolute numbers, bus and rail are roughly maintaining their respective markets, while all growth is in road and in particular air transport.
Increasing wealth among citizens give more people the option to buy a car and use the added flexibility that it provides. Only in dense urban centres and for longer distances can public transport compete in terms of travel time.

Aviation saw a small drop in market share following the 9-11 terrorist attack on the World Trade Centre and the Pentagon, the subsequent wars and the SARS epidemic. This led to increased consolidation of the airline industry but also provided opportunities for low-cost airlines, which are rapidly gaining market share. Thus the relative cost of air travel has dropped, further fuelling the recent growth in air travel.
Specific policy question: Is the share of passenger car transport in total inland transport being reduced relative to other transport modes?
Specific assessment
As part of the modal-split indicators project, Eurostat is working on methods regarding the calculation and territorial attribution of air passenger transport. Until such data becomes available, the core set indicator "passenger transport demand" will include an EU estimate of air transport demand based on data from the European Commission's Directorate General for Transport and Energy. The country breakdown was not available for all countries and years.
The modal split indicators are structural indicators. Total passenger transport demand currently includes cars, trains and buses/coaches (but not air). Any change regarding the methodology (i.e. possible inclusion of air passenger transport) will be reviewed and incorporated in the core set indicator as soon as Eurostat validates the data. The estimate for the EU from DG TREN would then be replaced by data from Eurostat. The (possible) inclusion of a new mode would have a dramatic effect on the modal split shares and therefore we will not publish these shares until Eurostat's finalises its work this year.
Data sources
More information about this indicator
See this indicator specification for more details.
Contacts and ownership
EEA Contact Info
Peder Gabrielsen
Ownership
EEA Management Plan
2010
(note: EEA internal system)
Dates
Permalinks
Permalink to this version

Permalink to latest version
For references, please go to www.eea.europa.eu/soer or scan the QR code.
This briefing is part of the EEA's report The European Environment - State and Outlook 2015. The EEA is an official agency of the EU, tasked with providing information on Europe's environment.
PDF generated on 03 May 2015, 12:29 PM