Passenger transport demand - outlook from OECD (Outlook 026) - Assessment published Jun 2007
Indicator Assessment
—
expired
Created 08 Jan 2007
Published 08 Jun 2007
Last modified 20 Feb 2014, 11:58 AM
Note: new version is available!
This content has been archived on
12 Nov 2013
, reason:
Content not regularly updated
Generic metadata
Topics
:

Environmental scenarios
(Primary topic)

Transport
Tags:
gdp | forward looking indicators | baseline | transport indicators | car sales | transport | air transport
DPSIR
: Driving force
Typology
: Descriptive indicator (Type A - What is happening to the environment and to humans?)
Contents
Key policy question:
Is there a trend of decoupling passanger transport from economic growth??
Key messages
The OECD Environmental Outlook does not provide the direct answer to these policy questions but provides an indications on the developments in the transport sector globally.
The rapid increase in transportation activity seen in recent decades is expected to continue to 2030. Although air travel has been the fastest growing transport mode in recent decades, other modes have increased as well.

Global Air transportation volumes and GDP (1990 = 100)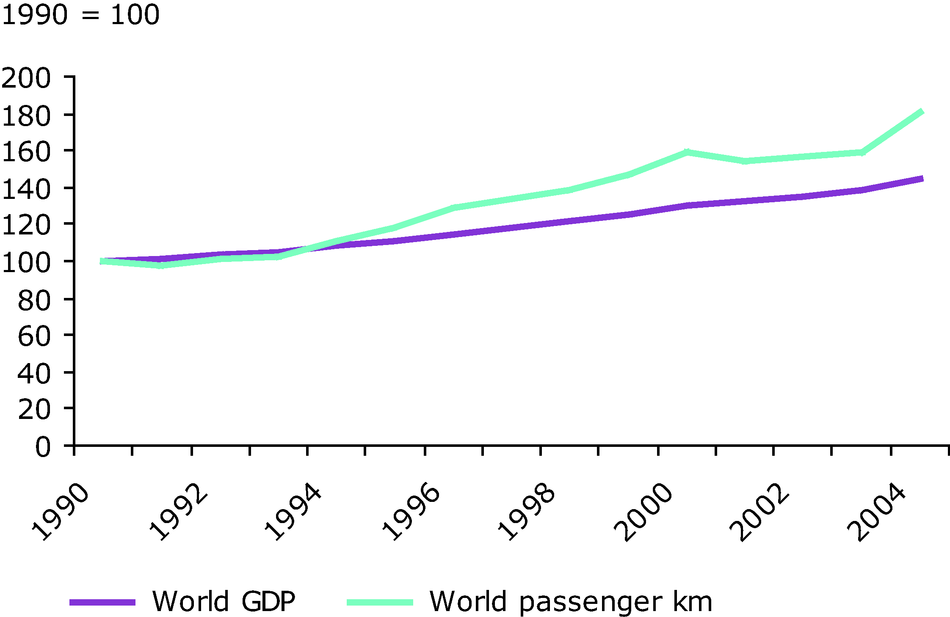 Note: N/A
Downloads and more info
Annual new vehicle sales by region to 2030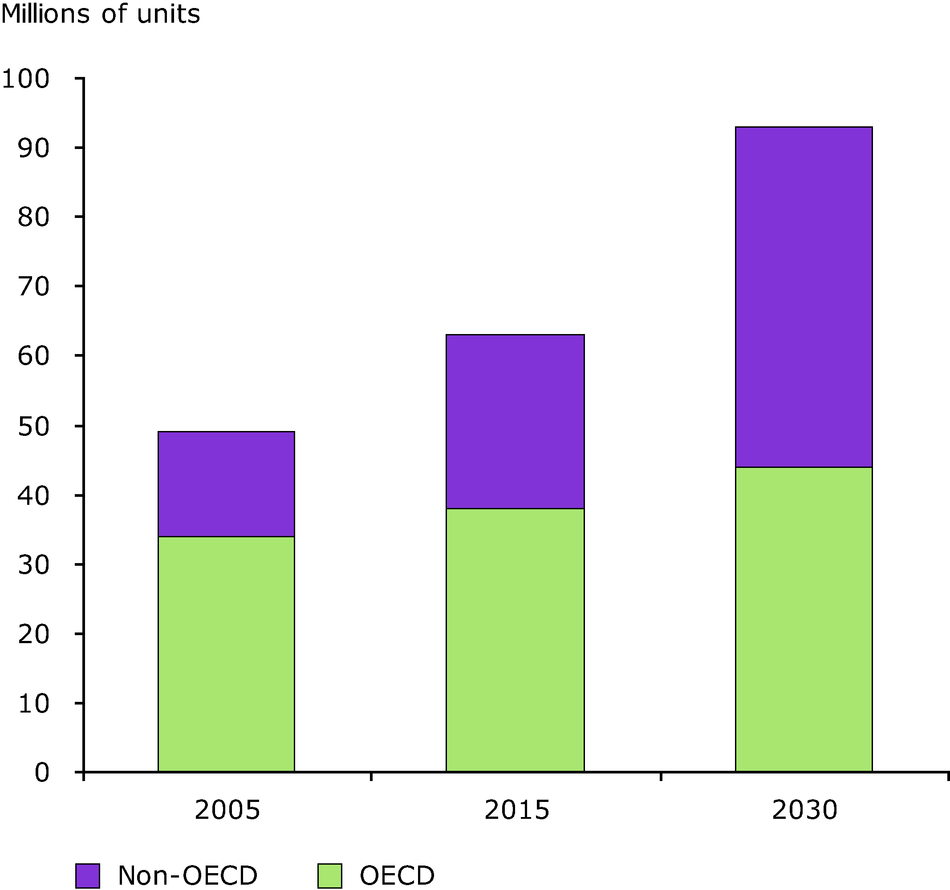 Note: N/A
Data source:
Downloads and more info
Transport externalities in Europe in 2004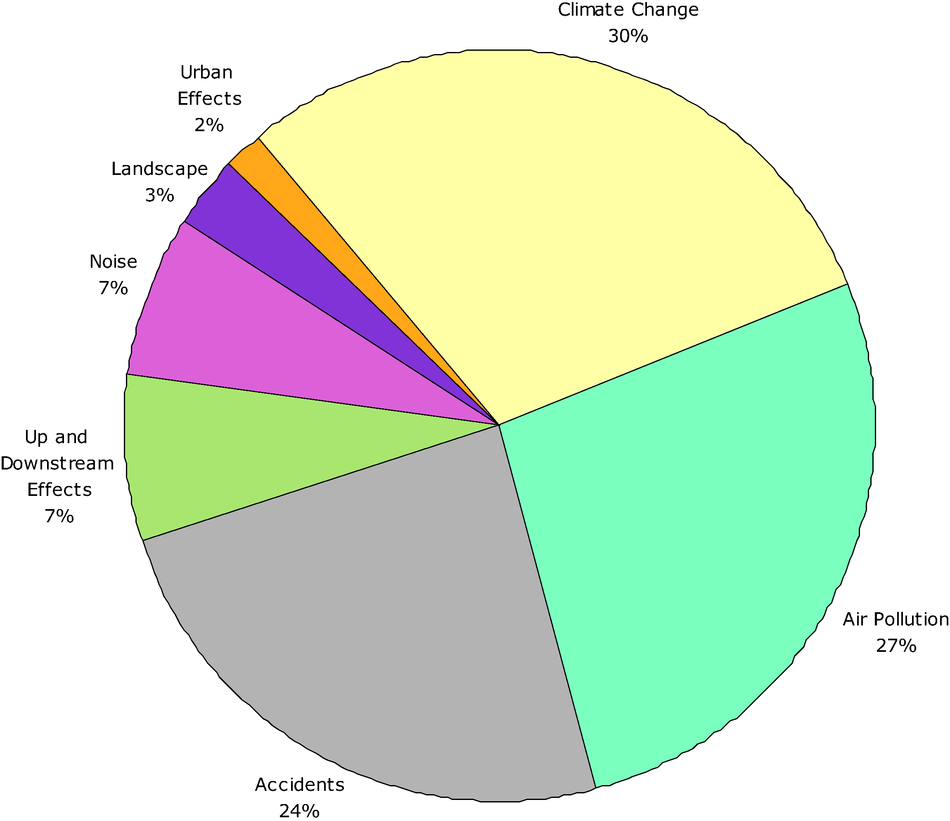 Note: N/A
Data source:
Downloads and more info
Key assessment
The rapid increase in transportation activity seen in recent decades is expected to continue to 2030. Between 1970 and 2003, for example, air passenger travel in the US increased by 328% - nearly twice the rate of GDP growth during the same period. Air passenger travel in the EU increased even faster, growing by over 1 200% between 1970 and 2003. Although air travel has been the fastest growing transport mode in recent decades, other modes have increased as well.
Road transport, in particular, has grown faster than GDP in both the EU and North America. Transport growth is not only being driven by people/goods travelling further and more often, but also by an increase in the availability and use of motorised transport. In OECD countries, the private car has been the norm for decades, so only moderate increases in car ownership are predicted over the next 20 years. In non-OECD countries, on the other hand, rapidly rising incomes are expected to lead to large increases in vehicle ownership (Figure 16.3). In some cases, the increase in motorised transport is occurring at the expense of existing modes - some of which are less environmentally damaging than road transport. For example, bicycle use in China has fallen recently, as automobile use has expanded.
In OECD countries, road transport is responsible for most of the transport sector impacts on the environment, accounting for over 80% of all transport-related energy consumption, and for most air pollutant emissions, noise and habitat degradation (OECD, 2006a). In Europe (EU15, Norway and Switzerland), total external costs of transport (excluding congestion costs and externalities related to maritime transport) have been estimated at EUR 650 billion for 2000, or about 7.3% of total GDP (INFRAS, 2004). Climate change was the most important category, contributing 30% of total costs. Air pollution and accidents were the next most significant. In terms of transport mode, road transport has the biggest impact, generating 83% of the total estimated external costs. This is followed by aviation (14%), railways (2%), and inland waterways (0.4%). Road transport accounted for over 89% of the costs in all categories, except for climate change, in which road transport accounted for only 57% of estimated costs. Almost all the remaining costs associated with climate change came from aviation (41%). Two-thirds of all transport related external costs are caused by passenger transport and one-third by freight transport.
Maritime transport, although generally associated with lower environmental impacts, continues to raise concerns, mainly due to oil pollution from major accidents, as well as (accidental or deliberate) discharges of waste products. The maritime shipping sector is also an important contributor to NOx and SO2 emissions, as well as to ozone pollution. There is also growing concern over the environmental impacts of air traffic, which continues to increase rapidly mainly due to increased tourism. The rail sector is generally the most environmentally benign form of transport, but is also the least used.
Key uncertainties, choices and assumptions
There are fundamental uncertainties in projecting transport demand and simulating future transport systems. Uncertainties in demographic, economic, technological and institutional factors will affect the actual level of future transport demand, the mix of energy supplies consumed, and the associated rates of (for example) CO2 emissions. Knowledge is limited of the complex interactions of technological, cultural and political forces that determine the development of national transport schemes. It is therefore not certain that today's relationships will persist unchanged for the next 25 years. For non- OECD countries, it is also difficult to find reliable and consistent data on which to base future projections.

Data sources
More information about this indicator
See this indicator specification for more details.
Contacts and ownership
EEA Contact Info
Anita Pirc Velkavrh
Ownership
EEA Management Plan
2010
(note: EEA internal system)
Dates
Permalinks
Permalink to this version

Permalink to latest version
For references, please go to www.eea.europa.eu/soer or scan the QR code.
This briefing is part of the EEA's report The European Environment - State and Outlook 2015. The EEA is an official agency of the EU, tasked with providing information on Europe's environment.
PDF generated on 05 May 2015, 01:22 AM