Nationally designated protected areas (SEBI 007) - Assessment published May 2010
Indicator Assessment
Created 10 Sep 2009
Published 21 May 2010
Last modified 07 Jul 2011, 02:47 PM
Note: new version is available!
Generic metadata
Topics
:

Biodiversity
(Primary topic)
Tags:
DPSIR
: Response
Typology
: Descriptive indicator (Type A - What is happening to the environment and to humans?)
Dynamic
Temporal coverage:
2007
Contents
Key policy question:
What is the progress with the national designation of protected areas as a tool for biodiversity conservation?
Key messages
The total area of nationally designated protected areas in Europe (2) has increased over time. The total area of nationally designated sites in 39 European countries was around 1 million square kilometres in 2007. In EECCA countries, the total area of nationally designated sites is at least 1.8 million square kilometres (for 30 % of sites no size information is available).
This quantitative information needs to be complemented by a qualitative assessment of the effectiveness as a tool for conserving biodiversity, including good management practices, and representativeness of the network of designated areas.
(2) A 'Nationally Designated Area' is an area designated by a national instrument based on national legislation. If a country has included in its legislation the sites designated under the EU Birds and Habitats Directive, the Natura 2000 sites of this country are included in the total area.
Growth of nationally designated protected areas in 39 European countries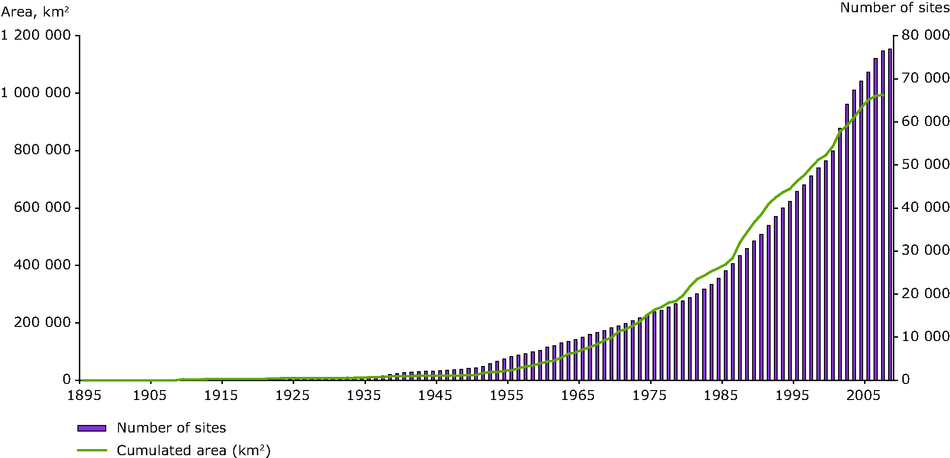 Note: How to read the graph: in 2007, the total number of sites for 39 European countries in the Common Database on Designated Areas (CDDA) was 76 876, with a combined surface of 994 550 km2
Data source:
CDDA (Common Database on Designated Areas) version 7, 2007.
Downloads and more info
Key assessment
Countries have national legislation that enables them to establish various types of protected areas. For nationally designated protected areas, the total area protected in Europe continues to increase.
On one hand it is difficult to know exactly how far these areas contribute to halting biodiversity loss without any specific information on site management and quality. On the other hand, other indicators can show how much pressure on biodiversity outside those areas increases as a result of growing urbanisation and transport infrastructures for instance. Therefore, the expansion of protected areas and their role in protecting biodiversity have to be considered and assessed within the wider environment.
In 39 countries, on average 16 % of the terrestrial area has been designated as a national protected area.
The growth in nationally designated areas has been exponential but has levelled off in recent years. A precise assessment of trends over time is much more difficult to make for EECCA countries because of gaps in the data. These countries contain around 18 000 sites covering in total 1.8 million km2 (source: World Database on Protected Areas (WDPA) December 2007 for EECCA countries (except Kyrgyzstan, Tajikistan, Turkmenistan)). However, for more than two-thirds of the sites no designation date is known and for a third no size information is known.
FURTHER INFORMATION
Data sources
More information about this indicator
See this indicator specification for more details.
Contacts and ownership
EEA Contact Info
Katarzyna Biala
Ownership
EEA Management Plan
2010
(note: EEA internal system)
Dates
Frequency of updates
Updates are scheduled once per year in October-December (Q4)
Permalinks
Permalink to this version

Permalink to latest version
For references, please go to www.eea.europa.eu/soer or scan the QR code.
This briefing is part of the EEA's report The European Environment - State and Outlook 2015. The EEA is an official agency of the EU, tasked with providing information on Europe's environment.
PDF generated on 04 May 2015, 08:07 AM